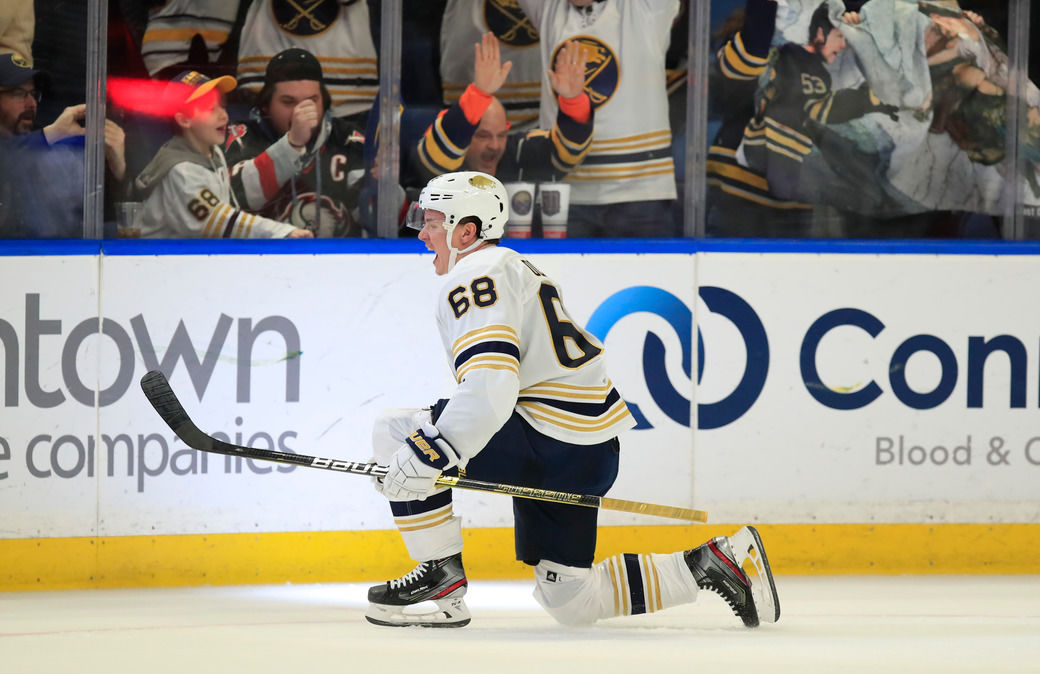 Victor Olofsson wasn't pleased with his first two periods Thursday night.
The Buffalo Sabres' dynamic winger had zero shots on goal through 40 minutes of his first game back from an ankle injury that sidelined him since Jan. 2.
However, Olofsson then illustrated why coach Ralph Krueger considers the 24-year-old the top rookie in the NHL. Olofsson scored the tying goal – his 10th of the season on the power play – and added the game-winner 2:44 into overtime for a 4-3 victory over the Columbus Blue Jackets in KeyBank Center.
"We know why he's the rookie of the year in the National Hockey League for us, no questions asked," Krueger said. "He showed it again tonight. We missed him dearly. It was fabulous to have him back as a person and a player."
The Sabres (26-24-8) improved to 2-18-3 when trailing after two periods and took the lead on Evan Rodrigues' goal with 4:26 remaining in regulation. Markus Nutivaara scored to send the game to overtime, where Olofsson scored on a wraparound pass from Jack Eichel, who had one goal and two assists.
The Sabres trailed 2-0 until Eichel scored his 32nd goal of the season on a shot from the left circle late in the second period, and Carter Hutton made 28 saves while making his fifth start since Linus Ullmark suffered a lower-body injury Jan. 28.
Columbus (30-17-11) also received goals from Nathan Gerbe and Boone Jenner. The Blue Jackets started backup goalie Matiss Kivlenieks in the first game of a back to back.
"It was great to be back," Olofsson, who scored his 17th and 18th goals of the season after missing 15 games, said. "I didn't feel great the first couple periods. Trying to find my game a little bit. It's obviously hard being out six weeks. … I'm happy with the way I finished the game."
Help: Sabres defenseman Brandon Montour and Rasmus Dahlin bailed out Hutton in the first period. Montour cleared the puck from the crease after it rolled over Hutton's shoulder, and Dahlin dropped down to the ice to prevent Vladislav Gavirkov's wraparound later in the period.
Opening salvo: A turnover by Conor Sheary sent the Blue Jackets up the ice for an odd-man rush, and Hutton fell to his right after Gavrikov received a 2-on-1 pass from Riley Nash. With Hutton on the ice, Gavrikov sent a drop pass to Gerbe, who shot into the net for a 1-0 lead with 28 seconds left in the first period.
Entering Thursday, the Sabres were 5-14-6 when trailing after the first period.
Quick strike: Columbus pushed its lead to 2-0 only 1:31 into the second period, when Jenner deflected Zach Werenski's shot past Hutton. The Blue Jackets allowed two or fewer goals in 10 of their previous 12 games, including just four goals in their recent four-game homestand.
One-man band: After generating a few quality scoring chances, Eichel finally broke through against Columbus with a remarkable play on the rush. The 23-year-old captain retrieved the puck near Buffalo's blue line and skated through the neutral zone before releasing a wrist shot from the left circle to cut the deficit to 2-1 with 1:13 remaining in the second period.
It ended Eichel's season-high five-game goal drought, and he was on pace for 45 goals and 101 points entering Thursday. He has been held without a point in just four of his last 39 games.
Return: Olofsson needed only one power play to remind the NHL why he was considered one of the leading candidates for the Calder Trophy. The 24-year-old scored with a one-timer from the right-wing circle to tie the score, 2-2.
Dahlin assisted on both Olofsson goals and has 30 assists through 47 games this season.
Retaliation: Sabres defenseman Jake McCabe received a four-minute cross-checking penalty after retaliating against Eric Robinson skating into Hutton with 15:05 remaining in the third period. Robinson also received a two-minute penalty for goalie interference.
Crowd: The Sabres announced 16,923 tickets were sold for 2000s Night.
Go-ahead goal: Skinner drew multiple Columbus defenders to the net to create enough room for Rodrigues to cut to the slot, where the Sabres' center beat Kivlenieks with a wrist shot for the go-ahead goal. The assist was Skinner's first point since Dec. 31.
Traffic: The game was sent to overtime after Nutivaara crashed the net and redirected Oliver Bjorkstrand's shot with an extra attacker on the ice and 1:13 remaining in regulation.
Ceremony: Former owner Tom Golisano and 17 Sabres alumni from the 2000s were honored before puck drop. Current owners Terry and Kim Pegula, and NHL Commissioner Gary Bettman presented Golisano and former managing partners Larry Quinn and Dan DiPofi with golden pucks.
Golisano saved the Sabres from potential relocation by purchasing the team in 2003.
Lineup: Winger Scott Wilson was assigned to Rochester after he skated with a few Sabres on Thursday morning. Defensemen Lawrence Pilut and Zach Bogosian were healthy scratches against Columbus, while Marcus Johansson is day to day with an upper-body injury.
Next: The Sabres are scheduled to practice Friday and Saturday in preparation for their game Sunday against the Toronto Maple Leafs in KeyBank Center.