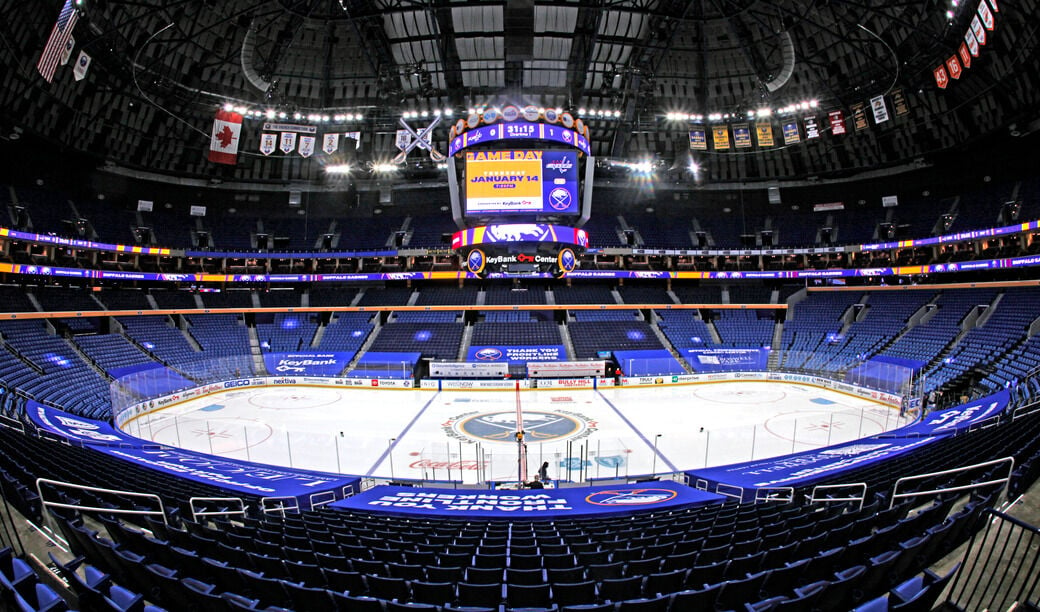 Here's a rundown of some key questions and answers surrounding the Buffalo Sabres, whose season was put on pause Tuesday by the NHL: 
What has happened the last two days? 
The Sabres were planning to fly to Long Island on Tuesday morning for their nationally televised game against the New York Islanders but instead were held at the Buffalo airport for their daily Covid-19 tests. That was because of additional positive tests and close contacts among the New Jersey Devils, the team Buffalo played here Saturday and Sunday.
The team did not fly to New York and Tuesday's game was postponed. Later in the afternoon, the league announced that Taylor Hall and Rasmus Ristolainen had been placed on the Covid protocol list and were joined by five more Devils, putting New Jersey's total up to 14 players. Hall and Ristolainen were the first two Sabres on the list this season.
The Sabres had their next four games postponed Tuesday by the NHL, seemingly as a result of a major outbreak of Covid-19 among the New Jersey Devils.
On Wednesday night, Tobias Reider and Brandon Montour were added to the list to push Buffalo's total to four players. Three more New Jersey players gave the Devils 17. Things got darker around the league as standouts like Pittsburgh's John Marino and Colorado's Tyson Jost were put on the list and Minnesota added five more players for a total of six. That group includes former Sabres Marcus Foligno and Marcus Johansson.
The Sabres' season was put on pause by the NHL through Monday, forcing the postponement of Thursday's game on Long Island and games in Boston on Saturday and Monday. The Devils are on pause through Saturday and the NHL is expected to put the Wild on pause through Tuesday, wiping out Thursday's game at Colorado and at least the first three games of a four-game run at home against Arizona and St. Louis. 
What does being on the Covid protocol list mean?
Each day around 5 p.m. EST, the NHL releases a list of players who are under medical protocols and ineligible to play, practice or travel. It does not mean the player has a positive Covid-19 test. According to the league, the player can be on the list for (1) an initial positive test which remains unconfirmed until confirmatory testing is completed; (2) mandated isolation for symptomatic individuals; (3) required quarantine as a high-risk close contact; (4) isolation based on a confirmed positive test result and/or; (5) quarantine for travel or other reasons as outlined in the Covid protocols.
What does being on pause mean?
The Sabres' games are postponed until further notice and so are their practices. Their training facilities in KeyBank Center are also closed until further notice. Players report to the arena for their daily testing, immediately return home and are expected to quarantine apart. Any meetings the team wants to have during that time must be done virtually.
Teams like Chicago and Detroit have had as many as five players on the list this week and continued to practice and play. Why were the Sabres shut down and they weren't?
The NHL is approaching each case individually because they are all different.
"The fact that players are on Covid protocol lists doesn't mean they have tested positive. It doesn't even mean they are at Covid risk. Many of these are travel-related quarantines," NHL deputy commissioner Bill Daly reiterated in an email to The News on Wednesday. "If bona fide concern of outbreak, we will shut it down. Understanding — and this is important — it's far from an exact science."
Translation: The NHL is being particularly cautious with the situation in Buffalo because the Sabres just played the Devils and New Jersey is the team with the biggest outbreak since the season began.
What happens to players who test positive?
The NHL has a detailed positive test protocol for players, which differs if they are asymptomatic or showing symptoms. The most prudent part is that players need to be isolated for at least 10 days after their first positive test, potentially longer if they're showing symptoms. Symptomatic individuals also need to have two negative tests to return to the team.
What happens to the team's schedule?
This is completely up in the air. The NHL is reviewing Buffalo's schedule to determine how to make up the four postponed games, two on Long Island and two in Boston. It's a difficult proposition with the season presently scheduled to end May 8 and the Sabres still having 46 games to play.
The Sabres return to Long Island for games March 5 and 7 and can probably also play the Islanders there on March 4. April 4 seems like another possibility.
Boston is different because it's easy to make up games on Long Island when you're already in that area to meet the Rangers or Devils. It's not so easy to add games in Boston.
The league might have to do some creative scheduling. The Sabres are currently slated to return to play on Feb. 11 against Washington and scheduled to practice Feb. 10.
But with no fans in buildings to worry about exchanging tickets, it's a possibility the league could revise much of the schedule in the entire East Division to accommodate the makeups needed for the Sabres and Devils, who have three postponed games this week and are hoping to return to play Tuesday vs. Pittsburgh.
What happens to taxi squad players?
Jack Quinn won't be on the ice in Rochester when the Amerks open their season Friday night in Blue Cross Arena.
They are on pause as part of the NHL team and cannot be sent to Rochester to keep playing. The season's transition rules, however, allow the Sabres to request up to two players be excluded from the taxi squad during a team period of quarantine and isolation, subject to approval of Commissioner Gary Bettman or his designee. 
The Sabres' current taxi squad includes forwards C.J. Smith and Jean-Sebastien Dea, defensemen Will Borgen and Brandon Davidson and goaltender Jonas Johansson. Casey Mittelstadt was recalled from the taxi squad on Saturday and put on the NHL roster, so he is part of the pause.