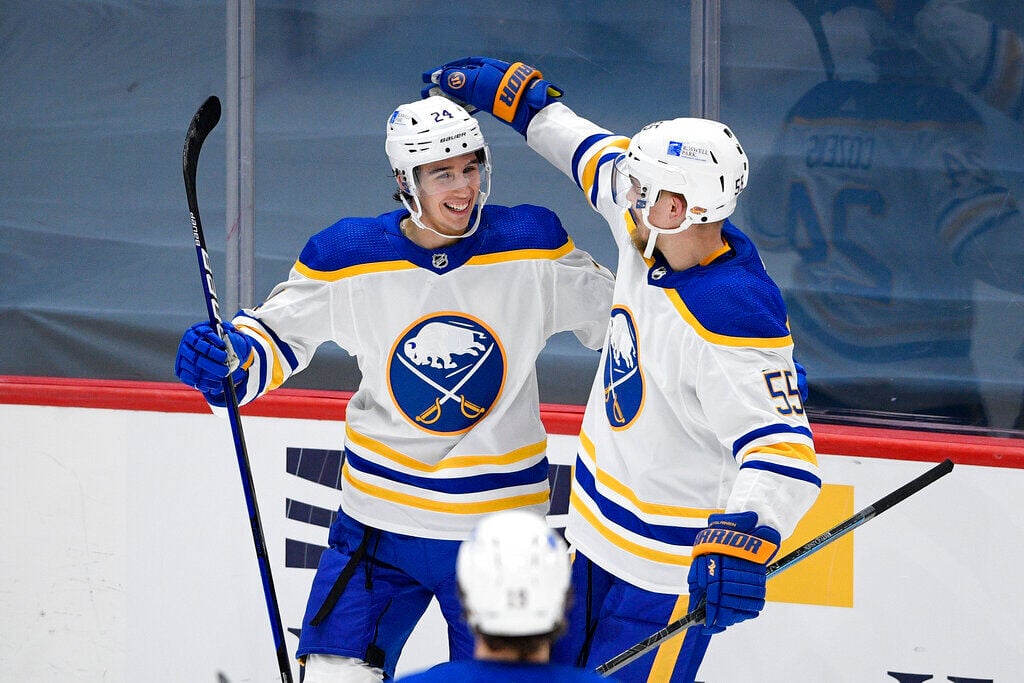 It was the kind of play you expect to see from a No. 1 draft pick.
Dylan Cozens' first NHL goal for the Buffalo Sabres was a thing of beauty Friday night. A steal in the neutral zone, a burst down the ice and a bar-down snipe.
It's a long way from Washington to Whitehorse, but the phone was going to be burned up from the nation's capital to Cozens' parents in Canada's Yukon late Friday after his goal in the Sabres' 4-3 shootout loss to the Washington Capitals.
"It was just a lot of excitement, obviously something I've dreamed about my whole life," the Sabres' No. 1 pick in 2019 said in a video call from Capital One Arena. "And when you finally put it in the back of the net, it's exciting."
Cozens stripped Washington rookie Brian Pinho to make his play. Goalie Vitek Vanecek was no match, either. The goal at 10:43 of the second period got the Sabres even at 2-2.
"I saw a couple other guys coming down as options to pass to," he said. "I took one quick look at the net, saw my spot and just let it go. I don't really remember too much. I kind of blacked out a bit but it found its way in."
"Dylan is going to be a very good player for a long time in this league," said 36-year-old veteran Eric Staal, whose locker is next to Cozens in KeyBank Center. "To see the joy on his face and the excitement there, it was obviously a big goal at the time. Great play by him."
Players sprinted to a beaming Cozens on the ice and tapped him all over on the bench. Coach Ralph Krueger put his arm around the 19-year-old to offer congratulations.
"They were great, obviously all happy for me," Cozens said. "They've been there, too, so they know how it feels. They were excited for me, but at the same time it's still the middle of the game, tie game and we've got a job to do."
"It's a special moment when you see somebody with that skillset, that future with the Buffalo Sabres," Krueger said. "You know, that's an historic moment. He couldn't stop smiling actually the rest of the game."
Cozens had a chance to write the final chapter of the storybook in Round 3 of the shootout, but Vanecek made the save. John Carlson scored the only goal in Round 4 and Vanecek made the final save on Sam Reinhart to drop Buffalo to 1-3-1. The Caps are 3-0-2 and already 3-0 against Buffalo this season.
"I was definitely surprised when he called on me," Cozens said. "It was an honor, but at the same time he trusts me to put me in a shootout. I was happy to go. Unfortunate result, but I just have to reset and get ready for the next one."
The Sabres easily could have won this game prior to that point. Probably should have, given the scoring chances and the fact the Caps were down three quarantined prime skaters, including Alex Ovechkin. Buffalo had the much better scoring opportunities all night, with top-6 players Jack Eichel and Victor Olofsson splitting eight shots on goal with no goals, Eichel and Jeff Skinner missing uncontested chances from in tight and Eichel (goalpost) and Sam Reinhart among those also stopped in the shootout.
"They had so much opportunity, lots of chances, unbelievable puck control," Krueger said. "We need the Eichel-Reinhart-(Taylor) Hall line to just get one or two and I'm confident they're going to explode. They're just so dangerous, so lethal.
"You used the word 'snakebitten.' It is there right now and we bring no excuses. We need to find a way to get ourselves turned around here, put some wins together back to back and get ourselves back into where we want to be. But it will begin with that line finding its confidence and hitting the mark."
Snakebitten might also describe defenseman Rasmus Dahlin. No points and a minus-4 on the season. His night: Two battles for rebounds lost in front of the net that led to goals. No 5-on-5 ice time in the last 31 minutes of play. Just 10:08 total. Same with Tage Thompson, who played only 8:54.
"There were certain instances we thought could've been taken care of better, and it's back to the teaching with them," Krueger said. "We work together with them. I don't think it should be overblown, but at the same time, sometimes taking ice time away from players really gets them to focus on the things they need to do better."