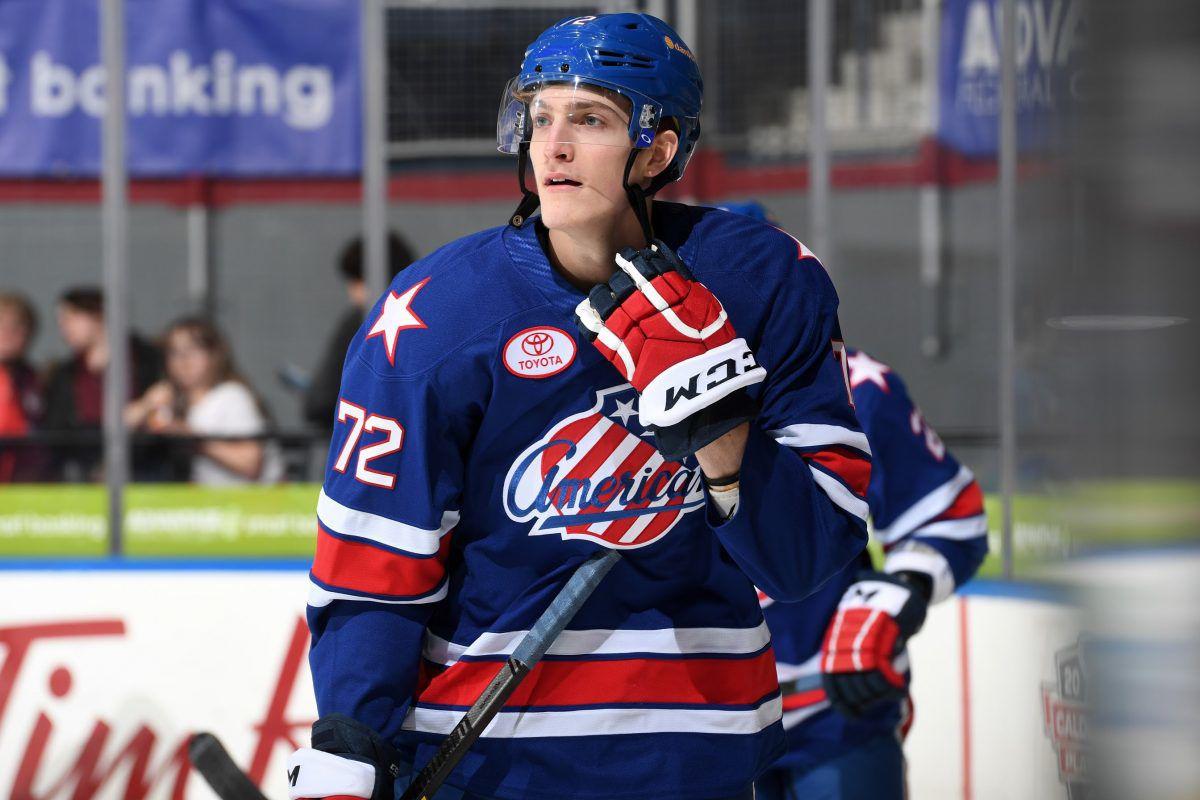 ROCHESTER – Early in Tage Thompson's first American Hockey League appearance in more than a year, the newcomer looked determined to make an immediate impact.
Instead of simply clearing the puck during a kill, the Americans newcomer sent it sailing 130 feet down the ice and over the glass, earning a delay of game penalty.
The Laval Rocket tied the game during the ensuing two-man advantage.
"I've tried after practice to shoot it the whole way," Thompson said after recording two goals and an assist in Friday's 4-2 win before a crowd 6,096 at Blue Cross Arena. "I've never done that, so it was kind of different. I didn't think that was going to happen."
At other times, Thompson, 21, seemed snakebitten or a little out of place.
In the second period, Thompson blew a prime opportunity from the slot by shooting into goalie Michael McNiven's midsection. He also broke his stick attempting to one-time the puck from the left circle during a power play.
On the Rocket's tying power-play goal 29 seconds into the third period, Amerks coach Chris Taylor acknowledged Thompson could've collapsed more.
But Thompson, who spent the entire season in Buffalo before getting sent down Thursday, eventually settled down and started looking comfortable.
"I think I had a great response after the first," Thompson said. "I was a little slow there."
Thompson assisted on Danny O'Regan's power-play goal. Then 8:37 into the third period, he scored the winner, tipping Arvin Atwal's point shot in from the right circle.
Thompson's empty-net goal then sealed the game.
No matter what Thompson did, Taylor kept sending the 6-foot-5, 200-pound prospect out on the ice.
"If you make a mistake, we want to put you right back out there," Taylor said.
He added: "What he's got to do is the little things."
The Sabres want Thompson, a key piece of the Ryan O'Reilly trade with the St. Louis Blues, to play in all situations with the Amerks.
In Buffalo, Thompson was often sitting out games as a healthy scratch or skating short minutes when he played.
"It feels good getting back out there on the ice," said Thompson, who skated at right wing beside center Kevin Porter and C.J. Smith. "I feel like any player, if you make a mistake, you want to be able to correct it right away. I was fortunate to be able to do that tonight."
Thompson hadn't played an AHL game since Feb. 23, 2018, with the San Antonio Rampage. Counting the playoffs, Friday was the former first-round pick's 57th minor league appearance.
The Sabres planned to send Thompson down for the postseason, but they figured they would let him play regular-season games to help him get acclimated.
"I didn't know if I would come down a few games before," Thompson said. "It makes sense."
So far, Thompson said his transition to the Amerks has been "pretty easy."
"They've had great success all season long," he said. "It's easy to step into an atmosphere and an environment where it's positive every day."
Be the first to know
Get local news delivered to your inbox!