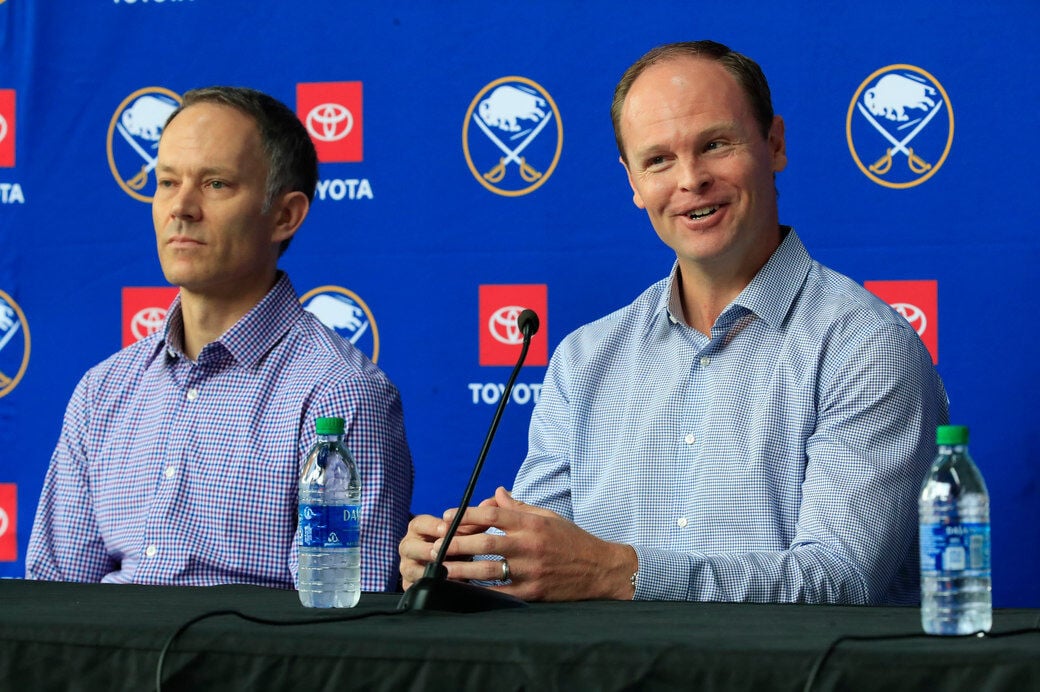 It's no secret the Buffalo Sabres need an infusion of skill and goal-scoring prowess on their NHL roster and prospect pipeline.
Sam Reinhart, the Sabres' leading goal scorer last season, was traded to the Florida Panthers on Saturday, and Jack Eichel, who set a career-high with 36 goals in 2019-20, is expected to be the next to go.
The 5-foot-11, 156-pound Rosen was one of Sweden's top forwards in the World Under-18 tournament at Frisco, Texas, collecting a team-high seven goals and nine points in seven games as Sweden won the bronze medal. 
While coach Don Granato will have Dylan Cozens and Casey Mittelstadt on the roster this season, more help is needed. General Manager Kevyn Adams' plan is to supplement those core players from within, rather than attempt to expedite a rebuild by acquiring NHL players in trades or signing free agents to lucrative contracts.
Wingers Jack Quinn and J.J. Peterka, the Sabres' top draft choices in 2020, are closer to contributing and will play in Rochester or Buffalo this season. But more depth is needed, a problem the club tried to address during draft weekend by selecting nine forwards.
Second-round selections Prokhor Poltapov and Aleksandr Kisakov are ultra-skilled teenagers from Russia who have top-six potential, but there's more pressure to produce sooner rather than later if you're a first-round draft choice like Isak Rosen.
For the most part, the Sabres opted for players they were able to scout in-person, whether it was second-round selection Prokhor Poltapov at the IIHF Under-18 World Championship or Olivier Nadeau and Viljami Marjala in the Quebec Major Junior Hockey League.
Rosen, an 18-year-old Swedish right winger, was selected by the Sabres in the first round with pick No. 14, which was acquired from the Philadelphia Flyers for Rasmus Ristolainen. Unlike some of the draft's top players, Rosen has not been given the opportunity to truly show he can produce when competing against men, but he has all the skills of a dynamic NHL forward.
"He's a player that we've been following closely for a couple years now," said Sabres director of amateur scouting Jerry Forton.
Evaluating Rosen wasn't a simple process for the Sabres and the NHL's 31 other teams. His talent led to a roster spot with Leksands IF of the Swedish Hockey League last season, but like many young players there, he did not receive enough ice time to truly showcase his talent. Rosen had zero goals and one assist in 22 games with the club.
There were some games where Rosen was on the ice for only four or five minutes, a difficult situation for a player at that stage of his development. He made the most of each opportunity though, showing flashes of brilliance when on the ice. Rosen was exceptional when facing his peers in 12 games with Leksands' Under-20 team, compiling seven goals and 12 points in 12 games.
"When he went down to the Under-20 league, he was almost too good for that league," explained Forton. "But the games he did get decent opportunity in the SHL, he was very impressive to us."
The Sabres made 11 selections in this year's draft, but outside the team's draft room, all the attention was focused on the names fans have known for many years: Rasmus Ristolainen and Sam Reinhart.
Rosen earned a prominent spot on the Sabres' draft board with his performance at the IIHF Under-18 World Championships in Frisco, Texas. With multiple Buffalo scouts in attendance, as well as Adams, Jason Karmanos and Forton, Rosen led Sweden in scoring with seven goals in seven games. He also had two assists for a team-high nine points, helping his country earn a bronze medal at the prestigious tournament in May.
Listed at 5-foot-11, 156 pounds, Rosen has an impressive left-handed one-time shot that resembles that of Sabres winger Victor Olofsson and a fearlessness to take the puck to the net. He also has the speed to create space for himself, as illustrated during Sweden's bronze medal win over Finland when he knifed through the defense to earn a breakaway goal late in the third period.
"I'm not the biggest guy, but I think I play very hard and use my feet very much," Rosen said. "I think I'm a really good skater. That's very important for me to move my feet both with the puck and without the puck, and I think my game is (built) around my skating."
It's likely that Rosen will play more minutes for Leksands IF next season, and he played left wing on Sweden's top line during its opening game at the World Junior Summer Showcase on Saturday. Rosen cut the team's deficit to 4-2 in the third period by patiently stickhandling to the slot and rifling a wrist shot below the crossbar for a power-play goal.
The Sabres chose Rosen when the top two goalies in the draft, Sebastian Cossa and Jesper Wallstedt, were still on the board. Though Buffalo needs more depth at the position, it still has Ukko-Pekka Luukkonen and Erik Portillo. Luukkonen is expected to start this season in Rochester and Portillo is taking over the top job at the University of Michigan.
Power, a 6-foot-6 left shot defenseman ranked by NHL Central Scouting as the top North American skater in this class, is coming off an impressive freshman season at the University of Michigan and a remarkable performance against much older competition at the IIHF World Championship in Latvia.
The Sabres also acquired goalie prospect Devon Levi in the Reinhart trade, providing the organization with a player at a different stage of development than Luukkonen or Portillo.
Though the Sabres went best-player-available by following their own prospect rankings, it was clear that the greater need is at forward. Aside from Quinn and Peterka, the Sabres' top forward prospects yet to reach the NHL were Lukas Rousek, Matej Pekar, Linus Weissbach, Matteo Costantini and Aaron Huglen. The organization remains high on each player, but more talent was needed.
"We've got a young core that we rightfully so think very highly of that can be part of our success in the future," Karmanos said. "I think it's an obvious point, the teams that win, they have an incredible amount of depth throughout the organization. We don't have that yet, and that's understandable for where we are, so we need to use the various modes that we have in place to acquire players and find talent, and we need to do a good job making those decisions. I think we're in a good spot, better than perceived, but we do need to build the organization, the depth in the organization, for sure."
Sources told The Buffalo News that the Sabres also had first-round grades on Poltapov and Kisakov, both of whom are expected to represent Russia at the next IIHF World Junior Championship.
Listed at 6-0, 176 pounds, Poltapov projects as a power forward with "hard skill," according to Forton, and totaled 25 goals and 52 points in 61 games with Krasnaya Armiya Moskva of Russia's top junior league. Kisakov has similar high-end skill, but he's of a slighter build at 5-10, 151 pounds. The timeline to reach the NHL may be longer for each player.
Rosen, though, has all the requisite skills to play in the NHL right now. The next step is gaining strength, a process that will come with time. The Sabres are prepared to be patient, as Karmanos told reporters that acquisitions will fit into the "timeline for when we're going to be a good team." If the assets acquired for Ristolainen and Reinhart are any indication, Adams has no interest in speeding up a rebuild, which makes Rosen a nice fit for their plan.
"His shot and speed are at an NHL level right now," Forton said of Rosen. "He just needs to get a little bit stronger."