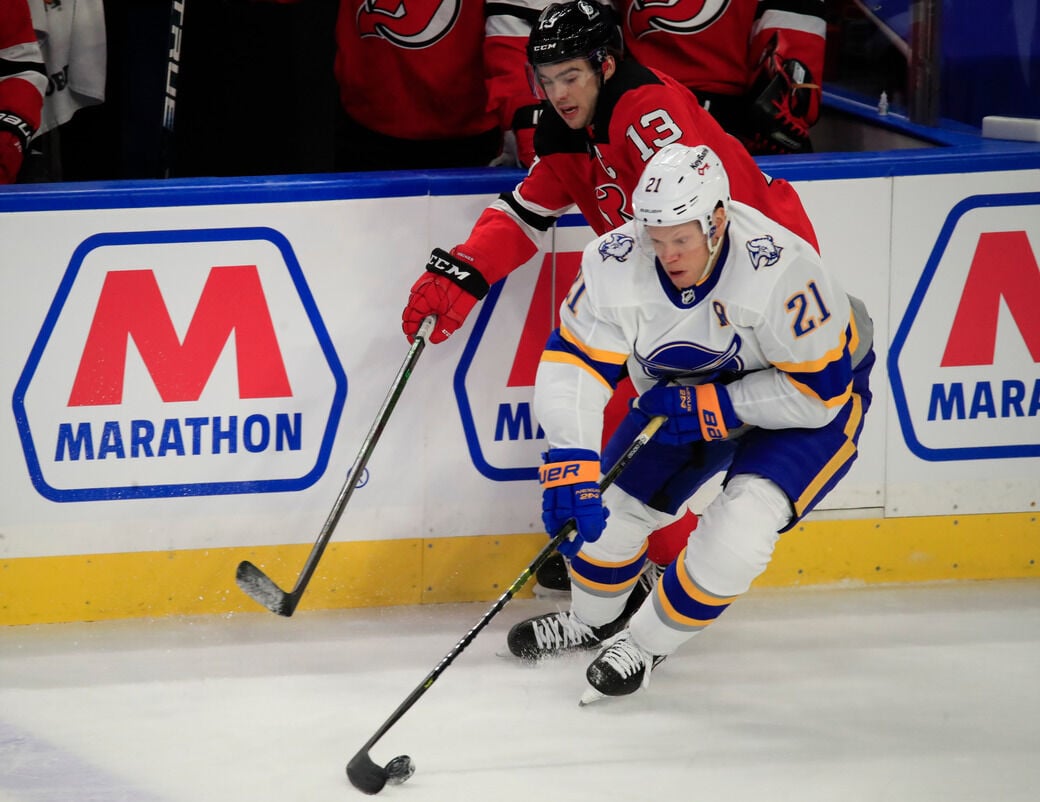 NEW YORK – The stat sheet still says no goals and one point in 15 games. There's no way Kyle Okposo can get around the numbers.
A training camp leg injury torpedoed the start of the veteran winger's season, keeping him out of the Buffalo Sabres' first five games and rendering him useless for the next six when he got back into the lineup. He had one shot on goal combined in those six games. One.
"I know when I'm not playing well and my first five games I did not play well. And then I feel like since the break (the team's two-week Covid shutdown), I've been playing better, but the results just aren't coming," Okposo said after a 3-2 loss Tuesday to the New York Rangers in Madison Square Garden. "As a competitor, as somebody that's relied on, that's a difficult thing."
The breakdown of Okposo's game has been hard to watch for fans, knowing how his seven-year, $42 million contract signed in 2016 has become a hard one for this organization to stomach. At $6 million per season, it has to be about numbers. Okposo had just nine goals last season and has now gone over a year without scoring.
It's 22 games and counting for Okposo since he scored both goals in the Sabres' 2-1 win over Winnipeg on Feb. 23, 2020.
Okposo said last week he's gone outside the box looking for opinions on his game. Although not specifying, the likelihood is personal trainers and old mentors from his college and high school days in Minnesota are chiming in.
They must have seen the same as all of us. The lack of speed, the lack of grind along the wall and in front of the net. Some of that has returned in recent games as Okposo has spent the last couple on a line with Taylor Hall and Eric Staal.
Okposo has 14 shots on goal in the last five games. But again, no goals and only an assist Feb. 23 at New Jersey. Even that lone point is largely meaningless, coming on a buzzer-beating empty-net goal from Cody Eakin to cap a 4-1 win.
Okposo had perhaps his best chance of the season to score Tuesday night but was robbed in tight by New York goalie Igor Shesterkin. Okposo and similarly goal-less Jeff Skinner both failed to score on great chances to get their first of the season; Skinner had nine shot attempts in the game.
"We had a lot of good things going on," Okposo said. "I thought Jeff played his best game of the year. We had a lot of guys contributing, a lot of guys playing the right way. And unfortunately, we didn't get rewarded."
Okposo said he's doing his best to manage his frustration. His line was on the ice for the Rangers' first two goals – although they can easily be dropped at the feet of defensemen Rasmus Dahlin and Brandon Montour, respectively – but started to carry play later in the game.
"I thought we pushed, we had some opportunities," he said. "We've just got to find a way to put the puck in the net. That's it. That's what it comes down to. This is a results-based business. And I understand that playing good gets you nowhere in this industry if the results aren't there."
Sabres coach Ralph Krueger liked the line's play in the second half of the game Tuesday and understands its frustration.
"We see pucks going through the goalie's legs and out the other side," Krueger said. "And it's really tough right now for them to get confidence out of a good game.
"I thought they recovered, they competed hard and tried to make a difference. ... They had the opportunity on the table. And if I knew an easy solution, I would tell it to you but the only thing I know right now is to roll up the sleeves and push them to go back to work."
The Sabres had a CBA-mandated day off Wednesday and start a three-game series against the New York Islanders on Thursday in Nassau Coliseum. It's the first three-game set against an opponent in franchise history and was put together in the wake of the Feb. 2 and 4 postponements.
The series against the Islanders will have personal meaning for Okposo, as it will be the Sabres' final three games in the Coliseum, where he spent the first eight years of his career. It's also where the Islanders clinched a six-game semifinal series victory over Buffalo in 1980 en route to the first of four straight Stanley Cups early in that decade.
The Islanders are moving next year to UBS Arena adjacent to the famed Belmont Park racetrack. It's a state-of-the-art facility and gets them closer to New York City but not too far away from their Long Island base, which was a key problem when they played at Barclays Center in Brooklyn.
"It's gonna be tough to see, see the old barn go," Okposo said last month prior to the Sabres' initially postponed visit. "Nassau was a pretty cool arena, a lot of history there. But I'm sure that the new site at Belmont is going to be phenomenal. And I know they've been trying to do it for a long time. There was a lot of talk about them moving. I'm sure that the fan base is extremely happy that they're going to have some stability in the new space, a space to call home."