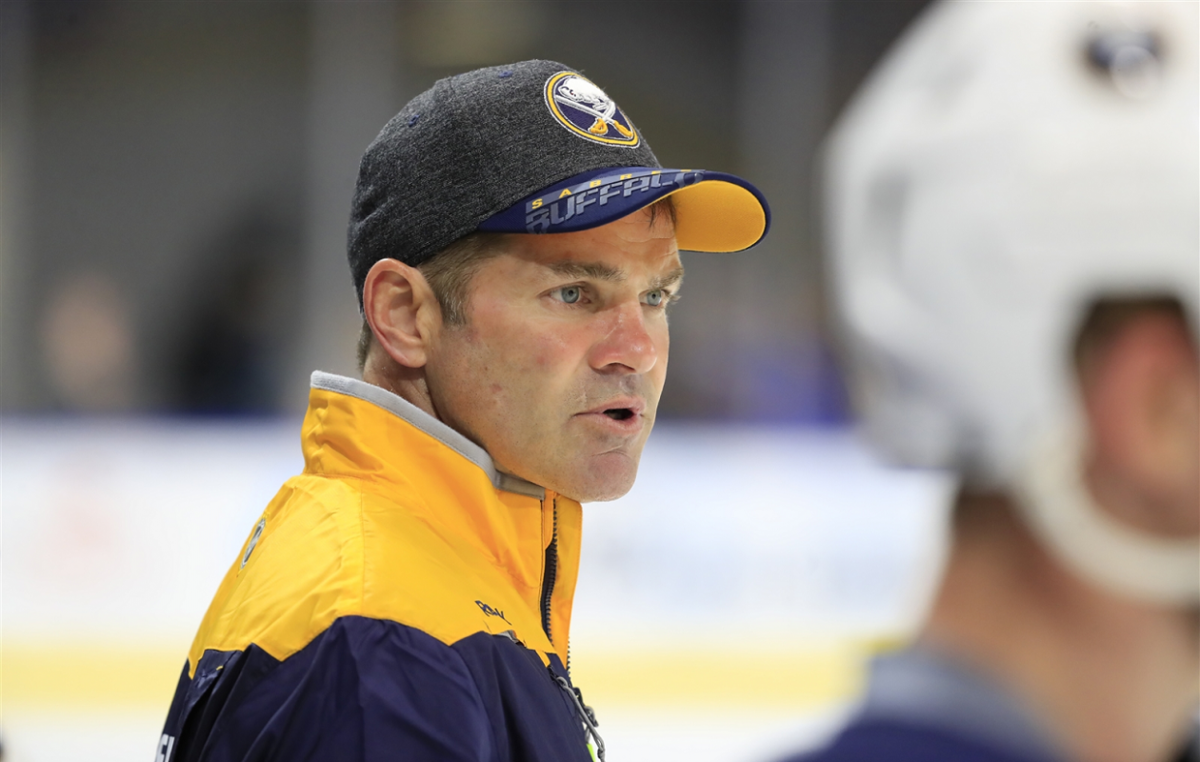 Chris Taylor figures it took about the first 15 or 20 games last season. With a new coaching staff and a slew of fresh faces acquired by a new regime, the Rochester Americans needed time to get comfortable with each other.
Taylor, then a rookie head coach, wanted to foster a simple understanding among members of the Buffalo Sabres' AHL affiliate.
"We care about each other, we're all in this for each other," Taylor said.
Getting everyone to reach a comfort level took some work. So Taylor and his staff intertwined with the team. He installed an open-door policy for his office. Win or lose, the coaches would chat with players the next morning. They would eat breakfast and lunch together.
"We wanted everybody just to grow that strong bond, you wanted to have mutual respect for each other," Taylor said. "As soon as we started respecting each other and getting to know each other personally, not just as a hockey coach or as a hockey player, I think things got a lot better."
The Amerks enjoyed their best season in years, winning 22 of their first 38 games. While they tailed off during the winter, they still earned 91 points.
Their first playoff campaign since 2013-14 helped raise expectations for this season, which the Amerks have started 0-2.
"We think there's a lot of different ingredients required to win a championship or compete for a championship," Amerks general manager Randy Sexton said. "We think we have them."
Culture, of course, is one ingredient. The Amerks established a much different one during Taylor's first season.
Taylor's predecessor, Dan Lambert, came from junior hockey. He spent one season as an assistant coach in Buffalo before taking over the Amerks in 2016. Taylor, meanwhile, had been an AHL assistant for years.
"His background and the years he had coached may have prepared him a little bit more for it (than Lambert)," Amerks defenseman Taylor Fedun said of Taylor. "I think there were certainly different styles. I think at this level, Tails' style just kind of translates to dealing with professionals a little bit better."
Taylor wants his players to showcase their own identity, whether it's good or bad.
"I want them to relax, I want them to be mad, I want them to show me exactly who they are," he said. "I think everybody does in the dressing room."
Sabres defenseman Casey Nelson, who played 40 games with the Amerks last season, said: "He brought a very positive mindset to the rink every day and let us players be who we are."
Taylor doesn't hide his feelings when talking to his players. He deals with them bluntly.
"I think that's very important," he said. "They know when you're not telling the truth about different things. Communication's big."
Fedun said Taylor is always willing to talk.
"But he's also going to shoot you straight," Fedun said. "We're professionals. You don't go in there just hoping to be fluffed up. If you go in there with a concern, you're going to get the truth. I think he respects that we're all grown and should be able to handle that kind of thing at that level."
Fedun said the clear channels of communication went all the way to Sexton.
"That allowed us to know what they expected from us, needed from us, and it went both ways," Fedun said. "I think that transparency down the line just went a long way to just a really good feel in the locker room that allowed the guys to focus on what was important."
A younger roster
Thanks to an infusion of strong prospects, the Amerks are younger than a year ago. For example, defensemen Will Borgen and Lawrence Pilut and forwards Rasmus Asplund and Victor Olofsson are beginning their first AHL seasons.
"We're less experienced than we were last year," Taylor said. "We also have a lot more junior guys coming in that are very top prospects in the organization, which we never had, which is great."
Some of Buffalo's other prospects have a year or two of AHL experience. Two of them – defensemen Brendan Guhle and winger Alexander Nylander – impressed the Sabres throughout training camp and nearly made the big club before being sent down late.
Nylander, 20, struggled throughout his first two pro seasons. Then the Sabres challenged the Swede to get better in what Sexton said was the "most important offseason of training in his young life."
The former eighth overall pick clearly took the words to heart.
"He really did," Sexton said. "He worked very hard, he changed his training regimen a little bit, came back to Buffalo early to work out with a lot of the young guys and started off just having a very good rookie tournament. He leveraged that rookie tournament right into a very strong training camp and preseason."
After Sabres demoted Nylander, Sexton said he "had a great two days of practice."
"He was flying, he was shooting the lights out of the puck," Sexton said.
Naturally, Sexton said another assignment to the AHL disappointed Guhle, 20, the Sabres' top defense prospect other than Rasmus Dahlin.
"The real reflection is how does he respond the next day of practice?" Sexton said. "He was excellent, he came out ready to work with enthusiasm and passion and he jumped right in where he left off last year.
"So that tells me, hey, he's mature, he's disappointed, but he's going to do everything he can to improve his game to get back to Buffalo."
Loaded blue line
Right now, the Amerks have nine defensemen, meaning three must be scratched each game.
Since all of them are prospects or established AHL talent with NHL experience, some notable names are sitting.
"It's not easy," Taylor said. "The guys that are not playing are obviously frustrated. I care about each and every one of them, I want them to play. It's a tough spot. … You can't afford to have a bad game."
Fedun said having so much depth "forces everybody to be on your toes at all times."
"You can't take a game, a weekend or even a practice off, because there's somebody who's deserving who'll hop right in and fill your role if you're not there to perform," Fedun said. "We're hoping that having that allows us to have a lot of good, healthy competition."
Fedun, 30, has played 46 NHL games, including 34 with the Sabres. The Princeton product has produced three AHL seasons of 33 or more points.
But after a weak outing in the Amerks' 6-2 loss to the Charlotte Checkers opening night, Taylor scratched him the next day.