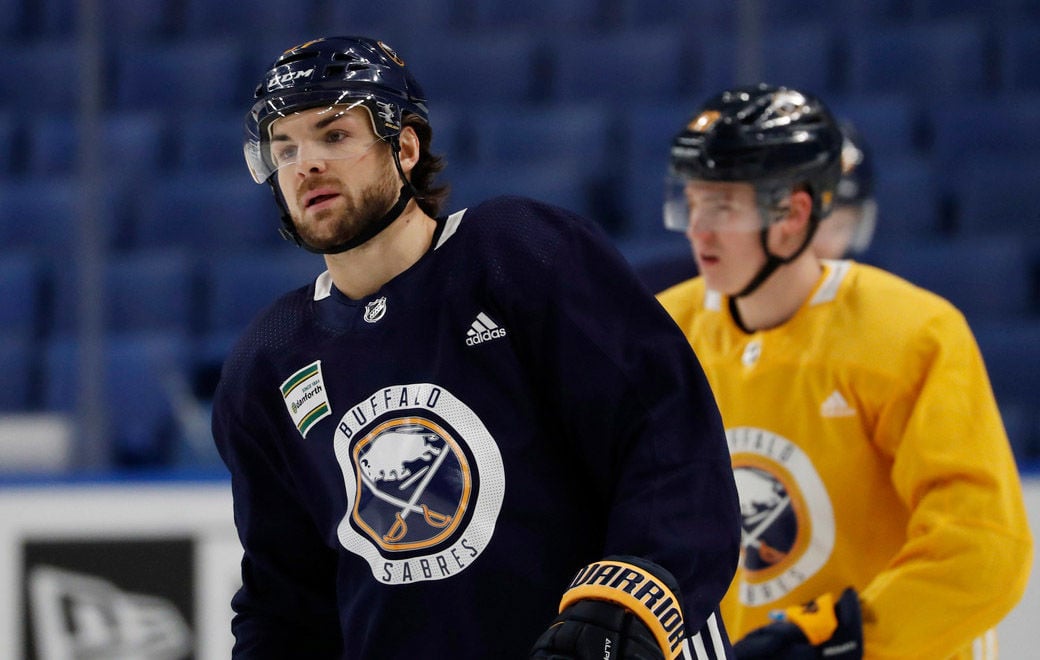 Michael Frolik won the Stanley Cup with the Chicago Blackhawks in 2013, assisting on the Cup-winning goal by Dave Bolland in Game 6 in Boston.
He knows what it takes to win.
He knows what a winning locker room looks like.
And in his month with the Buffalo Sabres, he's seen this isn't it.
"In Chicago we had great, great guys and a great team," Frolik said after practice Friday. "I think it's just a matter of, from what I remember from there, I think the belief. We had a belief in the room that we can win every game. Even if we were down two, three goals, I think you could see in the room the belief that we could turn the game around.
"Also I think the issue here a little bit is just to play a full 60 minutes. We've had a little trouble with the second period. It seems like we always have a pretty good first period and then we kind of take a little bit our foot off the gas, but I think the mindset here needs to be a full 60 minutes and that's the challenge for the next game."
The Sabres host the Columbus Blue Jackets on Saturday afternoon, their third consecutive home game in a stretch of nine of 10 at KeyBank Center since returning from the All-Star break. To this point, they're 0-2, with demoralizing losses to the struggling Ottawa Senators and Montreal Canadiens.
Buffalo (22-22-7) has lost three consecutive games to drop to sixth in the Atlantic Division, and on Friday afternoon sat 10 points out of a playoff spot with 31 games remaining in the regular season.
Players admittedly lost confidence after allowing two goals in just over two minutes in the second period of their Thursday night loss to Montreal, but coach Ralph Krueger said the group remains committed to one another and the system.
"We feel a continued, complete buy-in by the players of what we're working on," Krueger said Friday. "And are the results the way we want them? No. And do fans deserve to boo us after games like Ottawa and Montreal? Yes. Do we need to take that? Yes. And it should fuel us to continue to work in the right direction so that's how I'm feeling right now and that's how the group is feeling. And we're going to continue to work hard here."
Jack Eichel, who's enjoying a career year statistically with 30 goals and 34 assists, capped Thursday's frustrating performance by smashing his stick.
"It wears on everyone," Eichel said Friday, addressing the team's struggles, "but that's my job as a hockey player, as a leader, as a person, to be able to find a way to regroup every day and come to work, get better and prepare for the next game and I think that's what I try to do every day."
The captain hasn't received much help.
The Sabres have been plagued by a lack of secondary scoring, inconsistent play and an inability to sustain pressure in the offensive zone.
Frolik, who turns 32 on Feb. 17, has just an empty-net goal and one assist in eight games since being traded from Calgary to Buffalo for a fourth-round draft pick on Jan. 2. The forward had five goals and five assists in 38 games with Calgary this season.
But his experience and work ethic count, too.
"He's just a real solid character player who understands the game away from the puck and also understands what his team needs from him," Krueger said. "I think that he has courage and his [addition] to our penalty kill has been good. Other than the game against Ottawa, we really, really have had a good run of PK here since he's been in our group.
"He's a good guy in the room. He's a mentor kind of player, works hard off the ice, another good example for our young guys to see why he's been in the National Hockey League for this long."
Frolik's ice time declined in each of the last three seasons in Calgary, down to an average of 11:56 this season, before being traded. He's playing nearly 14 1/2 minutes per game with the Sabres, the most he's received since the 2017-18 season, when he had 10 goals and 15 assists in 70 games.
Frolik has played for five NHL franchises since being selected with the 10th overall pick by Florida in 2006 draft.
He waived his no-trade clause to come to Buffalo, and said he's happy with his role.
"Yeah, definitely. Obviously, my ice time has been higher and my role has been pretty good here coming from Calgary. I'm happy with that, for sure," Frolik said. "I'm happy for that opportunity. Hopefully, like I said, I want to play the right way and don't think too much about the scoring. But it's a little bit in your head, too. You want to help the team, help the guys and get some experience. I know we got a young team here and strive to be an example for them on the ice and in the practices and stuff."
But with the trade deadline approaching, he didn't rule out waiving his no-trade clause again, should the Sabres wish to deal him elsewhere.
"Obviously, the opportunity's getting bigger, so that's why I kind of came here," Frolik said. "So far, I'm happy here. I just want to help the guys, help the team. You never know, but I like the guys, I like the group here, I don't want to be changing too much. You never know, but like I said, I'm happy here and I'm happy to be a Buffalo Sabre."
Happy enough to consider re-signing with the Sabres this offseason, when he's slated to become a free agent?
"I don't want to go too much ahead, but I think if some offer happens, I definitely want to stay in the league," Frolik said. "I think still I can play in this league. But you never know what will happen in the summer. I've been through that free agency. So I know it's tricky and you kind of never know. But yeah, if any offer happens here I'd definitely consider it and take it."
For now, Frolik said he's focused on helping the Sabres improve their consistency and work ethic, and trying to help the team push for an unlikely playoff berth.
"We have to realize this is the time for us," Frolik said. "Every game for us should be like a kind of playoff game. And it's between us here. We need to do the work. We need to put the work in and I think we were, it's just we took a couple of minutes off and they make us pay. In this league, you need to be consistent the whole game and every single game and that's what we're looking for the next few games."
Okposo, Bogosian likely out
Kyle Okposo will not play in Saturday's matinee against Columbus after being injured early in the first period of Thursday's loss to Montreal. Krueger made sure to clarify that the veteran did not suffer another concussion, but simply had an upper-body injury "below the neck."
Zach Bogosian did not practice Friday because he's sick and is expected to miss the game.
"Zach is extremely ill, so expecting that's going to take a couple of days," Krueger said.
Brandon Montour also didn't skate. He was given a maintenance day.
Dea recalled from Rochester
The Sabres recalled forward Jean-Sebastien Dea from Rochester.
Dea has 13 goals and 17 assists in 41 games for the Amerks. He leads the team with 30 points and he is tied with Andrew Oglevie for the team lead in goals. It's the second recall of the season for Dea, who made his Sabres debut Nov. 27 against Calgary.
"I'm just going to stay myself, try to bring as much positive as I can," Dea said. "If I can help the team win, that's obviously my main goal."
Be the first to know
Get local news delivered to your inbox!