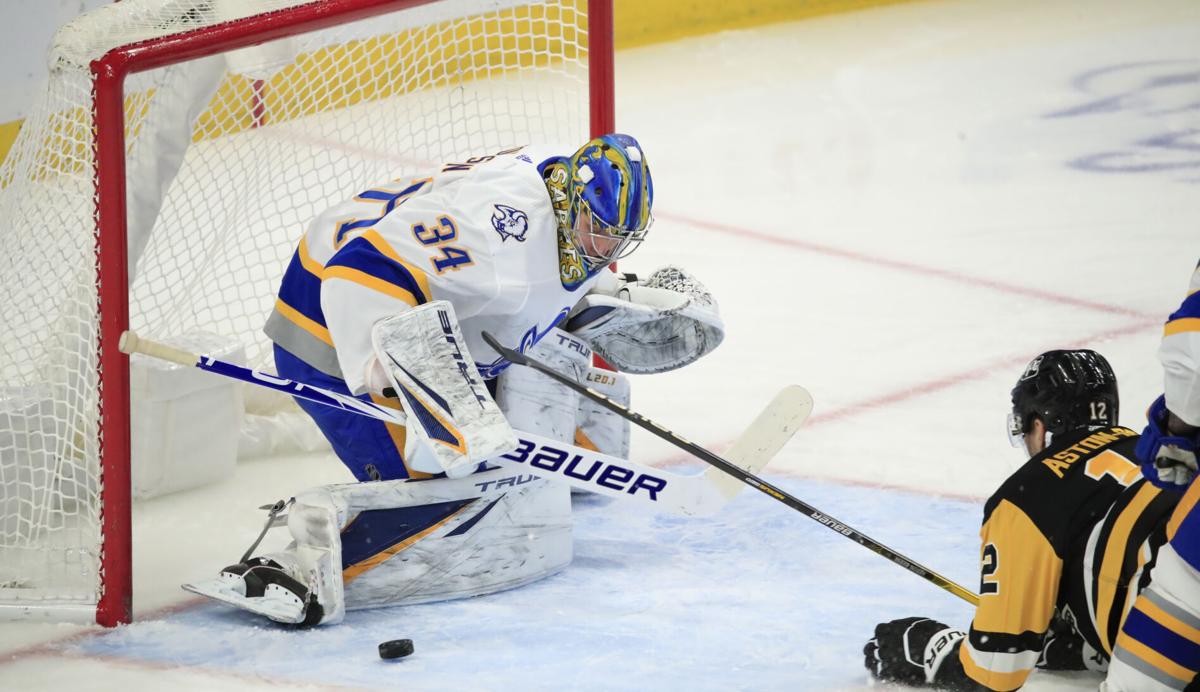 Sabres General Manager Kevyn Adams kicked off what will likely be a flurry of trades Saturday by dealing goalie Jonas Johansson to the Colorado Avalanche in exchange for a sixth-round draft pick in 2021.
Johansson, a 25-year-old selected in the third round by Buffalo in 2014, was held out of practice Friday in KeyBank Center with the Sabres finalizing details on the trade with Colorado, multiple sources told The Buffalo News. Adams did not complete the move until goalie Michael Houser cleared waivers and the Sabres received more information on how they may be impacted by the Boston Bruins having four players added to the Covid protocol list.
On the surface, it may seem odd for the Sabres to part ways with a young goaltender when the organization is thin at the position. Top prospect Ukko-Pekka Luukkonen is in Rochester and still likely one year away from a full-time NHL job. Sabres starting goalie Linus Ullmark is still out with a lower-body injury.
However, Johansson struggled in his seven appearances with the Sabres this season, compiling an .884 save percentage and 0-5-1 record. He will also become an unrestricted free agent this summer if he does not log 21 NHL appearances of at least 30 minutes.
The Avalanche likely view Johansson as important depth on the taxi squad and a prospect the organization can evaluate to be the No. 3 goalie next season.
The trade leaves Carter Hutton and Dustin Tokarski as the Sabres' two healthy goalies on the roster and taxi squad. Houser, a 28-year-old whose only professional experience has been in the ECHL and AHL, signed an NHL deal with Buffalo and cleared waivers Saturday. This will allow Houser to be assigned to the taxi squad, which is likely a temporary move until Ullmark returns from the injury that's kept him out of the lineup since Feb. 25.
Hutton, a 35-year-old pending unrestricted free agent, is 1-10-1 this season with a 3.48 goals-against average and .885 save percentage. Tokarski, meanwhile, is 31 years old and has not appeared in an NHL game since the 2016-17 season. In 34 career NHL appearances, Tokarski has logged a .904 save percentage. He is a two-time AHL Calder Cup champion (2012 and 2019) and was selected to the AHL All-Star Game in 2013-14.
Johansson's development was impacted by injuries since his draft year, including season-ending knee surgery in 2019-20. He made a remarkable comeback last season, earning all-star honors in the AHL while compiling a .921 save percentage in 22 appearances with the Amerks. Johansson made his NHL debut last season, earning his first NHL win by making 25 saves against the Winnipeg Jets on Feb. 23.
Johansson was given a one-year contract by the Sabres in October, but he was a victim of circumstance this season. Rather than receiving important playing time in Rochester, Johansson was relegated to the taxi squad and did not start a game until Ullmark was injured last month.