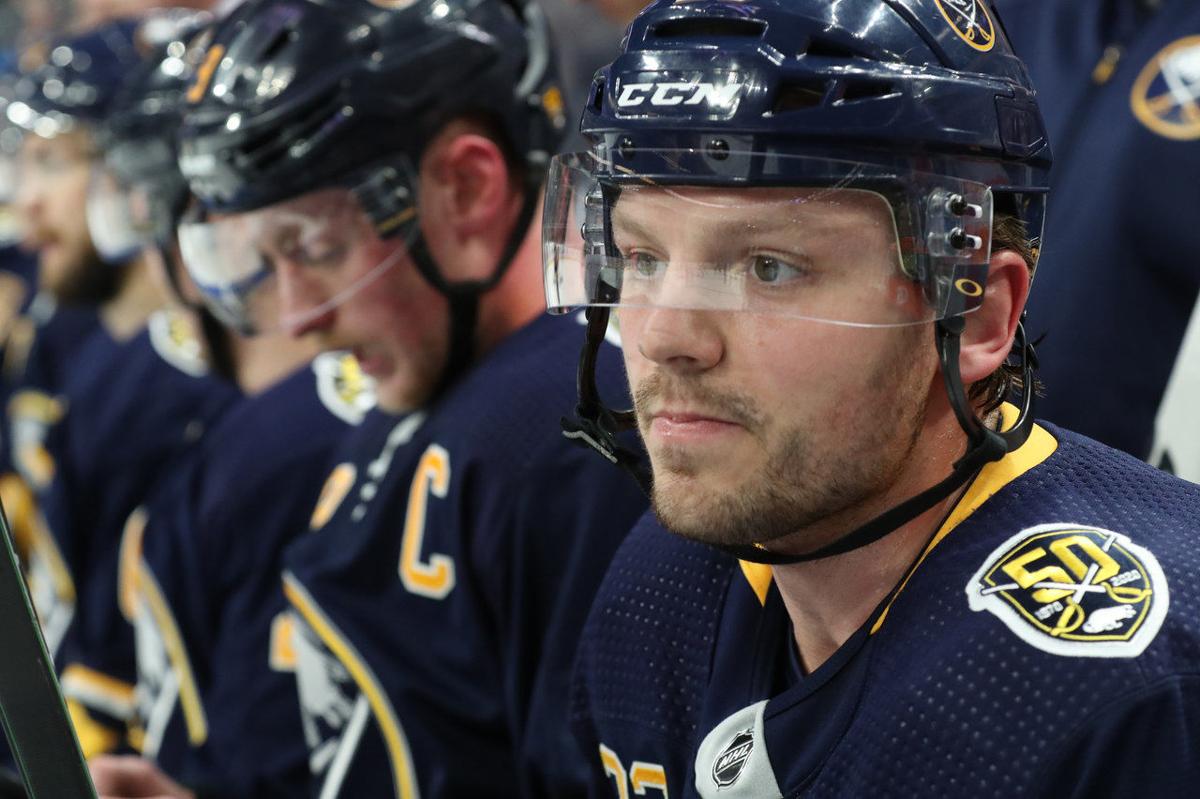 The postmortem of another nonplayoff season for the Buffalo Sabres took on a new form Wednesday morning when General Manager Jason Botterill addressed the media during a Zoom video call.
This was the Sabres' second official day of the offseason. Although they have been on pause since March 12, there was a glimmer of hope they could complete their schedule until the National Hockey League and NHLPA decided on a 24-team playoff if the season resumes late this summer.
Points percentage left the Sabres one win away from snapping their playoff drought. Instead, their players might be facing a nine- or 10-month offseason and Botterill's planning is disrupted by uncertainty surrounding the salary cap in 2020-21.
The situation creates significant hurdles for an organization that will rely on the development of young players to supplement a core led by Jack Eichel, who has scored 64 goals over the past two seasons, including a career-high 36 goals in 68 games in 2019-20.
"There's disappointment, but at the end of the day it's our fault we didn't win more games prior to that," Botterill said. "We should have put ourselves in that position. We should have been in a position that no matter what happens that we would be part of the mix."
Here are seven takeaways from Botterill's talk with reporters:
1. First-round pick on the market?: In addition to announcing the return-to-play format Tuesday, Commissioner Gary Bettman revealed the NHL will hold a 15-team lottery – including the seven teams that are not part of the return-to-play format and the eight that are eliminated during the play-in round – on June 26 to determine the top three picks in the draft. The eight teams will be represented by a placeholder and each slot's odds are determined by points percentage through March 12.
The Sabres have the seventh-best chance of landing the first overall pick. The NHL is prepared to host up to three lotteries if one of the playoff teams wins a top-three pick during the first two draws. A date for the draft won't be revealed until the league decides whether it can follow through with its plan to award the Stanley Cup this fall.
Botterill told reporters Wednesday the Sabres are prepared to draft now and did not express any concern with the change to the lottery. Although Botterill said he isn't in a position to trade numerous high draft picks, he did not rule out using his first-round selection as a trade chip.
"I think you have to go through the lottery, obviously, and see where it's at and see what's available from that perspective – both from the nature of the selection there but also what the trade market is," Botterill said. "Obviously, the 24 teams are a lot more focused on playing the playoffs out here right now versus focusing on making trades. It'll be something we certainly look at. We've been very open to talk a lot about different things that will help our team. That'll certainly be something we at least consider."
2. Free-agent picture: According to Botterill, the Sabres will not have substantive contract talks with their pending unrestricted and restricted free agents until the NHL provides some clarity on what the salary cap could be in 2020-21.
Botterill explained that he has remained in contact with most of those players' agents and plans to maintain dialogue throughout the summer. Despite the uncertainty, he expects to have some "flexibility" to spend because the Sabres have expiring contracts that should provide some cap relief.
3. No financial mandates: Pegula Sports and Entertainment, the parent company of the Sabres, has been delivered a significant financial blow during the coronavirus pandemic, leading to layoffs, furloughs and salary cuts. An inability to complete the regular season also will cost the organization an undisclosed amount of money in game day and other revenue.
However, Botterill told the media that ownership has not given him any financial mandates.
"Those are the exchanges I've been having with the Pegulas on a daily occurrence here," Botterill said. "I haven't had that mandate yet, but look, you're all dealing with it and stuff and we're certainly dealing with it here, too. We're in a very – I think as the word Commissioner Gary Bettman keeps saying – unprecedented time and it's affecting a lot of different things. We've had to make some hard decisions within our organization already. It'll be interesting to see how we move forward with that. ... The difficult thing about it all is trying to predict what the future entails."
4. Forwards a priority: For the fourth consecutive offseason, Botterill will try to address the lack of depth at forward. The hole on the roster could grow wider because they have six pending unrestricted free agent forwards on the roster: Wayne Simmonds, Jimmy Vesey, Michael Frolik, Vladimir Sobotka, Johan Larsson and Zemgus Girgensons.
The Sabres ranked 21st in the NHL in goals scored and only three players recorded 20 or more goals: Eichel, Sam Reinhart (22) and Victor Olofsson (20).
Botterill continued to stress the importance of his top three forward prospects: Tage Thompson, Casey Mittelstadt and Dylan Cozens. Although Thompson's on-ice development was paused because of a season-ending shoulder injury, Mittelstadt and Cozens could be ready for full-time roles on the Sabres' roster. Additionally, Botterill will try to address the lack of depth through free agency and trades.
"It's a situation where I think I touched on before, we have to do a better job of creating more offense throughout our four lines, of having more depth scoring throughout the entire lineup," Botterill said. "As a GM, I have to give our coach Ralph Krueger the ability to change different lines up, to have more depth through his four groups. ... And I will certainly always support and I truly believe in a lot of our young players that we have within our system here."
5. Optimism for Skinner: Jeff Skinner scored a career-low 14 goals this season, the first of an eight-year, $72 million contract he signed with the Sabres last June. The two-time All-Star missed 10 games because of an upper-body injury and did not play alongside an experienced center.
Botterill did not sound concerned when asked about the drop in production, adding that Skinner's high volume of scoring chances give the Sabres "hope" for a turnaround. Skinner is scheduled to speak with reporters Thursday.
6. Reinhart might have to wait: Reinhart, a pending restricted free agent, would appear to be a logical candidate for a long-term contract extension. The 24-year-old has appeared in every regular-season game over the past three years, scoring 69 goals during that span. His play without the puck also showed significant improvement under Krueger.
Reinhart, though, might have to wait for a contract extension. When asked about possible long-term deals for Reinhart and Rasmus Dahlin, Botterill mentioned the arbitration process without referring to a specific player. A short-term, bridge contract for Reinhart might be necessary because lower league revenue could lead to a lower salary cap next season. Reinhart is scheduled to address reporters Thursday.
Dahlin, meanwhile, is scheduled to become a restricted free agent next July, but a long-term contract now could benefit the Sabres financially. Dahlin's value will increase with another strong season.
"Until we have more clarity on where the salary cap's going to be, just the process of salary arbitration, what the time frame's going to be," said Botterill. "We've been in communication with most of our free agents, both restricted and unrestricted, their agents. just let them know about where we're at. And obviously with the pause, I think a lot of teams are in the same boat from that standpoint."
7. Ullmark the starter: Sabres goalie Linus Ullmark received high marks from Botterill. Ullmark posted the third-best save percentage among qualifying goalies during a two-month stretch prior to the upper-body injury that sidelined him for almost six weeks. Ullmark is a pending restricted free agent and finished the season with a .915 save percentage in 34 games.
Botterill also noted that Carter Hutton had a disappointing second half for a second consecutive season. After registering six consecutive wins to start this season, Hutton posted a .887 save percentage over his final 25 games.
"I think it's a situation where we'll continue to evaluate that throughout the summer," Botterill said of his goaltending. "I think, though, that Linus took a big step, especially if you look at some of his numbers at even strength. I thought he did a very good job for us. ... I think he's taken big steps in his career here. Carter I thought was outstanding at the start of the year. Certainly, his game slipped when we came back from Sweden and that's something we certainly have to look at from a standpoint of getting more consistency from him because the last two years in the second half it just hasn't been the same as his first half."
Be the first to know
Get local news delivered to your inbox!