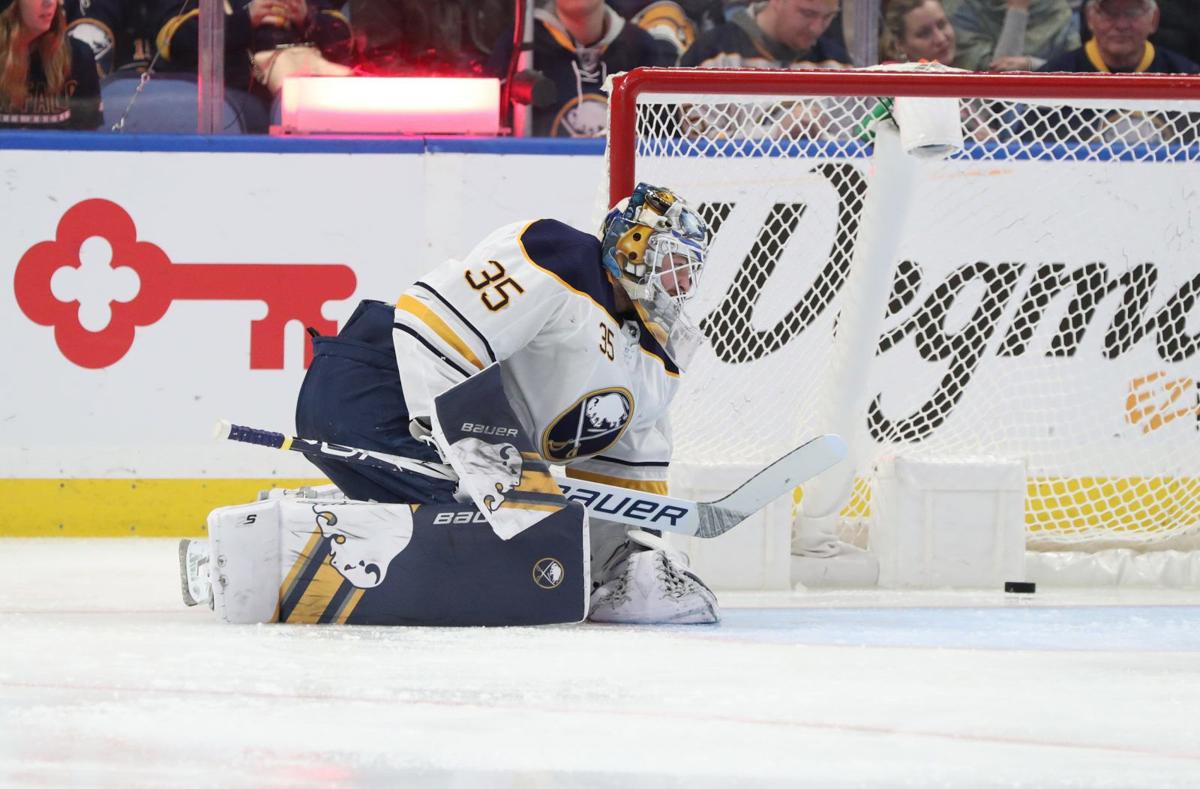 Instead of looking ahead to a Saturday matinee against the Detroit Red Wings, the Buffalo Sabres spent Friday afternoon cleaning up the aftermath from a 6-5 overtime loss to the Carolina Hurricanes.
Sam Reinhart and Phil Housley each arrived for practice knowing reporters would ask them to clarify their postgame comments from Thursday, when Reinhart seemed to blame goaltending for the team's struggles and Housley, in response to a Buffalo News reporter asking if the defensemen were good enough, said: "That's Jason's job," referring to General Manager Jason Botterill.
Reinhart and Housley backtracked on those remarks Friday. First, following a 30-minute practice in HarborCenter, Reinhart said he misspoke at the beginning of his postgame interview and texted both goalies – Linus Ullmark and Carter Hutton – to apologize.
Then, Housley addressed the elephant in the room before a reporter could even ask a question.
"For the record, I misunderstood a question yesterday," Housley said. "I took it as if there were any players coming up from Rochester and that's Jason's job. ... Jason and I talk on a day-to-day basis about our team, but I have total faith in our D core that they can get the job done. They've proven it in the past. They've put us in this position, and we're going to correct the mistakes."
The scene inside the home dressing room was unusual Thursday night. Jack Eichel, whose failure to hit the net led to the eventual game-winning breakaway goal, was fuming and shouldered the blame. Evan Rodrigues, typically chipper no matter the result, was irritated.
After all, the Sabres (26-20-7) were tied with Carolina in the Eastern Conference standings and ended the night four points out of the second wild-card playoff spot. Reinhart's comments received the most attention on social media.
The 23-year-old spoke glowingly of Ullmark and Hutton following a 5-4 shootout win over Minnesota on Tuesday night, and five of the Hurricanes' six goals were scored close to the net. Ullmark made a number of highlight-reel saves this week alone, including his Hasek-esque blocker save against Carolina. So, it seemed unusual for a prominent player to point the finger at goaltending.
"Too many mistakes. We can't expect to win hockey games, 6-5, 7-6," Reinhart said following Thursday's loss. "We need more from our goalies and we need it from the start of hockey games. It's frustrating."
Reinhart was sitting on his couch hours later when Chris Bandura, the team's vice president of media relations, informed him that the postgame answer was being perceived negatively on social media. Reinhart said it was not until he watched the interview again that he realized he misspoke.
"At first I was kind of rattled thinking that something I said was kind of taken the wrong way," Reinhart explained. "Then I watched it again and it came off the wrong way, so that's on me. That's not what I meant at all. ... I was trying to say we need more for our goalies. It doesn't take a hockey genius to know those have been our two best guys all year. So I think that's on me. I was lost in translation. I wasn't trying to be hard on them at all. I was trying to be harder on the guys skating around the ice to come back and defend more."
Hutton and Ullmark said they were unaware of the situation until Reinhart texted them.
"He texted me or whatever. I didn't really care," Hutton said. "He said it came out the way it wasn't supposed to or something, but I'm not really too worried. I try to not worry about the Twitter eggs and whatever's out there."
"I don't know how many times I accidentally misspoke when I've done interviews here or back home," Ullmark said. "It's tough, especially after a loss like that. You want to say one thing and it comes out the other way. We're all good."
The Sabres have won only three of their past 10 games and have allowed the second-most goals in the NHL during that span. They have surrendered four or more goals in eight of those games. Hutton has been pulled early in two of his past three starts, and Ullmark has an .871 save percentage over his last five games.
Buffalo also has the fourth-fewest points in the NHL (23) since its 10-game winning streak ended in Tampa Bay on Nov. 29. While the Sabres' offense has surged over the past 10 games, their defense continues to struggle.
Entering Friday's lone NHL game, they had the fourth-most shots on goal and 15th-most shots against during that span. Yet, this was only the second time since 1995 the Sabres allowed 45 goals over a 10-game stretch. They are allowing too many quality chances around their goalies.
Those postgame comments from Reinhart and Housley were initially perceived on social media as possible discord within the organization, yet the very idea seemed preposterous to defenseman Zach Bogosian.
"People can say whatever to try to disrupt things, but we have a good grasp on our relationship in here and who we are as a group," Bogosian said. "The personal relationships we've built off the ice, those are bonds that will never be broken. I think we just have to do it for each other in here. Make sure we're playing the right way and go from there."
The Sabres have back-to-back matinee weekend games in KeyBank Center, beginning at 1 p.m. Saturday against Detroit. Housley said Hutton and Ullmark will likely each receive a start, and there could be other lineup changes. The team met Friday morning and had an extensive film session to review the breakdowns from the Carolina loss.
Housley said their focus was directed on the ice, rather than what was said to reporters.
"The emotions run high," Housley continued. "There were things said in the locker room after the game that were positive towards that and what we need to do to get better. ... I think Sam did a great job calling our goalies and explaining what it meant. Sam, if you know him, he's not that type of person. Again, it was an emotional game. Sometimes those things come out the wrong way."
Be the first to know
Get local news delivered to your inbox!