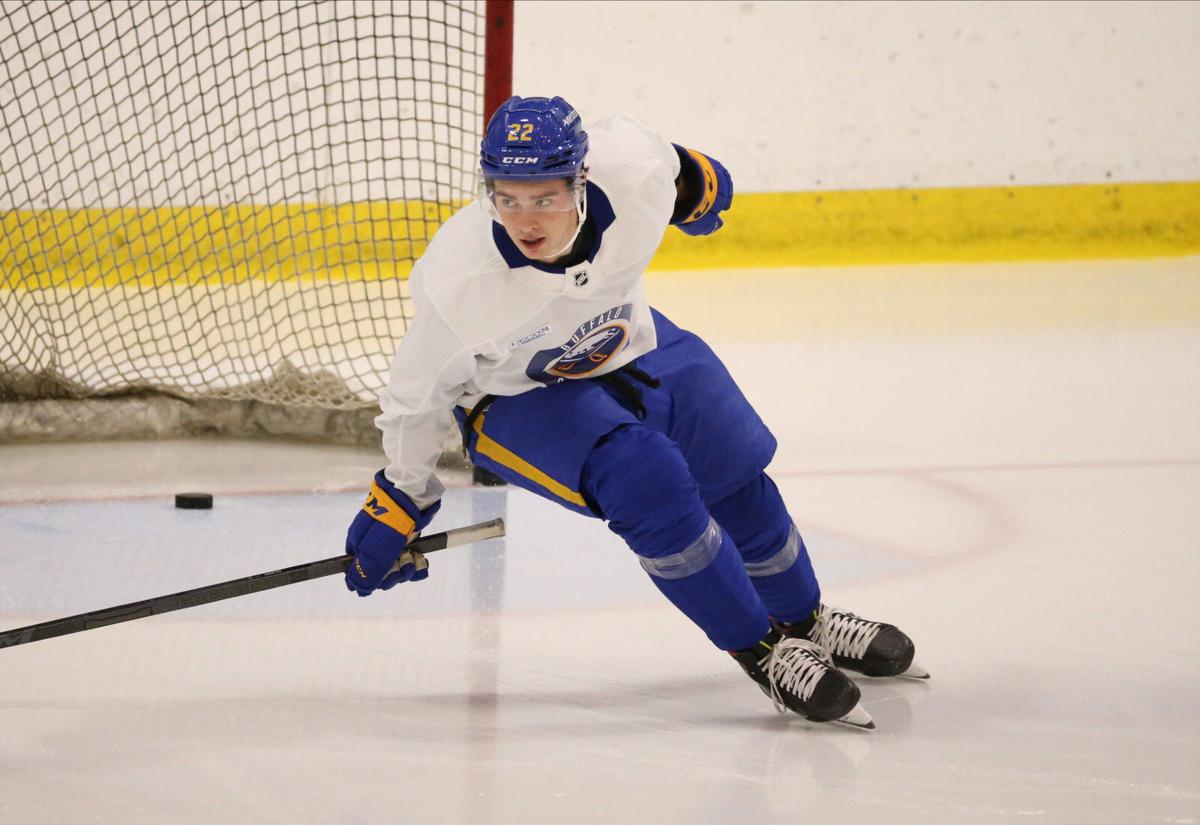 When Jack Quinn skated back to center ice following his final repetition of another rigorous, fast-paced practice drill Thursday, he was met by one of his newest coaches, a man beloved by Buffalo Sabres fans and whose knowledge can help with the franchise's latest experiment.
Michael Peca, now 47 years old and in his first year as an assistant coach with the Rochester Americans, was a remarkable two-way center during his 14-season NHL career. A two-time winner of the Selke Trophy, Peca captained the Sabres to the Stanley Cup Final in 1999.
Real live hockey players skating in an organized practice in LECOM Harborcenter. It actually happened late Wednesday afternoon, officially marking the long grind that will take the Buffalo Sabres from fall all the way through the season finale April 29.
Peca can guide Quinn during the 2020 first-round draft choice's assignment to play center this week at the Sabres' Prospects Challenge.
Quinn, who was drafted eighth overall by general manager Kevyn Adams in October, starred on the wing with the Ontario Hockey League's Ottawa 67's – the same junior club Peca played for prior to his illustrious professional career. Quinn's 52 goals in 2019-20, a 40-goal improvement from the previous season, led to his selection by the Sabres, who have reached the playoffs only twice since Peca announced his retirement in January 2010.
Quinn was training in the Ottawa area this summer when he was told by Adams that he would play center during the prospects showcase, which begins Friday with a game against the New Jersey Devils at 7 p.m., and concludes Saturday with matchup versus Boston at 3 p.m. The Sabres were encouraged by Quinn's performance at the position during his final two games in Rochester in the spring and wanted to see more.
Real live hockey players skating in an organized practice in LECOM Harborcenter. It actually happened late Wednesday afternoon, officially marking the long grind that will take the Buffalo Sabres from fall all the way through the season finale April 29.
Amerks coach Seth Appert told reporters Wednesday this is only an audition to see how Quinn transitions to playing down the middle. It's possible, though, that the organization's depth chart, including few high-upside options at center, could make this a long-term change if Quinn is successful.
"I'm excited to try it," said Quinn, who turns 20 on Sunday. "I talked to Kevyn a bit about it this summer. He gave me a call and said they're going to try me there. And (I spoke to Appert), as well. So, I kind of had an idea, but when I saw it, obviously, it's exciting. It's a good challenge, so we're going to see how these games go and kind of go from there, I guess."
Dylan Cozens and Casey Mittelstadt are atop the Sabres' depth chart at center, at least until there's a resolution to the Jack Eichel situation. It's unclear how coach Don Granato will fill out the roster. Other options at the position include Cody Eakin, Arttu Ruotsalainen, Zemgus Girgensons and Rasmus Asplund. Ruotsalainen played center during his junior and pro careers in Finland, but he was mostly used on the wing with the Amerks and Sabres in 2020-21. He's back at his natural position for the prospects challenge, skating on a line with Linus Weissbach and Viljami Marjala.
The organization isn't deep enough to handle an injury at the position. The Sabres have more options on the wing: Ruotsalainen, Girgensons, Rasmus Asplund, Victor Olofsson, Jeff Skinner, Tage Thompson, Anders Bjork, Vinnie Hinostroza, Kyle Okposo, Drake Caggiula, J-J Peterka, John Hayden, Ryan MacInnis and Sean Malone.
The Sabres also haven't selected a center high in the draft the past two years, opting instead for defenseman Owen Power and help on the wing, most recently with the additions of Isak Rosen and Prokhor Poltapov.
The Prospects Challenge is returning this week, as midweek practices will precede a pair of weekend games for Buffalo.
The NHL roster might change dramatically if Eichel is traded before the season opens Oct. 14. For now, though, Eichel still needs surgery, and the stalemate continues.
Quinn has the playmaking ability and defensive awareness to succeed at the position. Both attributes were on display during a difficult 2020-21 season in which he played through a hernia until the decision was made in April for him to have surgery. The injury occurred at the IIHF World Junior Championship, where he had one goal and five points in seven games to help Canada win a silver medal.
"I think there's a few things playing center that kind of bring (my skills) out a bit," Quinn said. "I like playing the puck through the middle of the ice and dictating the play a little bit more, kind of be a little bit more competitive by being more involved in the D zone. And I think just the fact that I can keep my speed up down the ice instead of starts and stops along the wall might be a bit of an advantage."
In a normal year, Quinn would have returned to Ottawa following his draft, and the expectation was that he would get some time at center with the 67's. However, the Covid-19 pandemic prevented the OHL from launching a season, allowing Quinn to play in the American Hockey League at only 19 years old.
The growing pains were evident in Quinn's 15 games with the Amerks, as he totaled two goals and nine points with a minus-14 rating. His right-handed shot was an effective weapon in the OHL, but he needed to learn how to quicken his release and create deception so he can beat pro goalies with more consistency. It was also challenging for him to pry the puck away from older, stronger opponents. There was less space in the offensive zone and more difficult assignments defensively.
Successful surgery on an ACL led to winger Lukas Rousek's omission from the Buffalo Sabres' roster for their Prospects Challenge, a league source told The Buffalo News on Tuesday.
Quinn was also tasked with improving his transition skating and edge work, areas he addressed this summer with Shelley Kettles, a skating development consultant for the Ottawa Senators.
The club first experimented with Quinn at center on April 14, an Amerks home game against Cleveland. With Adams and owner Terry Pegula in attendance at Blue Cross Arena, Quinn totaled two assists in a 5-3 loss. There were a few defensive blunders during his two-game audition at the position, but it was evident that his skills could be enhanced by having the puck on his stick more.
"Well, he's a play-driver, and there's not a ton of wingers that are play-drivers," Appert said. "A lot of times wingers are guys that get out early on offense and can score or they have some defensive deficiencies to their game and that's why maybe they play wing but they also have some great strengths. Jack is a play-driving winger, so that's No. 1. No. 2, he is incredibly intelligent and he has a cerebral intelligence to how he attacks the game, both on the ice and how he looks at the game off the ice and how much he wants to get better. ... So, we believe that he has a lot of traits mentally, physically and competitively that are going to make him a really effective centerman."
It's possible that a seamless move to the position could improve Quinn's chances at making the Sabres' roster out of camp. He's not viewing it as anything other than a one-week experiment to see if he's better suited to play center. If it goes well, great. If not, Quinn exited his first pro season having a better idea how to succeed on the wing.
"If you can play any position, maybe you have a better chance (of making the NHL roster)," Quinn said when asked if this could improve his chances of starting the season in Buffalo. "But I'm not really thinking about it for that sense. I don't think they are, either. I'm going to try to play center, and if I'm a better center than a winger, then that's the best-case scenario. That's why we're trying it."