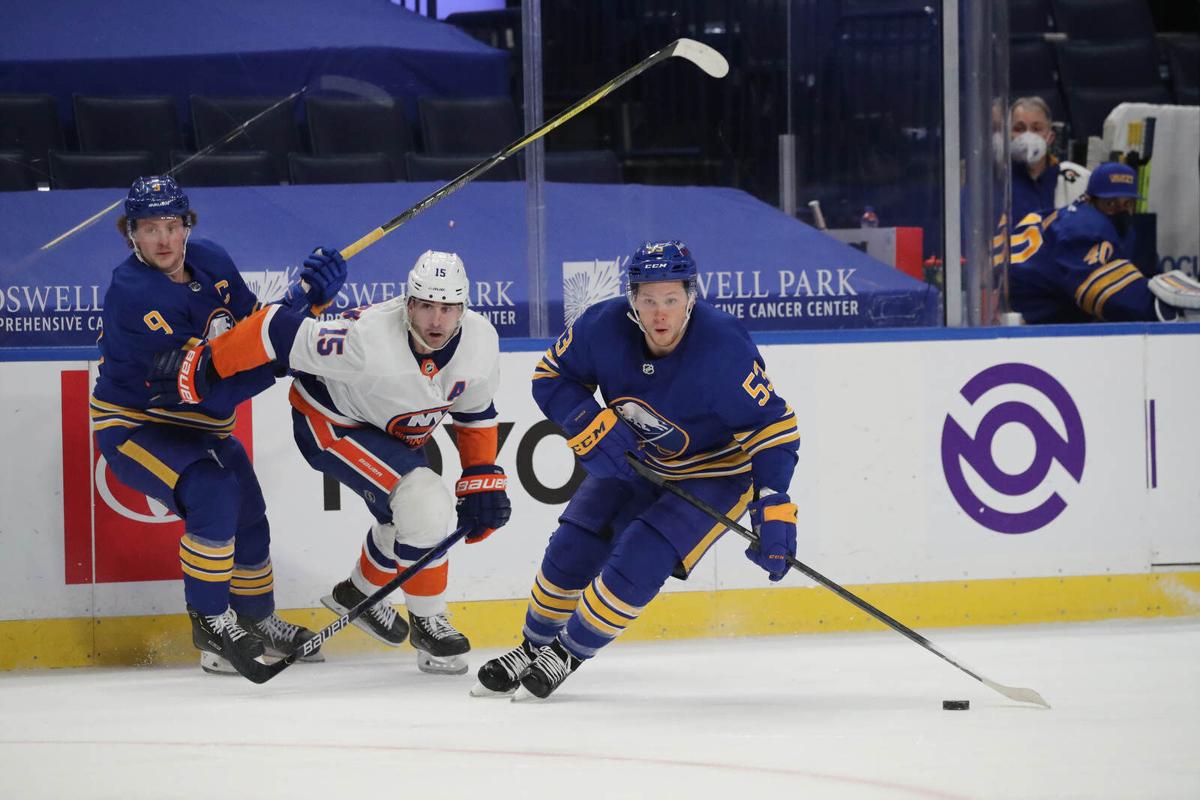 NEWARK, N.J. -- Two major stories emerged from Sabres practice Sunday afternoon in Prudential Center:
1). It appears Jeff Skinner -- still with no goals and only one point in 14 games this season --  will be a healthy scratch for Monday night's game against the New York Islanders in Nassau Coliseum.
2). The Sabres don't have final word on defenseman Jake McCabe's right knee injury suffered in Saturday's win at New Jersey but the team is preparing to find out as soon as Monday that it is season-ending.
Coach Ralph Krueger sat out Tage Thompson and Henri Jokiharju Saturday and his lineup wheels are now pointing at Skinner. Casey Mittelstadt skated in Skinner's place Sunday with Curtis Lazar and Riley Sheahan, while Skinner skated with Thompson and taxi squad player Rasmus Asplund.
"This is my 11th year, over 700 games in the league and I don't think I've ever really felt like I needed a day off to relook at things," Skinner said. "I think I've seen a lot in this league. Run through adversity before my career. You  just work, keep working and put your head down. And that's what I'll do."
Skinner had a team-high four shots on goal Saturday and Krueger said his decision came in part from Skinner's play in the two games against the Islanders last week. 
Skinner played a season-low 11 minutes, 22 seconds Saturday but the four shots were one off his season high. He had only three shots in the two games against the Islanders, none in Tuesday's second half of the back to back.
"We will continue to analyze postgame what we feel and what we see," Krueger said. "And look for the mix that we believe gives us as a team within the roles we need the best chance to be successful. You saw a potential change in the mix today. We won't confirm it till tomorrow. But it's how we function here. We look honestly at production. We look honestly at the inputs in and around the team game that we need, and try and put  that mix in place that gives us a chance."
The Sabres were better in every facet for 40 minutes Saturday and held on to beat the the New Jersey Devils, 3-2, in Prudential Center to snap their ugly four-game losing streak. New Jersey saw a three-game win streak end.
Skinner has 14 goals in 73 games under Krueger and 18 goals in the last 98 games he's played for the Sabres dating to the 2018-19 season, when he struggled over the last two months but still finished with 40. He refused to point any fingers at Krueger.
"I don't know. I've played for a lot of coaches. I don't know if it's that simple," he said. " Obviously I'm going through a little bit of a slump. And it's not something I'm used to. Especially 5-on-5. I think since I've come in a league I've shown to have some pretty good success at 5-on-5. It's just something that's not working, not going well right now. I've just got to work my way out of it."
As for McCabe, the veteran returned home Sunday for an MRI after suffering the injury during a tie-up in the third period Saturday with Devils captain Nico Hischier. McCabe's knee buckled underneath him at an odd angle and he was helped off the ice with no weight on the leg.
"I'll be honest with you. Not very optimistic about the diagnosis that will come out of this," Krueger said. "But let's let the medical team take a look at it and we'll give you a full report. The lower body injury is serious."
Will Borgen also sat out practice after blocking a shot in the hand during Saturday's game. Krueger said he's day to day but might have to sit out Monday night.
If Borgen and McCabe are both out, the Sabres would have to insert Henri Jokiharju and Brandon Davidson into the lineup Tuesday night.