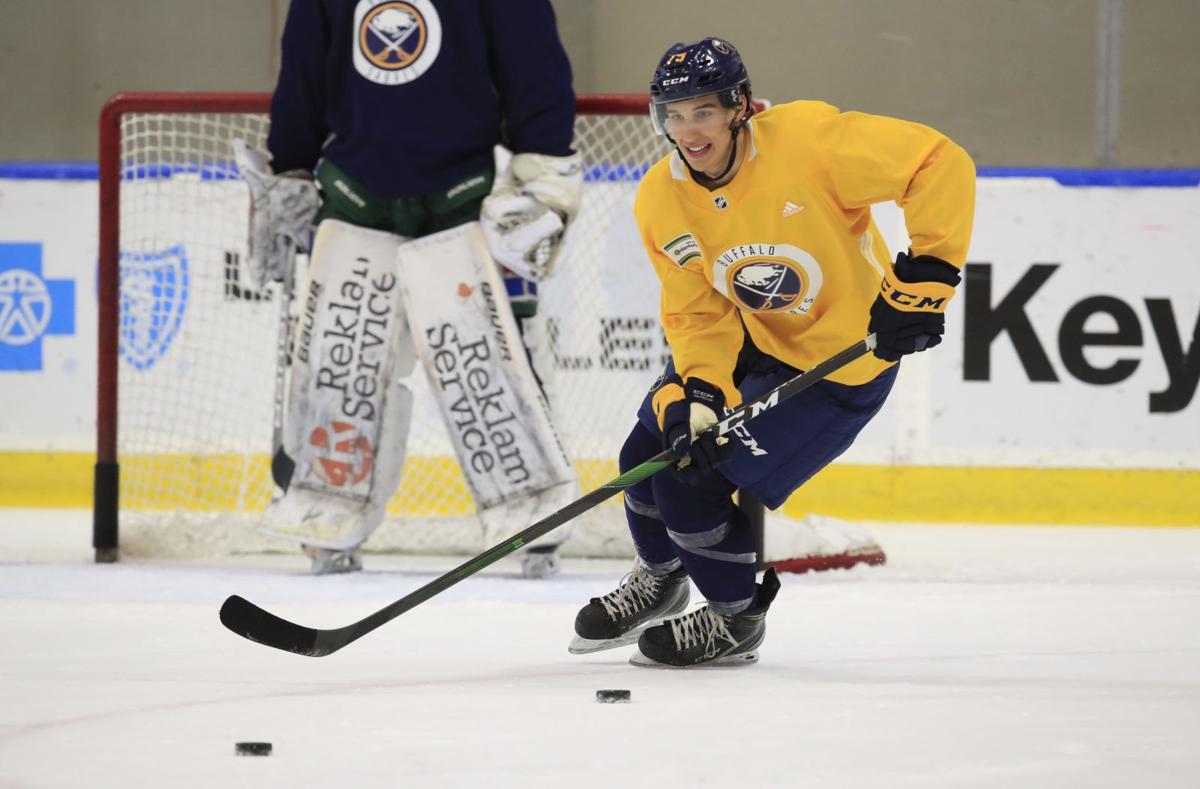 When new Sabres center Eric Staal arrives in Buffalo for the start of training camp, the six-time all-star will have at least one prominent prospect bending his ear for advice on how to succeed in the National Hockey League.
During a recent interview with TSN, Dylan Cozens, the 19-year-old center whom the Sabres drafted seventh overall in June 2019, expressed excitement for the opportunity to learn from Staal, who was acquired last week by general manager Kevyn Adams in exchange for Marcus Johansson.
Staal, 35, won a Stanley Cup with Adams in Carolina in 2006 and his resume includes 436 goals in 1,240 games across 16 seasons in the NHL.
"That's huge," Cozens said of Staal. "You look at his resume and he's won a Stanley Cup and he's been around for a while. He's a veteran in the league so to be able to hopefully go in and learn from him and look up to him as a role model and a guy to show me what it takes to play in the NHL, that'll be huge."
Cozens has been working out at his family's home in Whitehorse, Yukon, in preparation for his second NHL camp, the start date of which remains uncertain. However, he'll soon travel to Buffalo, where he plans to train until NHL training camps open or he leaves for the IIHF World Junior Championship, which will be played without fans in Edmonton from Dec. 26 through Jan. 5.
Cozens won a gold medal at the tournament in January, totaling two goals with seven assists for nine points in seven games. Though Cozens would be among the top players on Canada's roster, it's uncertain if he'll participate this winter.
The Sabres' training camp is tentatively scheduled to begin Nov. 17 with the first NHL regular-season game set for Dec. 1, but Commissioner Gary Bettman recently told reporters that the start date may be pushed back to as late as January.
The latter scenario would have the Sabres' camp opening in December, which would conflict with Canada's pre-tournament camp. Adams and coach Ralph Krueger likely would prefer to have Cozens compete for a roster spot in Buffalo than to participate in the tournament for a second consecutive year.
With Staal filling the void at center behind Jack Eichel, Cozens will have the opportunity to show he can play down the middle on the third line or potentially at right wing. While Cozens' speed and play-making ability impressed Krueger last September, he was assigned to Lethbridge because he was not physically ready for the grind of an 82-game NHL season.
Cozens showed he's ready to graduate from junior hockey, though, as he totaled 38 goals with 47 assists for 85 points in 51 games during the pandemic-shortened season for the Hurricanes.
Adams, who told reporters last week that he doesn't want to rush the top prospect, has delivered some advice to Cozens.