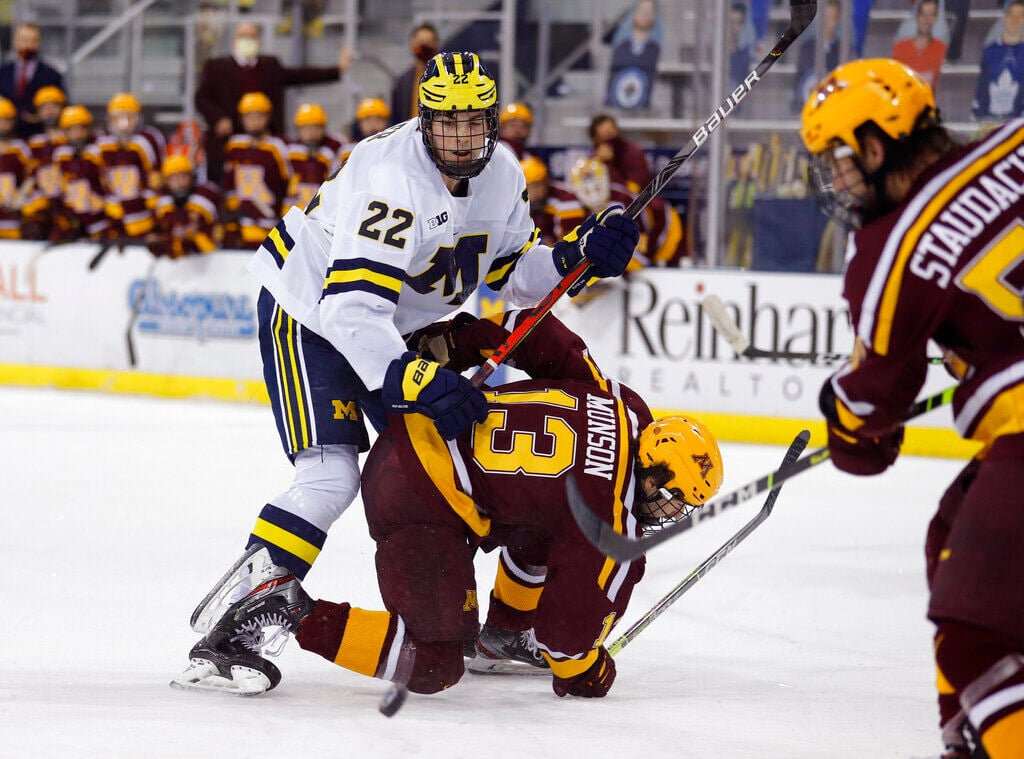 A lineup chock full of NHL draft picks will make Michigan a huge target in college hockey this season. And no one will be bigger than Owen Power, the defenseman the Buffalo Sabres took No. 1 overall in July.
Power isn't going to let the immense hype around Michigan envelop him in added pressure.
It's only preseason, but the Buffalo Sabres have an actual NHL game Tuesday night for the first time in nearly five months as they open their exhibition schedule in Columbus against the Blue Jackets.
"For me, it's no different, really, I don't think, or at least the way I think about it," Power said Monday night as Michigan held a preseason media day via video call. "I've just kind of been going about it the same way, just continuing to try to get better every day and worrying about myself, my own game and the team. Just kind of letting myself play."
One thing that's different, of course, is that Power is property of an NHL team now. He said the Sabres have been in regular communication with him since the draft in July and heading into his college season.
"There's been quite a bit with the development staff," he said. "(The message is) just continue to get better, work in areas where I feel I can get better at and just try to get a little bit better every day. ... All parts of my game can get a lot better. So I think big ones are just being better offensively and be a bit harder to play against defensively."
Michigan just had a Zoom with Owen Power and others. Said he's had quite a bit of input from #Sabres development staff. "Continue to get better, work in areas I feel I can get better at every day." pic.twitter.com/AXLVtK7mFB

— Mike Harrington (@ByMHarrington) September 27, 2021
If the Sabres are to surpass expectations, they will need Olofsson to develop into more of a threat at even strength.
"Just getting stronger," Michigan coach Mel Pearson said when asked about Power's priorities. "We've already seen that already in the month we've had in the weight room. He's made tremendous strides there. He looks fabulous on the ice, just the growth in his game and his maturity level dealing with him one on one in our communications."
Pearson said Michigan will have to keep its focus through an unprecedented season, with four of the NHL's top five draft picks on its roster in Power, No. 2 Matty Beniers (Seattle), No. 4 Luke Hughes (New Jersey) and No. 5 Kent Johnson (Columbus).
"All these guys have been drafted by NHL teams, and they're going to be at our games, too," Pearson said. "They're going to want to talk to their players or property, however you want to describe it. But we've had that before."
Power's reasons for returning to Michigan and becoming the first No. 1 choice since 2006 to temporarily pass on the NHL are well-documented: A chance to play in front of fans at legendary Yost Arena; a chase of a national title after Michigan was knocked out of the NCAAs by a Covid-19 outbreak just prior to a first-round game; and the whole college experience itself.
"I think the first football game I went to, I think all of us who it was our first game kind of got that moment," Power said of going to Michigan's season opener earlier this month against Western Michigan. "I think we all thought it was pretty cool and I think it was definitely something that we really missed out on last year and are obviously really happy that we got to experience this year."
"I put a lot of pressure on myself," said Cozens. "I want to be the best version of myself and best player I can be."
"One of the reasons (Power returned) was to make sure he continues on that path of getting better and to use this year to make sure he does that," Pearson said. "So far, Owen and I have had many conversations. My door is always open."
Power's teammates are as impressed as their coach.
"I definitely think that it's his hockey sense. He's so smart on the ice," said Michigan goalie and Sabres prospect Erik Portillo, drafted in the third round in 2019. "He watches a lot of hockey. I lived with him last year, so I know. He studies hockey, and that's why he's so smart. He's easy to play with."
"There's not really much about his game that you can critique and there's not many people you can say that about," Beniers said. "He's obviously a great player on the ice and he's even a better guy off the ice. He works so hard and he's so well deserving of all the attention."
Michigan is ranked No. 3 in the U.S. College Hockey Online preseason poll, and is picked second in the Big Ten preseason poll behind Minnesota, whose roster includes 2019 Sabres first-round pick Ryan Johnson. Power was selected to the preseason All-Big Ten team.
Players, coaches and media around the NHL are again getting used to in-person interactions, after the 2020 playoffs and the entire 2021 season were spent solely on video calls.
Michigan's schedule opens Oct. 9 against Lake Superior State. The Wolverines host Niagara in a back-to-back on Nov. 26 and 27.
"When you come to Michigan, you're expected to compete for championships," Pearson said. "Just because we have a few high draft picks this year, it does not change the narrative here. ... It's going to be a lot of fun having the No. 1 overall pick on our team. Really good player and he's a really good person, so we're just excited to see what he can do."
Portillo will take over as Michigan's starting goalie this year after three-year starter Strauss Mann left to play professionally in Sweden. Portillo was impressive in his seven-game stint at Michigan last year as a freshman, going 4-1 with a 1.67 goals-against average and .935 save percentage. He said his game developed from working daily with Mann and from his regular conversations with Seamus Kotyk, the Sabres' goaltending development coach.
This season is about Dahlin moving forward to become one of the leaders in the Buffalo dressing room.
"What I've been talking with Seamus about are details in my game," Portillo said. "Just being efficient, being smart, not overplaying pucks. Just being very pro in the mindset, I think that's the most important thing I've been working on."
Pearson said the program is very confident in turning over the net to Portillo.
"Erik Portillo really made great strides last year and we had to find a way to get him more games," Pearson said. "And I think Strauss was looking at the big picture. I probably wouldn't have gotten him as many games as he did the past couple of years here at Michigan."