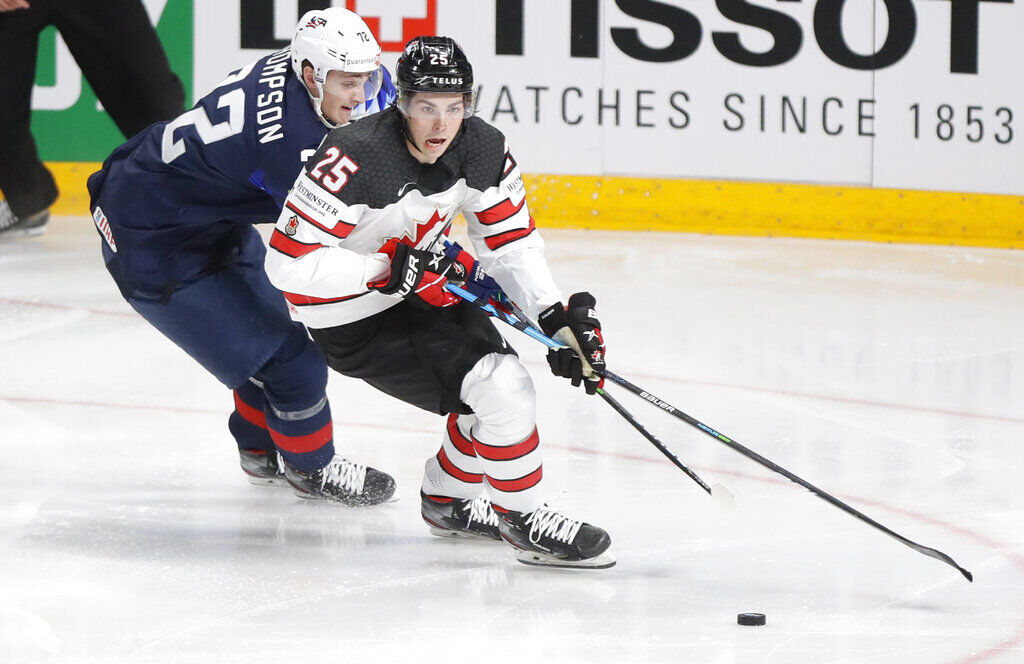 With Don Granato in place as the Buffalo Sabres' coach, General Manager Kevyn Adams has begun his search for the next member of the young core that will be counted on to end the franchise's run of futility.
Owen Power, the 18-year-old left-shot defenseman ranked by NHL Central Scouting as the top North American skater in this draft class, told reporters during a video conference call Tuesday that he's scheduled to meet with the Sabres on Thursday in preparation for the draft on July 23.
William Eklund, a talented 18-year-old winger from Sweden regarded as the top European skater, is expected to speak to Sabres brass on Wednesday. Adams and his scouting staff, led by associate general manager Jason Karmanos, are casting a wide net as they decide who to select first overall.
Although Adams told reporters recently that the Sabres will examine several options in the days leading up to the virtual draft, sources told The Buffalo News that Power and Eklund are currently the team's top-ranked defenseman and forward, respectively.
"I think I'm a two-way defenseman that can play in all situations and log a lot of minutes," Power said when asked why he should be selected first overall. "I think any team in the NHL would want someone like that. I think that's what I'll bring."
The Sabres will take a best-player-available approach to their fourth top pick in franchise history, but the debate at No. 1 will involve one significant question: does Power have enough upside to warrant what could be a longer wait for him to reach his potential?
Even the most talented defense prospects can take longer to develop than a forward, most notably Victor Hedman of the Tampa Bay Lightning. Hedman, 30, didn't become a two-way force until his sixth NHL season after he was selected second overall in 2009.
The Sabres used the first overall pick in 2018 on ultra-talented, smooth-skating defenseman Rasmus Dahlin, who has endured significant growing pains during his three NHL seasons. Following a historic rookie season and encouraging finish to Year 2, Dahlin had an NHL-worst minus-36 rating in 2020-21. Dahlin, though, made strides when playing under Granato for the final six weeks of the season.
General managers rarely consider short- and long-term need with such a selection, but the Sabres are well-stocked with prospects on defense, particularly those who play the same side as Power. Buffalo has Dahlin, Mattias Samuelsson and Jacob Bryson on the left side. Options at right-shot defense include Henri Jokiharju, Oskari Laaksonen and Will Borgen.
The Sabres' depth on defense, and expectation that the franchise is on the precipice of another rebuild, could fit well with Power's preference to return to the University of Michigan for his sophomore season.
Listed at 6 feet, 6 inches, Power made an immediate impact upon joining the Wolverines, totaling three goals and 16 points in 26 games as a freshman. Power's 0.62 points per game this season helped him secure rookie of the year honors from the College Hockey News and he was a Big Ten Freshman of the Year finalist.
While Power showed enough to fortify his draft stock, there is more that he wants to accomplish at that level. The Wolverines did not release him to compete for Canada at the IIHF World Junior Championship, and his college season was cut short because of a Covid-19 positive test on the team prior to the first NCAA Tournament game.
Power explained that a normal college hockey season is one of the reasons why he prefers to return to school for one more season, but ultimately, the NHL team selecting Power will have a say in what's best for his development.
"I wouldn't say I'm committed to going back to school," said Power. "I mean, I'm probably leaning towards it right now. But that's obviously something that I have to talk to with whatever team drafts me, so it'll be kind of something that I'll look into more once I get drafted."
On the ice, returning to Michigan would guarantee Power a significant workload, including time on the Wolverines' top power play, whereas an immediate jump to Buffalo would likely come with a significant cut in ice time. After all, Dahlin quarterbacks the Sabres' top power play, and Power may have to start his NHL career on a third defense pairing.
Unlike every other draft-eligible prospect, Power has already played at a high level against NHL players at the IIHF World Championship in Latvia this spring. He had three assists, 17 shots on goal and a plus-1 rating while averaging 20:07 of ice time in 10 games to help Canada win gold.
"I think just for pro hockey, continue to develop my game, continue to get stronger, faster, quicker – and then just keep developing the areas of my game that I think I need to work on and continue to grow in the areas that I'm already good at," Power said.
Sources confirmed to The News that the Sabres are preparing for the possibility that they will acquire an additional top 10 selection in this draft. Hypothetically, such a scenario would allow them to choose Power and one of the top forwards. 
The Sabres have a glaring need for goal-scorers on the NHL roster and in the prospect pipeline, especially if Adams decides to trade centers Jack Eichel and Sam Reinhart this offseason. 
Eklund has not had the production of other draft-eligible prospects, but he was remarkable while competing against men in the Swedish Hockey League this season. Eklund, who is listed at 5 feet, 10 inches and 176 pounds, was named the league's rookie of the year after he totaled 11 goals and 23 points in 40 games for Djurgardens. It was the fifth-most productive season for a draft-eligible player in SHL history. He accomplished those feats despite testing positive for Covid-19 in December and missing three weeks following an appendectomy in January.
Scouts told The News that underlying metrics, including expected goals, show Eklund as the top offensive play driver in this class. This fits well with the Sabres' focus on analytics.
Eklund told reporters Tuesday that another season in Sweden would be best for his development. And while Eklund has played center during his junior career, multiple NHL scouts told The News that Eklund's size and skating ability will likely make him a winger at the next level. Eklund is regarded as a smart, skilled prospect who will make an impact as a top-six NHL forward once he gains more strength.
"I think I have to improve my shooting," said Eklund. "I think I have to get that shot faster and better in tight areas. I also have to have better top speed. I think I'm more of a quick player than fast in the long-term. Those are two things I really need to improve."
The Sabres' debate will intensify as the draft draws near, and another draft will show us which attributes Adams values. Last year, Adams used his first pick, No. 8 overall, to select winger Jack Quinn, who spent this season with the Rochester Americans. Four of the Sabres' five draft picks in 2020 were forwards.
Preparing for this draft was challenging for each of the 32 NHL teams because scouts weren't traveling as much and some prospects played few, if any, games during the Covid-19 pandemic. There wasn't a scouting combine in Buffalo, either.
For all that went wrong for the Sabres during a calamitous 56-game season, it will result in the addition of whichever prospect Adams deems to be the best available in this class.