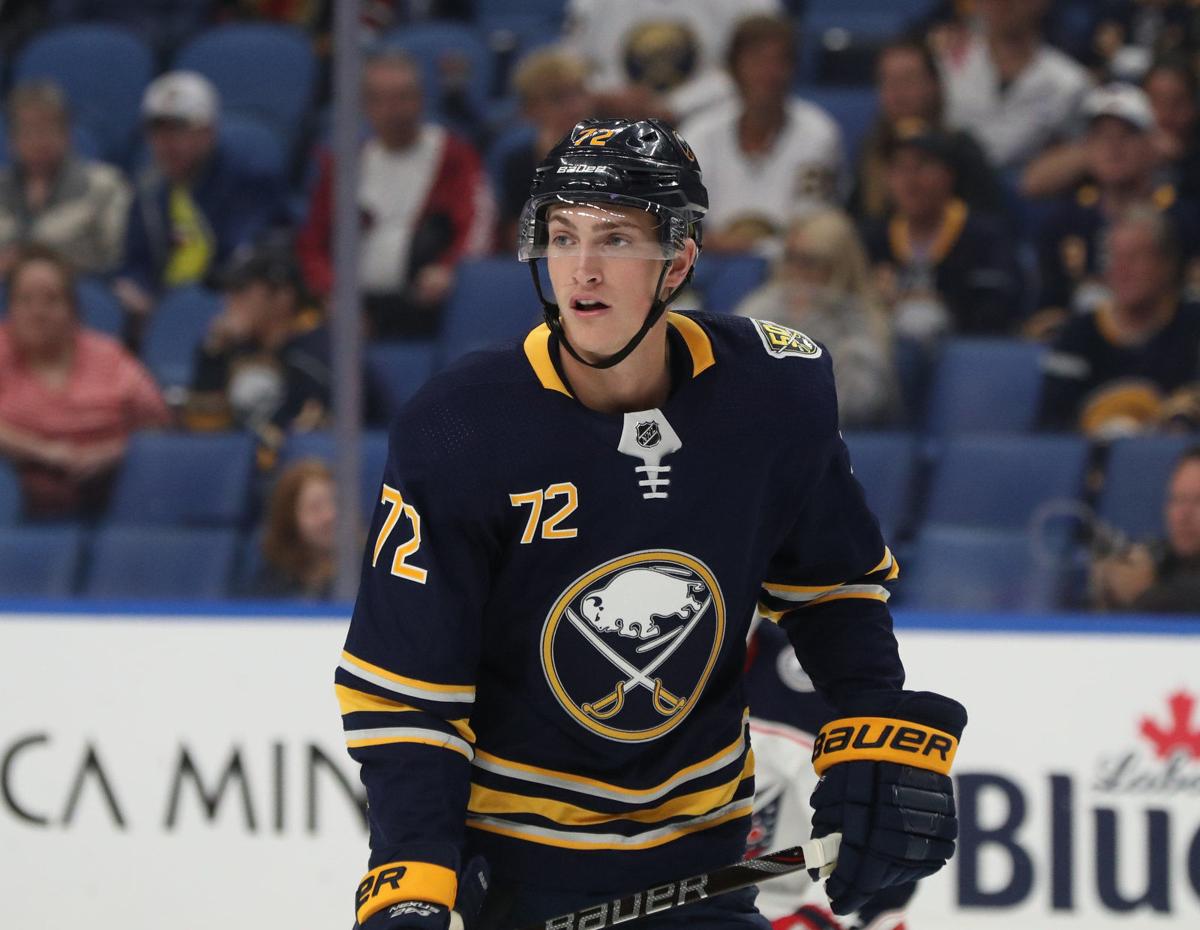 A season-ending shoulder injury did not prevent Tage Thompson from making a strong impression on new Buffalo Sabres General Manager Kevyn Adams and coach Ralph Krueger's staff.
With the deadline looming to tender qualifying offers to restricted free agents, the Sabres signed Thompson on Monday to a three-year contract with a $1.4 million average annual value.
Thompson, a 22-year-old forward whom the Sabres acquired as part of the Ryan O'Reilly trade in June 2018, totaled six goals with six assists for 12 points in 16 games with the Rochester Americans in 2019-20, but he suffered the shoulder injury during his first appearance with the Sabres when he was pinned along the boards by then-Chicago Blackhawks defenseman Olli Maatta.
Last September, Thompson showed during Prospects Challenge, training camp and preseason games that he learned to better use his size to make an impact in the offensive zone. He was no longer trying to stick-handle around opponents and his development translated on the ice with the Amerks, as he demonstrated an ability to drive play from the wing.
His performance was in stark contrast to what the Sabres saw from Thompson upon his arrival in 2018-19. He mostly struggled during his 65 games with the team that season, totaling just seven goals and five assists for 12 points and a minus-22 rating before he was assigned to Rochester for the AHL Calder Cup Playoffs.
The new contract indicates the Sabres plan to have Thompson on the roster next season, providing Krueger with an additional option on the wing.
According to CapFriendly.com, Thompson's contract will give the Sabres approximately $32.2 million in salary-cap space for 2020-21, although the figure does not account for the $1.275 million overage from last season.
Adams told reporters during a video call Monday that he planned to meet with his staff to finalize plans for each of their 11 remaining restricted free agents, all of whom will need to be signed or tendered a qualifying offer by the Wednesday 5 p.m. deadline.
The team already signed center Curtis Lazar to a two-year contract worth $1.6 million.
Although Adams declined to specify which positions he's aiming to upgrade in the coming days, multiple sources told The Buffalo News that the Sabres have expressed interest in multiple goaltenders.
Linus Ullmark, a pending restricted free agent, appears to be on solid ground with the new regime, though. When Adams was promoted June 16, one of his first inquiries with the coaching staff was its level of confidence in Ullmark after the 27-year-old posted a .915 save percentage in 34 games last season.
"I think Linus is really taken strides over the last couple of seasons," said Adams. ""You know, when I first started in this role, one of the most important first conversations I had with the coaching staff was where are we in net, and the feeling. And I think everybody feels really good about the steps that Linus took last year, and we're excited about him."
There was also no clarity on the Sabres' plan for Johan Larsson, who will become an unrestricted free agent if unsigned by Friday at noon.
Larsson, 28, totaled only six goals with 12 assists in 62 games this season, but he was among the top defensive forwards in the NHL and proved he can create scoring chances when skating on a line with Jeff Skinner.
When asked about the Sabres' interest in signing the veteran center and without referring to Larsson specifically, Adams noted every player has the right to test free agency.
"We understand that players have rights and there's a group like you mentioned that are days away from potentially becoming unrestricted free agents and I totally understand; you put in a lot of years, a lot of time and if a player's in that position and want to test it, understood," said Adams. "We'll have conversations with different players or representatives right up until or even after and we'll see where it goes."