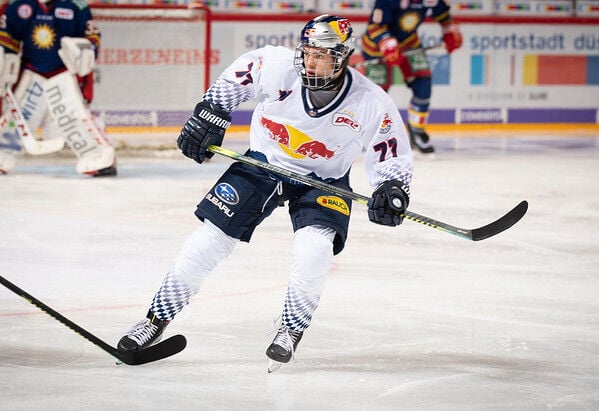 One of Kevyn Adams' first draft picks as general manager of the Buffalo Sabres will be heading to North America soon.
Winger J-J Peterka, a second-round draft choice in October, signed a three-year entry-level contract with the Sabres on Friday after representing Germany at the IIHF World Championship in Latvia.
Peterka, 19, had an exceptional first season after his selection 34th overall by Buffalo. He spent the bulk of his time with EHC Red Bull Munchen of Germany's top professional league, totaling nine goals and 11 assists for 20 points in 30 games. 
Additionally, Peterka twice represented his home country on the international stage, beginning with his remarkable showing at the IIHF World Junior Championship. He had four goals and six assists for 10 points in only five games. 
Peterka then had one goal in six games at the world championship, where he competed against many current NHL players. He also appeared in 12 games with EHC Red Bull Salzburg in Austria to begin the season.
It's unclear, though, where Peterka will play next season. He is expected to participate in the Sabres' training camp. If Peterka does not make the NHL roster, the plan is to try to have him play with the Rochester Americans. However, EHC Red Bull Munchen will have to agree to let Peterka out of the final year of his contract. 
Peterka is the second 2020 draft choice signed by the Sabres, joining winger Jack Quinn, who was selected at No. 8 in the first round. Quinn, also 19, had two goals and nine points in 15 games with the Rochester Americans this season.
While it's likely unrealistic to expect Peterka to start next season in the NHL, the signing indicates that he is close to contributing in Buffalo. Listed at 5-foot-11, 187 pounds, Peterka's goal scoring in junior hockey -- including 45 goals in 48 games in 2018-19 -- led him to make his professional debut at only 17 years old.
Also lauded for his tenacious work on the forecheck, Peterka is projected to play left wing in the NHL. 
"Peterka is a guy that I really liked in his draft year," said Sabres associate general manager Jason Karmanos, who previously worked for the Pittsburgh Penguins while scouting Peterka. "I think it was a great pick for the Sabres. He was certainly someone that in Pittsburgh we would have taken in the first roiund, quite frankly. He's a guy that I'm excited to work with. ... He's a hard-working, very determined player. Carries himself that way on and off the ice. I think he's going to fit in really well."