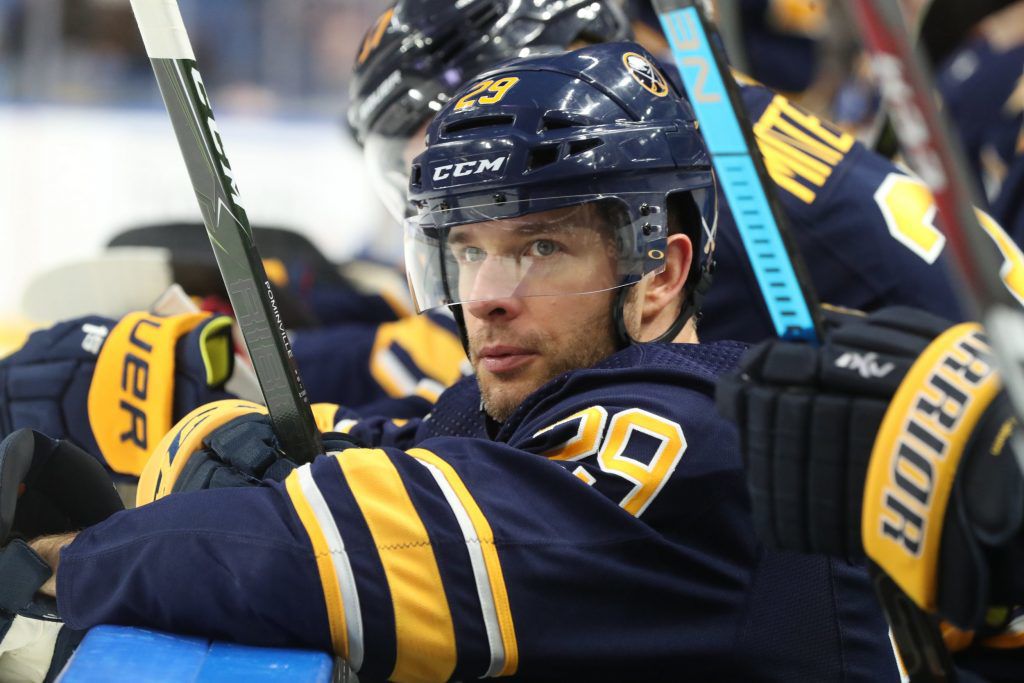 Phil Housley whistled from between the two benches on the HarborCenter ice Sunday afternoon, watched closely as the next wave of a drill began and slowly nodded in approval.
The Buffalo Sabres' coach was pleasantly surprised with the pace and intensity of practice. After all, this was their first on-ice team session since losing on the road to the Vancouver Canucks, 4-3, nine days earlier on Jan. 18. The hourlong session was more skating intensive, designed to get players in game shape for the busy week ahead.
The Sabres, 24-18-6 after the All-Star break, have no time to ease into the season's unofficial second half. They have three games in four nights this week, beginning Tuesday in Columbus, and are four points behind Pittsburgh for the second wild-card playoff spot.
"Obviously we don't really like our last 10 games, the record," Housley said. "I like a lot of the games we're playing, and we're losing by one goal. We were on the right side of things. I think [the break is] great. It gives us a reboot, a fresh start. Getting back to what we did in training camp. Getting back to work and focusing on areas we really need to improve."
The Sabres are 3-6-1 over their last 10 games, including 1-2 during their western Canada road trip prior to the break, but the problems began long before that. They have only 18 points since the winning streak ended Nov. 29 – tied for the worst mark in the NHL – and are among the worst teams in the NHL in a number of statistical categories during that span, including the third-fewest goals scored.
Buffalo allowed 14 goals during that three-game road trip, including a 7-2 loss in Edmonton. An overtime win over Calgary was followed by the letdown in Vancouver, the result of four egregious defensive mistakes.
One-goal losses such as the one to the Canucks can be exhausting and disheartening. The Sabres won nine one-goal games during their 10-game winning streak, including seven in overtime or a shootout. They have since won only three of 13 one-goal games.
An extended break such as the Sabres' can spoil positive momentum, but they were unable to create any. Buffalo has not won back-to-back games since Dec. 11-13.
"Anytime you can get a break, obviously to rest up and kind of rejuvenate a little bit is important," defenseman Zach Bogosian said.
With Jack Eichel and Jeff Skinner still en route from All-Star festivities, winger Remi Elie and defenseman Casey Nelson skated with Sam Reinhart on the Sabres' first line.
The absence of both All-Stars prevented Housley from practicing situational drills. The Sabres' power play is 2-for-27 over its previous 10 games, and the penalty kill has allowed four goals over its previous four games. But the team's 5-on-5 play has been the bigger issue. Since the winning streak, Buffalo has registered the sixth-fewest 5-on-5 shot attempts in the NHL, partially the result of poor play in the defensive zone.
Housley could not put the Sabres through a physical, forecheck-heavy practice Sunday, however, he made it clear to reporters that 5-on-5 mishaps are at the root of his team's problems.
"When we're coming back hard, we have good, solid games in the neutral zone, we turn over pucks and we look like a faster team because we're countering right away," Housley said. "If we're slowing the play down or we have possession because of the checking and we slow it down, our forwards, we get disconnected. We get too far ahead of the play. ... When we're at our best we're checking well, we're above people, we're on top of people. There's not a lot of room out there. We have to get back to the roots of what we were doing before the season started."
Despite their struggles, the Sabres are firmly in the playoff picture. They have seven consecutive home games following this week's back-to-back road games in Columbus and Dallas. Of those upcoming games in KeyBank Center, only three are against teams currently holding a playoff position: Minnesota (Feb. 5), Winnipeg (Feb. 10) and the New York Islanders (Feb. 12).
Though there is little time to correct mistakes, Bogosian expressed optimism. The Sabres are in the playoff hunt – they had only 14 wins on this date last season – and were playing much better offensively leading up to the break. Young players such as Rasmus Dahlin, Casey Mittelstadt and Tage Thompson continue to improve.
They also possess one of the best first lines in the NHL. But he and his teammates did not want to gloss over the fact they must improve drastically to remain in contention.
"It's important to take the positives out of everything," Bogosian said. "Is there room for improvement? Of course. … That being said, I think we're looking forward to the challenge ahead of us. We're in a pretty decent position right now."
Be the first to know
Get local news delivered to your inbox!