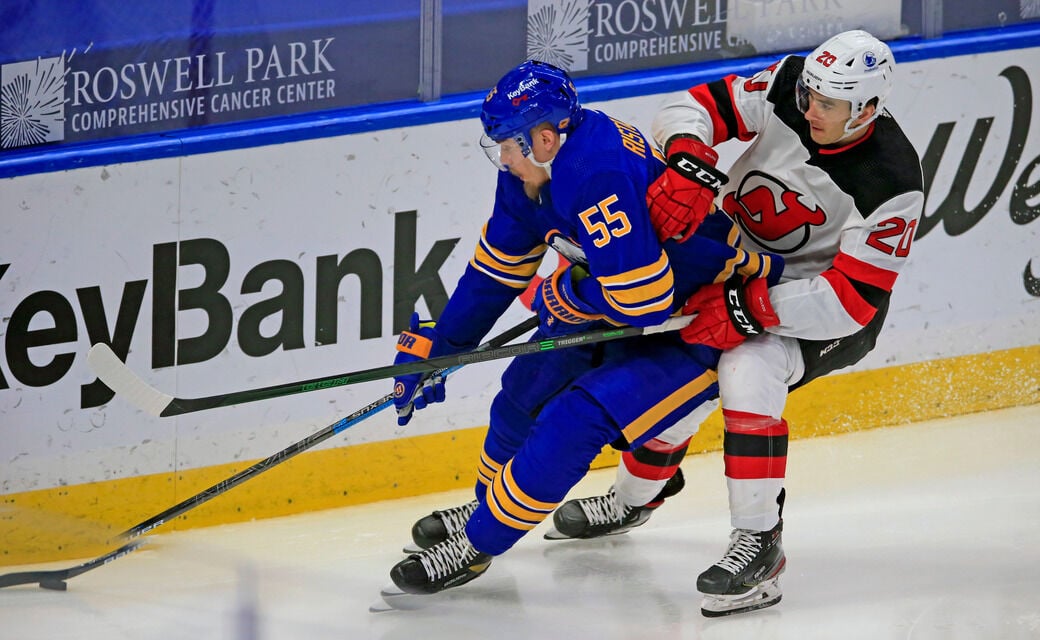 NEWARK, N.J. -- Rasmus Ristolainen is not expected to join the Buffalo Sabres on their first road trip since a Covid-19 outbreak paused their season.
Coach Ralph Krueger told reporters Thursday morning the Sabres wished to provide Ristolainen more time to regain his energy following a 14-day stay on the National Hockey League's Covid-19 protocol list.
In a vivid interview with the Finnish newspaper Ilta-Sanomat, Ristolainen, a 26-year-old defenseman who averages a team-high 23:34 ice time per game, described the various symptoms he experienced during a bout with the virus, including significant drops in oxygen levels and chest pain that made him wonder if he would awake the following morning. 
"Sometimes there were quite disturbed states of being," said Ristolainen, according to Google translate. "When there was chest pain, it felt like my heart was cracking as I walked up the stairs. A couple of evenings there were such conditions when I went to bed that I didn't know if I woke up here anymore in the morning."
The chest pain that led to additional examinations by doctors have subsided and Ristolainen resumed skating Thursday, but he is suffering from fatigue.
Ristolainen, who co-hosts a fitness podcast and documents his intense offseason workout regimens on social media, was playing some of the best hockey of his career. The former first-round draft pick paired with Jake McCabe to form one of the top defense pairs in the NHL. Ristolainen's performance amid his eighth season in Buffalo was one of the bright spots in a disappointing start to Buffalo's season.
Then the New Jersey Devils arrived in Buffalo for a two-game series Jan. 30-31. The Devils placed a player on the Covid protocol list before each of those two games. Ristolainen had one goal and an assist in 28:11 during a 5-3 loss to the Devils on Jan. 31.
Two days after the Devils left town, the Sabres' season was paused, and Ristolainen, along with Taylor Hall, was placed on the Covid protocol list Feb. 2. Ristolainen went through a gamut of the typical symptoms before the chest pain worsened.
"I was texting with 'Risto' and we were both going through it together," McCabe said after practice Friday in Prudential Center. "So obviously, he had a little bit of a worse case than I did and maybe not even a little bit, a lot worse.
"It just goes to show how crazy and serious this virus really is. And Risto is probably the fittest guy on our team. For him to battle like this, it's very tough and unfortunate."
Ristolainen said he checked with other players around the league to see if they had similar symptoms and he could not find anyone who had. He hopes to possibly return to the lineup sometime next week.
"Sometimes there have been harsh conditions, but we are alive," he told the Finnish outlet. 
Despite what Ristolainen said to the newspaper in his homeland, Krueger said Friday he has no idea when Ristolainen will be able to return.
"Ristolainen will be a long process to get back because of the setback that he's had and what he's gone through," Krueger said.
The Sabres have gone 0-3 since returning to the ice from their two-week layoff and Krueger said having five players with symptoms has made a major impact on the club.
"Every single player here that's returned who's symptomatic is feeling the effects of Covid in the game still," said Krueger, who was also bedridden by symptoms from the virus. "We're working through it. I'm working through it. I'll be honest with you, I'm not 100% up to speed, but I don't need to get my heartbeat up to 180 as a head coach, We have definitely got a physical component here that we're working on."
The Sabres and Devils meet here Saturday afternoon and New Jersey is 2-0 off its Covid pause, when it had as many as 19 players on the protocol list.
'We don't know what they've experienced behind the doors," Krueger said of the Devils. "And what I know is we've experienced something that definitely took our machine off track -- seriously off track -- in a way that's never happened in the National Hockey League before."