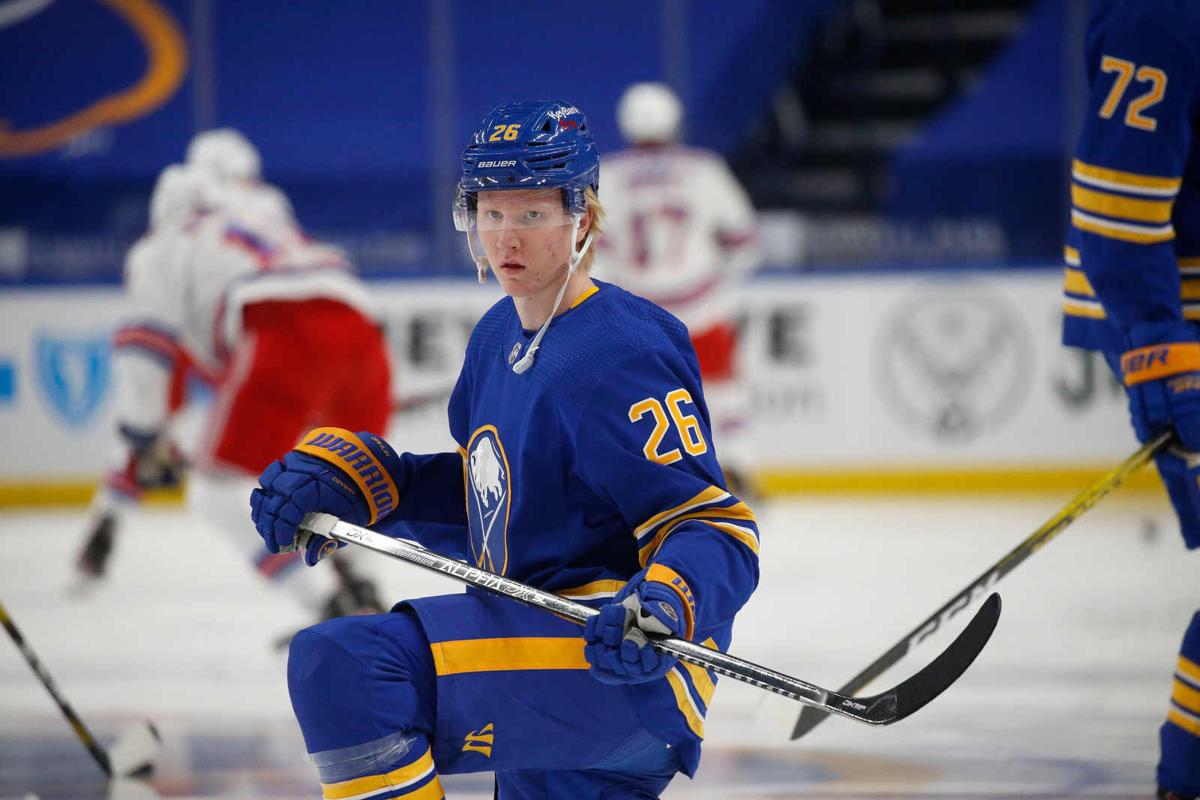 Any concerns about the Buffalo Sabres retaining a prominent member of their young core, and reaching the salary cap floor, can be put to rest.
Rasmus Dahlin, the 21-year-old defenseman drafted first overall by the Sabres in 2018, has a new contract in time for training camp after agreeing with the club on a three-year, $18 million pact Wednesday that ensures he will remain in Buffalo.
Dahlin was an unsigned restricted free agent, and, according to sources, won't be on the ice with the Sabres until Friday because he must clear protocols. Coach Don Granato and the Sabres will have their first training camp practices Thursday in KeyBank Center.
According to CapFriendly.com, the Sabres have $16.07 million in cap space with Jack Eichel's $10 million hit still on the books, and Dahlin is one of only six players under contract with the team beyond 2022-23.
The deal includes a $6 million annual cap hit, and PuckPedia.com reported that Dahlin received a $2 million signing bonus. His base salary for 2021-22 is $3 million, followed by $5.8 million in 2022-23 and $7.2 million in 2023-24.
The negotiation between Dahlin's camp and the Sabres lasted months, as each side determined whether short- or long-term was best. The latter would provide Dahlin with security, but he would cash in at a time when it's difficult to assess his value. Sabres management had to decide if it was appropriate to pay Dahlin based on the glimpses of greatness or the bouts of inconsistency.
After all, Dahlin has experienced dramatic ebbs and flows since arriving with immense expectations and comparisons to Hall-of-Famer Nicklas Lidstrom in 2018. During that span, Dahlin's 50 power-play points rank ninth among all NHL defensemen. He has 18 goals and 107 points in 197 games for a franchise that has a 10-year playoff drought, tied for the longest in league history.
Under former coach Ralph Krueger last season, Dahlin ranked fourth among all Sabres defensemen in 5-on-5 shot-attempt differential and totaled a team-worst minus-21 goal differential while shouldering the second-most defensive-zone starts.
Across the final 20 games with Granato behind the bench, Dahlin led the Sabres in 5-on-5 ice time. He ranked second in on-ice shot quality share and offensive-zone starts at 5-on-5. He also totaled three goals with eight assists for 11 points while averaging 23:16 of ice time during that span.
Dahlin finished the season first among all Sabres defensemen in generating on-ice shot quality at 5-on-5, according to Evolving-Hockey.com. His final stat line in 56 games: five goals with 18 assists and a league-worst minus-36 rating.
The uneven performance came during a season in which the Norris Trophy was won by 23-year-old Adam Fox and when 22-year-old Cale Makar led all defensemen by averaging one point per game. Makar, who was drafted fourth overall by Colorado in 2017, signed a six-year, $54 million contract with the Avalanche this summer.
Sabres fans placed similar, or even higher, expectations on Dahlin to be a catalyst for change in Buffalo, but he and the two young defensemen shouldn't be compared yet. While Fox and Makar played multiple years in NCAA, Dahlin made the immediate jump to the NHL after two seasons in the Swedish Hockey League. Defensemen in Sweden take longer to reach their potential, most notably Victor Hedman of the Tampa Bay Lightning, for example.
Additionally, Dahlin hasn't benefited from a strong supporting cast or consistency behind the bench. He hasn't had a reliable, complementary defense partner since he played with a healthy Zach Bogosian in 2018-19 and the Sabres have employed three different coaches since Dahlin joined the NHL.
Despite the tumult and turmoil, Dahlin has shown he can be a top-pairing defenseman. Under former coach Phil Housley in 2018-19, Dahlin totaled 44 points, the second-most by an NHL defenseman before his 19th birthday. Dahlin's five-game point streak that January matched the longest by a 18-year-old defenseman in league history and his eight multipoint games matched a mark by Hall of Famer Bobby Orr.
With Dahlin under contract, the Sabres are well-stocked on the blue line. Their current options on the left side include Dahlin, Will Butcher, Robert Hagg, Mattias Samuelsson and Jacob Bryson. Owen Power, an 18-year-old drafted first overall by Buffalo in July, and 2019 first-round selection Ryan Johnson, will spend this season at the University of Michigan and University of Minnesota, respectively. Neither has signed an entry-level contract with the Sabres.
Buffalo's current options at right-shot defense are Henri Jokiharju, Colin Miller, Mark Pysyk, Oskari Laaksonen and Casey Fitzgerald. 
With Eichel awaiting a trade and surgery to repair a herniated disk in his neck, Dahlin is among the young Sabres who will be counted on to grow into a leadership role this season. Oddly, Dahlin is the longest-tenured defenseman on the roster. He will quarterback the club's top power-play unit and should resume his role as the 5-on-5 minutes leader with Rasmus Ristolainen and Jake McCabe gone.
The contract buys General Manager Kevyn Adams more time to determine if Dahlin is deserving of a lucrative, long-term contract. Dahlin will be a restricted free agent when his contract expires at the conclusion of the 2023-24 season. 
It's somewhat high for a bridge contract -- likely the product of the pricy deals signed by other defensemen this offseason -- as it will account for 7.4% of the cap, tied with Kyle Okposo for the third-highest on the team. However, the Sabres could afford to spend more on a player who has become a franchise cornerstone.