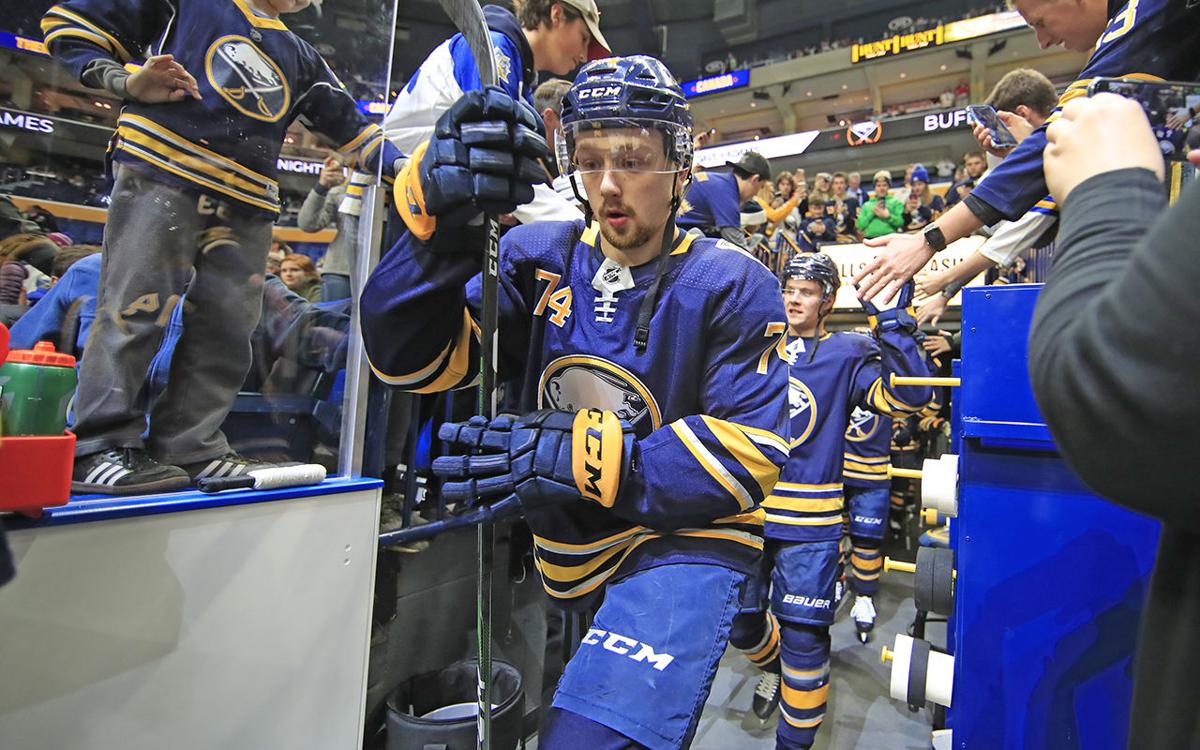 ROCHESTER – Sabres prospect Rasmus Asplund sounded upbeat, almost like he had just been promoted to the NHL, not sent back to the minors.
"It feels really, really good to be back," Asplund said after Tuesday's practice with the Americans in Blue Cross Arena. "I think I've developed a lot here in the last couple months."
Asplund, 22, spent two months in Buffalo, playing his first 28 NHL games.
The Swedish forward made a strong impression – "They were really satisfied with my game," he said – but the Sabres, who have eight days off, sent him back to the Amerks on Sunday.
Having accrued some big-league experience, Asplund wants to see what he can do back in the American Hockey League.
"It's a good challenge for me to be back here and really see the growth I've had the last couple of months," said Asplund, who centered C.J. Smith and Andrew Oglevie on the top line during Tuesday's session.
The reeling Amerks sorely needed reinforcements. They've been mired in a rut for more than a month, losing seven consecutive games (0-5-2) and 11 of the last 14 (3-9-2).
In Asplund, defenseman Lawrence Pilut and winger Scott Wilson, the Sabres returned three key contributors to the Amerks' early season success. They are all expected to play in Wednesday's road game at the Cleveland Monsters.
Asplund's stint with the Amerks could be short. The Sabres used him in a variety of roles as a center and winger. The former second-round pick killed penalties and even subbed beside captain Jack Eichel and Sam Reinhart on the top line when Victor Olofsson suffered a lower-body injury.
The next time the Sabres recall Asplund, he could stick for good.
"He knows what it takes every day in and out, it's not easy – the pace of the game, the attention to details of the game," Amerks coach Chris Taylor said. "So he's got a good taste of it, and now he's got to bring that to our team and continue improving and getting better. Eventually he'll be back where he wants to be."
Asplund said he's "close" to cracking the Sabres.
"But I still think I have a couple more steps to take before I can play an 82-game season in the NHL," he said. "With being here now for I don't know how long, just take the opportunity to keep developing and being an elite player on this team. So it's going to be great for my development to be back here for a while."
Asplund tailed off at times with the Sabres. His ice time dipped to less than 10 minutes around Christmas. After his time jumped to around 14 minutes a game in early January, the Sabres scratched him three out of the last four games before sending him to Rochester.
"I got a big taste of how it's like with the travel, with everything," Asplund said of his growth in the NHL. "I've been playing against the best players in the world the last couple months, and I've learned how to treat myself off the ice. I think I just pushed my pace on the ice.
"You have to play to 100% every game, every night. When I didn't do that, I didn't (stay) in the lineup the next game."
Asplund tried to utilize every minute he spent in the NHL. So when the Sabres scratched him, he said he studied the game from the press box.
"You can learn a lot from it and just how the players act and how they're doing on the ice, because it's a lot easier to see the small things than being on the bench," he said. "So I think I learned a lot just being around 'Eichs' on a daily basis and then seeing him up top from a couple games."
Asplund said watching the action from up top also taught him "small things on the defensive side of the puck."
"You got to be in the right spot every time," said Asplund, who compiled one goal and three points with the Sabres. "You have to put yourself in a position where you can be good. That's, I think, a big difference from the American League to the NHL is if you're in the wrong spot, you're going to score a goal, which sometimes here in the American League you get away with."
...
Despite their recent struggles, the Amerks looked and sounded upbeat throughout Tuesday's practice.
"That's the way we are," Taylor said. "We take things every day as it happens. Obviously, we're not happy about those points we've lost, but again, it's onward and upward. We have a team that mentally is strong.
"We're a good hockey team, we've got into a little rut right now, but we're capable of getting out of it."
Pilut said: "It was pretty loose. I think it was a positive vibe going on in the team. I think there's a lot of confidence out (there)."
Taylor said the Amerks aren't "hiding anything" right now.
"Everything's in the open, nothing's getting covered up by wins, by a big save here or a big goal here. Everything's getting uncovered, and it's good we're working on a lot of things," he said.
...
Pilut, who compiled zero points in six games with the Sabres, said he "was more responsible with the puck" during his most recent NHL stint.
"I made smarter plays," he said. "I think also just D-zone work, I was on the right side of guys and made the right plays, just smart reads and stuff. I think my game was stable."
Pilut will be replaced by Syracuse defenseman Cameron Gaunce.
...