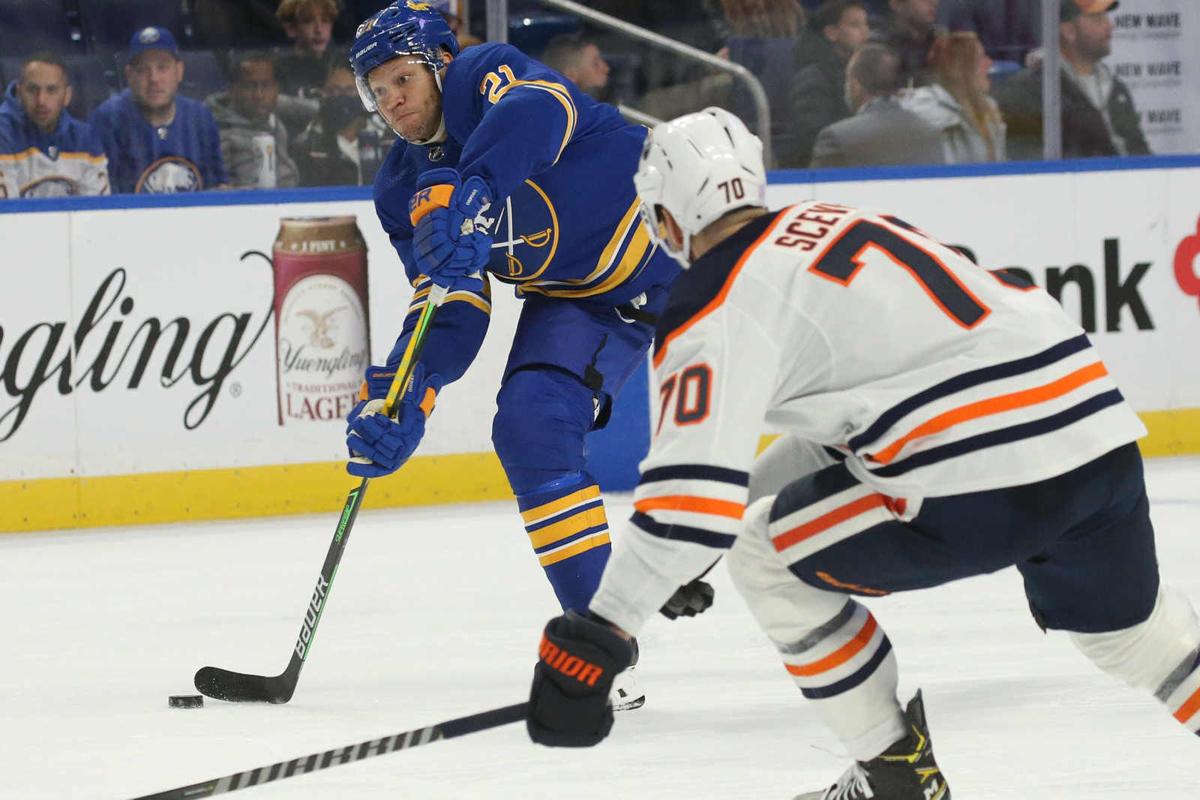 Kyle Okposo gripped the lectern and spoke with conviction while explaining why, as an alternate captain, he isn't concerned about the Buffalo Sabres following a 5-0 loss at home to the Calgary Flames.
"I believe in the room," Okposo said.
Okposo is one of several veteran players guiding the young Sabres through the triumph and challenges of an 82-game season. Amid his sixth season in Buffalo, Okposo is among the longest-tenured Sabres and embodies many of the traits General Manager Kevyn Adams wants on and off the ice.
While the public perception might be that the 33-year-old Okposo has a louder voice with former captain Jack Eichel gone, he insists that's not the case. During a one-on-one conversation with The Buffalo News, Okposo spoke about his role, the difficulty of being a young player in the NHL and more:
Q: How has your role as a leader changed, if at all, this season?
A: I guess the only thing that's really changed is probably how it's perceived from the outside, maybe. I am who I am and I'm going to kind of do what I do. We've obviously had a captain since Jack was named captain and now we don't, so everybody wants to talk about that and, 'OK, who's going to step up, who's going to lead?' I'm not going to do anything different than I've been doing the last four years because I think when people start to do that, when they start to stretch their leadership in different ways, that's when they get into trouble because they lose themselves. Then they start to not play well and it just doesn't work. It becomes inauthentic. It hasn't really changed a whole lot other than maybe logistics.
Q: During your first full NHL season with the New York Islanders in 2008-09, you were teammates with several guys who had reputations of being great leaders. What did you learn from them that you've applied off the ice?
A: I learned a lot from those guys. Billy Guerin, Doug Weight, Mike Sillinger, Richard Park, Brendan Witt, some of the older guys that I came in with. All of them had different personalities. Definitely more old school than it is now. The league has changed so much since '07-08 when I played my first games. It felt like half your team was 30 or over and now there's like three guys. It's just a little bit different, but I learned how to communicate. I learned how to be respectful, I learned how to be yourself and I learned how to treat people. That was probably one of the biggest things.
I will say that Bill Guerin, we had a guy that parked our cars in Long Island and every day Bill said his name, asked him how he was doing. That's something that goes a really long way in an organization – how you treat people. I think as somebody that's been here for a while and one of the leaders on the team, that's something I want to pass along. Treat everyone, no matter who they are, you treat them the same way.
Q: Is it more difficult to be a young player now with the pressure to perform so soon after their draft year and all the noise created by social media, which many of them grew up monitoring for one reason or another?
A: The social media aspect has changed a lot of things, and I think that young guys do struggle with it sometimes as a whole. It's something you have to learn how to block it out and how to realize whose opinions matter in your life and whose don't. If you're scrolling through and looking at comments all day, it's going to affect you negatively because Twitter, Instagram or any of those social media platforms, how many people in those comments would post what they'd say to your face? Probably not many, so if you're concerning yourself with that, that's on you and you have to learn how to deal with that. Part of my job is to help guys with that.
It's harder to be a young guy because it's becoming a young league. Guys are getting paid a lot earlier, they're being relied on to win games. It's not like you earn your stripes and then you're out there in the last minute. It's, 'You're our best player, you're 22 years old and it doesn't matter, you're going.' It can be a lot for guys, but that's the way the league is going. They're going to have to come along a little bit faster in a leadership role than when I first got in the league.
Q: How can the older guys in the room help in a situation where a younger player is feeling that pressure?
A: Being me can help because I am relaxed, I'm easy going. No topics are off limits in the locker room. We can talk about whatever you want and nobody's going to judge you for it. We're all going to talk it out. It's that type of feeling in the room, that type of camaraderie and that type of friendship, is something that's very important for them to not feel that pressure. They have a support system. It's not like, 'You have two guys here who hang out and two guys there.' It's cliquey, cliquey and you don't want to say the wrong thing in front of somebody. It's important to try to not have that as much as possible.
Q: What was your reaction when Rasmus Dahlin and Casey Mittelstadt wanted to take ownership of creating a culture in the room and how all the little stuff is done behind the scenes?
A: The 'little stuff' becomes the big stuff because it allows people to feel comfortable and it allows people to be themselves. I never want anyone to feel scared to say anything, scared to do anything. You want everybody to support each other. With those two guys, Casey is a big part of our group and he's become a natural leader among those young guys. Him and (Dylan Cozens) and Dahls, those three guys, people gravitate towards them and the young guys really enjoy hanging out with each other. They just like spending time with each other and that's very important. It's not forced. It's organic.
I've got four kids and I'm in a completely different phase of life than them, but we all enjoy hanging out. Those guys, away from the rink, they have time to do that with each other. Whatever happens with the culture off-ice, needs to happen organically. … The little stuff to where you include everybody is very important.
Q: You and your family made Buffalo your permanent home in recent years. How have you enjoyed settling into the city?
A: It's been great. We've met so many people around the community. We went out to dinner the other night and saw eight people I know. It's home now and has been for me and my family. It is a small town (laughs). I feel like you're one degree of separation from everybody. It's fun that way. … Everything has been just awesome for my family and I. I can't say enough good things about the community here.