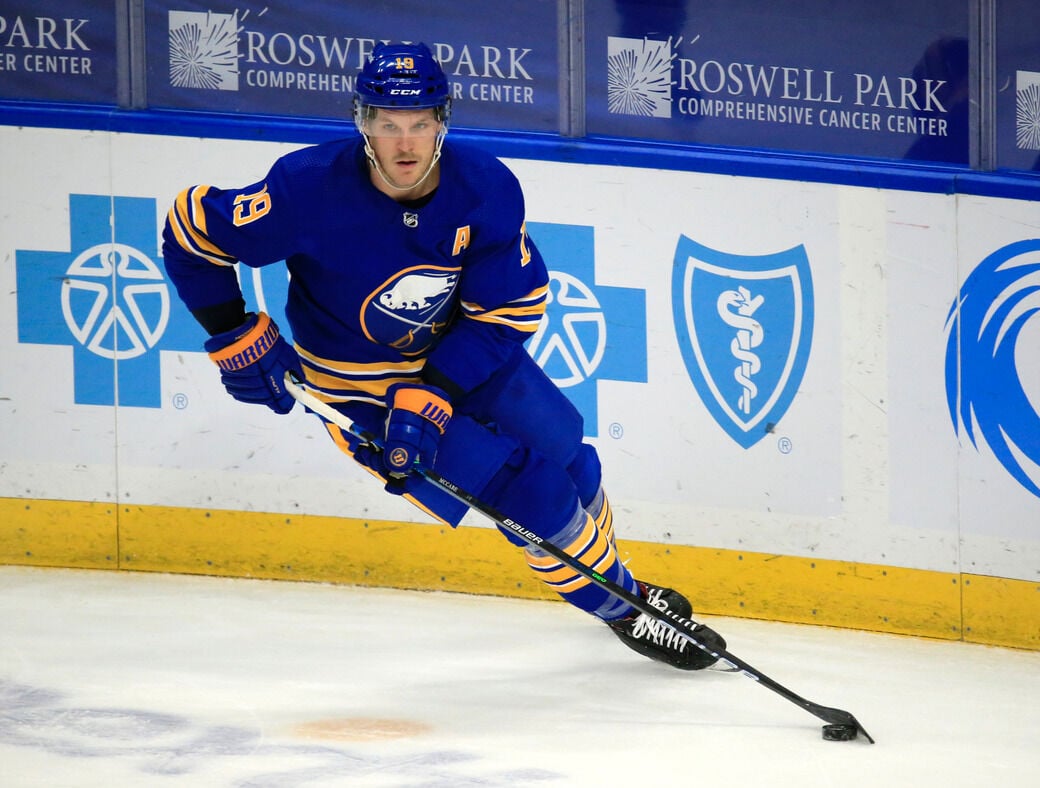 Don't plan on the Buffalo Sabres being a major player when free agency begins Wednesday.
According to CapFriendly.com, the Sabres have $37.95 million in cap space to spend after trading Sam Reinhart to Florida and Rasmus Ristolainen to Philadelphia.
Reinhart is headed to the Sabres' Atlantic Division rival in exchange for goalie prospect Devon Levi and a 2022 first-round draft choice.
However, General Manager Kevyn Adams told reporters following the conclusion of the NHL draft on Saturday that he won't sign a player who could take valuable minutes away from the young core of the Sabres. The club will likely pursue a few veterans to fill out the roster and provide leadership.
Two of their own pending unrestricted free agents are on his wish list: goalie Linus Ullmark and defenseman Jake McCabe.
While the Sabres are pushing hard to sign Ullmark to be their No. 1 goalie for next season and likely beyond, Adams said that all signs point to McCabe reaching the market.
Ristolainen was traded to the Philadelphia Flyers in exchange for defenseman Robert Hagg, a first round pick in this year's draft, No. 14 overall, and a second-round selection in 2023.
"We've spent a lot of time with Linus' agent over this offseason, had regular conversations," Adams said. "We're going to continue. We're working hard at it. We've made it very clear to them that we would like to see Linus as our No. 1 goalie. We're going to keep working at it. We'll see where it gets.
"I also understand the rights players have and sometimes they make decisions, but we're going to do everything we can. We've been open and honest from the beginning with Linus and his agent that we prioritize him.
"Jake, we've definitely had conversations all along here. I am a big fan of Jake McCabe as a player and a person. I think we're at a spot here where he has gotten close that he said, 'I think I'm going to see what's out there.' Doesn't mean that I get a phone call from his agent that we wouldn't welcome him back because I really think he was a good hockey player for us."
It's no secret why the Sabres want both to return. 
Ullmark, a sixth-round draft choice in 2012, emerged as the Sabres' unquestioned starter in goal the past two seasons.
Power, a 6-foot-6 left shot defenseman ranked by NHL Central Scouting as the top North American skater in this class, is coming off an impressive freshman season at the University of Michigan and a remarkable performance against much older competition at the IIHF World Championship in Latvia.
Despite having a 10-month offseason to achieve what Ullmark called "the best shape of my life," he missed 29 games in 2020-21 with separate lower-body ailments. He's missed 46 games because of injury over the past two years.
The setbacks might cost Ullmark in contract negotiations, but he has performed well when healthy. His .937 save percentage at 5-on-5 this season ranked fifth among goalies to appear in at least 20 games, but according to Evolving-Hockey.com, he was 20th in goals saved above expected, which is based on expected goal models that value shots differently based on their quality.
Ullmark's .916 save percentage in all situations since the start of 2019-20 is 13th among 40 goalies to see action in at least 40 games. Over the past two seasons, Ullmark has a 26-20-6 record and 2.67 goals-against average. 
Other Sabres goalies last season combined for a 6-28-4 record and .896 save percentage. The team took a risk last fall by signing Ullmark, then a restricted free agent, to only a one-year, $2.6 million contract. Now, it's unclear what the price tag would be for a multiyear contract.
Ullmark, 27, likely will have the opportunity to join contenders such as Pittsburgh or Toronto if he choses to leave Buffalo. But he and his family are comfortable in Western New York. Ullmark also has worked well with goalie coach Mike Bales, who is expected to return next season. 
For the most part, the Sabres opted for players they were able to scout in-person, whether it was second-round selection Prokhor Poltapov at the IIHF Under-18 World Championship or Olivier Nadeau and Viljami Marjala in the Quebec Major Junior Hockey League.
Dustin Tokarski and Ukko-Pekka Luukkonen are the only goalies currently under contract for the Sabres in 2021-22. Carter Hutton and Michael Houser are reaching unrestricted free agency.
McCabe, 27, was playing his best hockey when he suffered a season-ending knee injury on Feb. 20. He told reporters in May that he expects to be ready for the start of the 2021-22 season. Among defense pairs to play at least 125 minutes at 5-on-5 together in 2020-21, McCabe and Rasmus Ristolainen ranked 16th in limiting on-ice shot quality, according to Evolving-Hockey.com.
McCabe is strong on the penalty kill and provides a physical presence on the blue line. A return to Buffalo could come with the responsibility of team captain, as Jack Eichel is expected to be traded this offseason and the club has few candidates experienced enough to hold the title. 
McCabe, though, has not experienced playoff hockey since he was drafted in the second round by Buffalo in 2012. Across eight seasons, McCabe has 18 goals and 77 points while averaging 19:15 of ice time. 
McCabe's contract counted $2.85 million against the salary cap the past two seasons. According to Evolving-Hockey.com, McCabe is expected to receive a contract with a $1.027 million cap hit if he signs with another team. He could be a valuable, cost-effective addition to a contender.