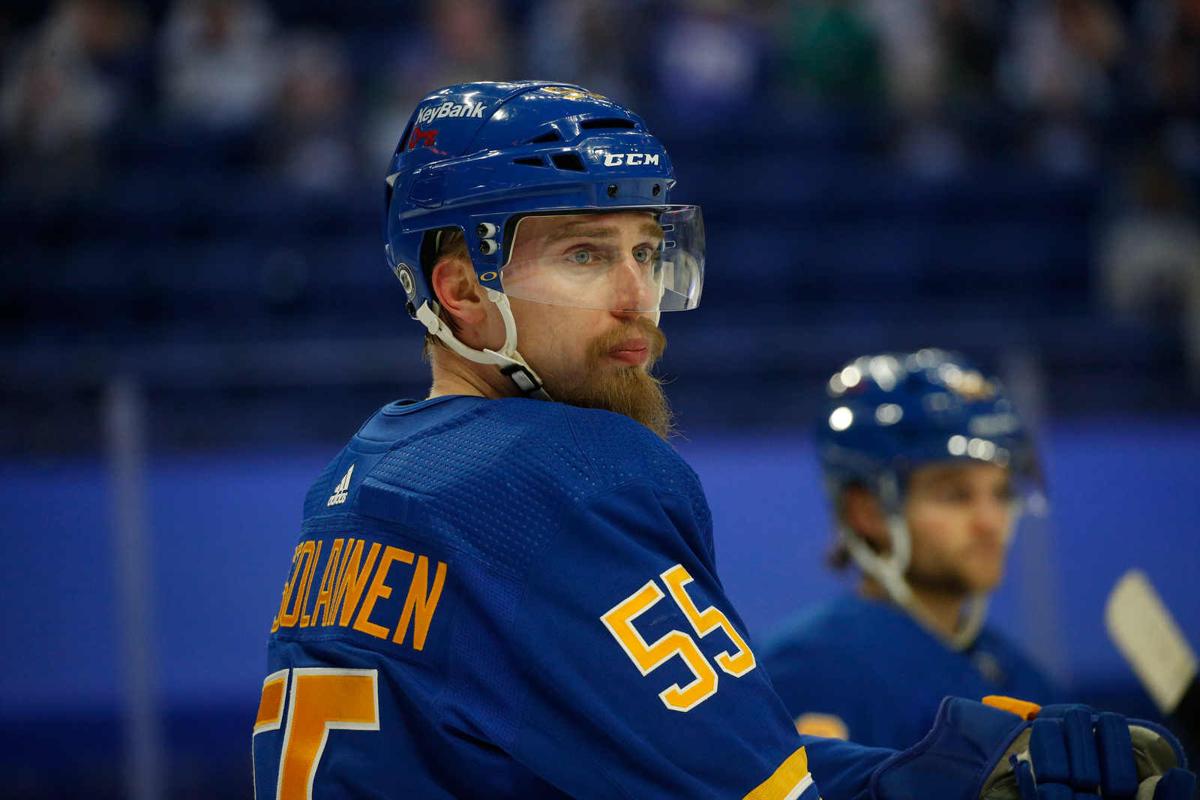 Kevyn Adams did not make the job of an expansion general manager easier for his former teammate Ron Francis of the Seattle Kraken.
Adams, amid his second offseason as GM of the Buffalo Sabres, included most of his high-upside, non-exempt players on the club's protection list for the Seattle expansion draft.
As expected, the Sabres protected forwards Jack Eichel, Sam Reinhart, Victor Olofsson, Tage Thompson, Casey Mittelstadt, Rasmus Asplund, Anders Bjork; defensemen Rasmus Dahlin, Henri Jokiharju, Rasmus Ristolainen; and goalie Linus Ullmark, who will become an unrestricted free agent if not signed to a new contract before July 28.
The Kraken will add one player from each of the NHL's 30 other teams -- Vegas is exempt -- and the selections will be announced 8 p.m. EST Wednesday. Francis, who was teammates with Adams in Carolina from 2001-04, will have the opportunity to select an accomplished goal scorer from Buffalo if he's willing to take on some significant risk.
Jeff Skinner, the $9 million-per-year winger with 21 goals over the past two seasons, can be selected by the Kraken after he waived his no-movement clause for the purpose of the expansion draft. Skinner, 29, was with the Carolina Hurricanes for Francis' four seasons as the franchise's general manager.
Skinner's 211 even-strength goals since 2010-11 are tied with Sidney Crosby for eighth-most in the NHL during that span. His career-high 40 goals with the Sabres in 2019-20 led to him signing an eight-year, $72 million contract to remain in Buffalo.
However, Skinner's recent struggles offensively, coupled with the six years remaining on a contract that carries a $9 million cap hit, make him an unlikely selection for Seattle. The following Sabres are also eligible for selection: forwards Cody Eakin, Zemgus Girgensons, Andrew Oglevie and Kyle Okposo; defensemen Will Borgen and Colin Miller; and goalie Dustin Tokarski.
The Kraken's exclusive bargaining window with restricted and unrestricted free agents also began 10 a.m. Sunday. Any signing counts as Seattle's expansion selection from that team. Buffalo has 12 unrestricted free agents: forwards Drake Caggiula, Jean-Sebastien Dea, Steven Fogarty, Tobias Rieder, Riley Sheahan and C.J. Smith; defensemen Jake McCabe, Matt Irwin and Brandon Davidson; and Carter Hutton and Michael Houser.
Protecting Ullmark buys the Sabres more time to sign the 27-year-old to a new contract. Sources told The Buffalo News on Sunday that Ullmark has not ruled out a return to Buffalo and is still evaluating his options.
Unsigned draft picks and players amid the first or second year of their respective entry-level contracts are exempt. The following Sabres cannot be selected by Seattle and did not need to be protected: Forwards Dylan Cozens, Jack Quinn, JJ Peterka, Brandon Biro, Brett Murray, Matej Pekar, Dawson DiPietro, Matteo Costantini (unsigned), Linus Weissbach, Lukas Rousek; defensemen Mattias Samuelsson, Oskari Laaksonen, Jacob Bryson, Casey Fitzgerald and Ryan Johnson (unsigned); and goalies Ukko-Pekka Luukkonen, Erik Portillo (unsigned) and Stefanos Lekkas.
The Sabres are taking a significant gamble by exposing Borgen, a 24-year-old defenseman who was outstanding during most of the 10 games he played during an injury-shortened 2021-22 season. He's strong in his own zone and on the penalty kill, and he won't cost much as a restricted free agent this summer.
But the Sabres weren't going to lose Ristolainen for nothing. Ristolainen, 26, was reliable when paired with McCabe at the start of last season, but Ristolainen's play deteriorated after a bout with Covid-19 left him bedridden for days. Ristolainen is scheduled to become an unrestricted free agent next summer and, if traded by the midseason deadline, would help the Sabres add young assets or draft picks.
Eichel and Reinhart are expected to play elsewhere in 2021-22, but those trades would have been difficult to complete before the expansion draft. After all, the return on both deals could be multiple non-exempt players, which would have impacted Adams' ability to retain young players he did not wish to lose to Seattle.
The Sabres cannot trade Eichel or Reinhart until after 1 p.m. Thursday, but they can negotiate with Francis to entice the Kraken into taking a specific player.
Former Sabres General Manager Jason Botterill traded a sixth-round draft pick to Vegas in 2017 to influence the Golden Knights into not selecting Ullmark. Vegas picked 22-year-old forward William Carrier. Carrier has 22 goals in 214 regular-season games with the Golden Knights.
Adams has ammunition in the form of 10 draft picks, including two in the second and third rounds, and it's possible Buffalo will try to have the Kraken select Miller, a 28-year-old defenseman who helped the Vegas Golden Knights reach the Stanley Cup Final in 2018. Miller is scheduled to become an unrestricted free agent next summer. His right shot and skating ability would be valuable additions for Kraken coach Dave Hakstol, and Seattle could trade Miller before the February deadline if it falls out of the playoff race.
Girgensons, 27, also would be an intriguing add for Seattle. He played well in a checking-line role for Buffalo when Adams' predecessor, Botterill, now assistant general manager of the Kraken, was in his last season with the Sabres. Girgensons missed the entire 2020-21 season with a hamstring injury, and his contract will cost $2.2 million against the cap in each of the next two seasons.
There are obvious reasons why the Sabres chose to protect these 11 players.
1. Eichel: Drafted second overall in 2015, Eichel developed into one of the top centers in the National Hockey League, as illustrated by his career-high 36-goal season in 2019-20. Injuries derailed what is expected to be his final season in Buffalo, as the 24-year-old played through a nagging abdominal injury and he suffered a broken rib prior to the start of training camp.
A disagreement with the club stemming from Eichel's desire to have a non-approved surgery on the herniated disk in his neck is expected to lead to his departure. The Sabres are requesting a significant return in trade talks with teams, as Eichel has five years remaining on a contract that carries a $10 million average annual value.
2. Reinhart: Since arriving as the second overall pick in the 2014 draft, Reinhart's game has been scrutinized. He has improved in each of his six seasons in Buffalo and matched his previous career high with 25 goals during this Covid-19 shortened season. Reinhart, 25, is only a restricted free agent and proved that he can play center at a high level in the NHL, but he will be an unrestricted free agent next summer and his expression of frustration in May makes it seem unlikely that he will be willing to sign with the Sabres long-term.
3. Mittelstadt: Buried on the depth chart with Ralph Krueger as coach, Mittelstadt worked his way from the taxi squad to the top line by showing that he's ready for a full-time opportunity in the NHL, specifically at center. Drafted eighth overall in 2017, Mittelstadt thrived under Don Granato and solidified himself as a member of the Sabres' young core.
4. Olofsson: The Sabres need more production from Olofsson at 5-on-5, but he's an exceptional weapon on the power play and has made gradual improvements defensively. Since making his NHL debut on March 28, 2019, Olfosson's 20 power-play goals are tied for the eighth-most in the league. His contract will count $3.05 million against the cap this season, and he is scheduled to become a restricted free agent next summer.
5. Thompson: Acquired from Buffalo in the Ryan O'Reilly trade, Thompson's development has been negatively impacted by inconsistent usage and a shoulder injury that limited his 2019-20 season to only 17 games. The 23-year-old played well under Granato and is considered part of the young core.
6. Bjork: There should have been no doubt about Bjork's future in Buffalo when the Sabres named Granato coach. After all, Granato is a fan of Bjork dating back to their time at the USA National Team Development Program. Bjork, 24, was acquired from Boston in the Taylor Hall trade and had three goals with six points in 15 games as a Sabre. Bjork is under contract for two more years with a $1.6 million annual cap hit.
7. Asplund: An example of how long some players take to develop into NHLers, Asplund, a second-round draft pick in 2016, finally showed last season that he has the talent to be a full-time contributor for Buffalo. Asplund, 22, had six goals and 10 points in 28 games with Granato as coach.
8. Dahlin: No explanation needed. Dahlin was drafted first overall in 2018 and has the talent to develop into one of the top defensemen in the NHL. The Sabres need to build around Dahlin and support him with a reliable defense partner. Dahlin, 21, is a restricted free agent and a candidate for a long-term extension.
9. Jokiharju: Another no-brainer on the list. It's unlikely that Jokiharju will be a top-pairing defenseman long-term, but he's very reliable with the puck and has the skill to produce more points. The 22-year-old is a restricted free agent.
10. Ristolainen: The Sabres weren't losing Ristolainen for nothing. The fact is that Ristolainen is valued more by Adams and other teams around the NHL than most Sabres fans. Ristolainen leads the club in total ice time since the start of the 2013-14 season.
11. Ullmark: Goaltending is an offseason priority for the Sabres, and Ullmark proved he's a capable starter in the NHL.