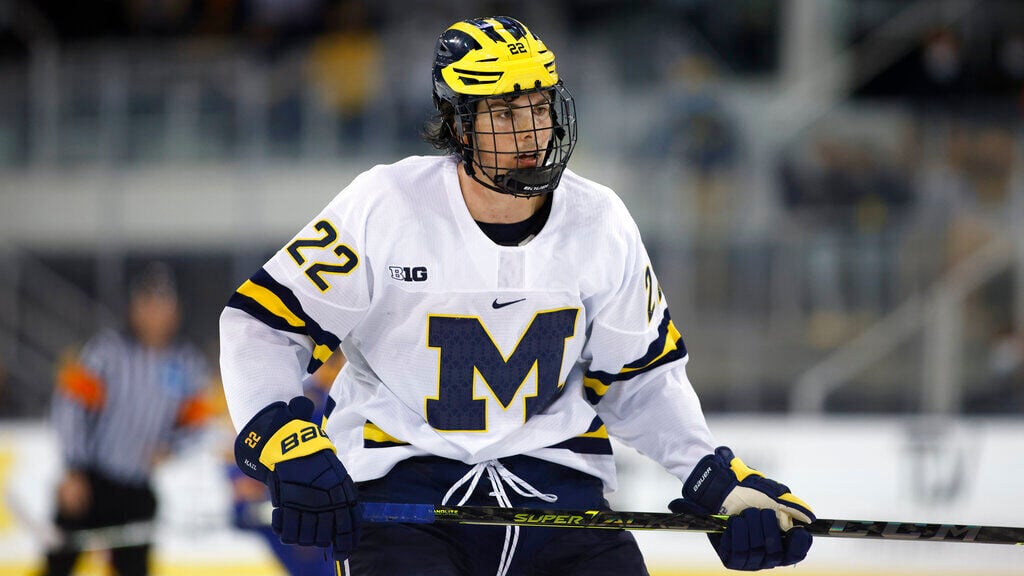 Perhaps the only surprise was that the honor didn't come in the season's first ranking.
But Michigan, with a stacked roster featuring Sabres prospects Owen Power and Erik Portillo, moved into the No. 1 spot in both major college hockey polls Monday after a pair of big wins over the weekend.
During a season in which you'll read more prospects coverage in The Buffalo News, here's a glance at the 15 to watch in 2021-22.
The Wolverines – whose lineup features four of the top five players taken in the NHL draft in July – improved to 4-0 and climbed from No. 3 with victories over Minnesota-Duluth and Minnesota State in the Icebreaker Tournament in Duluth. They were a unanimous No. 1 choice among the 34 voters in the USA Today poll and got 45 of 50 first-place votes in the poll run by USCHO.com
Power, the defenseman whom the Sabres made the No. 1 overall pick, is third on the team in scoring with six points (one goal, five assists). Portillo, a third-rounder in 2019, has won all four games in goal, posting a 2.00 goals-against average and .929 save percentage.
Michigan earned a 3-2 win over Minnesota State, which was ranked No. 1, on a goal from winger Brendan Brisson in the final five minutes of Saturday's championship game.
Brisson, Vegas' first-round pick in 2020, is the son of NHL superagent Pat Brisson. The elder Brisson serves as Power's adviser and is the new agent for Jack Eichel as the former Sabres captain works on an agreement with the team over his medical situation and a trade.
The 19-year-old goalie broke Carey Price's record at the IIHF World Junior Championship with a .964 save percentage in seven games for Canada at the annual tournament.
The top five in both polls are Michigan, Minnesota State, St. Cloud State, Minnesota and Minnesota-Duluth. Defenseman Ryan Johnson, the second of Buffalo's first-round picks in 2019, is a standout defenseman for Minnesota. Northeastern goalie Devon Levi, acquired by the Sabres in July as part of the Sam Reinhart deal, has helped his school to a No. 20 ranking.
Johnson has one goal and one assists for Minnesota (3-1). Levi posted shutouts in his first two starts for Northeastern (2-2) and has glossy numbers of 1.77/.940 thus far. 
Canisius earned seven points in the USCHO voting to finish at No. 31 this week. The Griffs' 2-2 start includes road wins at Penn State and Saturday's 3-2 overtime victory at RPI. They play Tuesday night at Clarkson and have their home opener Oct. 29 in LECOM Harborcenter against Ferris State.