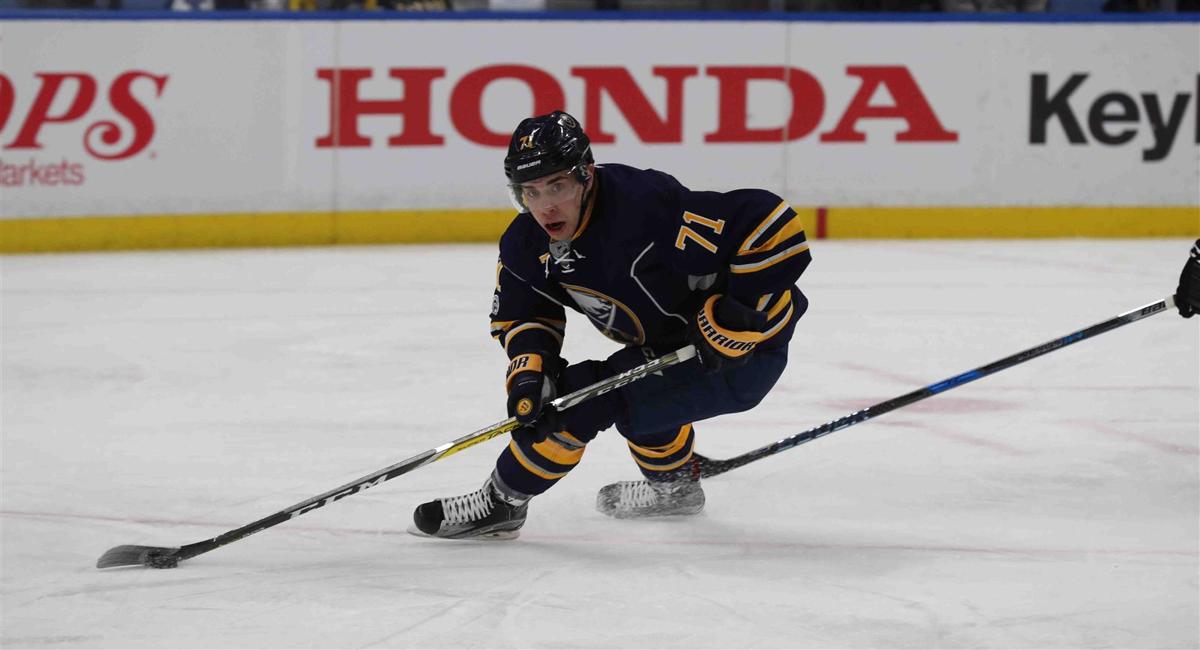 Evan Rodrigues was on the cusp of making his first NHL roster out of training camp.
The 24-year-old was impressive for the Buffalo Sabres in the preseason, seamlessly fitting into the desired plan of the new coaching staff to utilize speed.
But then came the preseason game against Toronto, an untimely hit, and an injured hand.
That put Rodrigues on the sideline to start the season. He was in good company, joining Alexander Nylander and Zach Bogosian, but it wasn't what was planned. This was the longest injury of his career, sitting on the injured reserve list from Oct. 5 through Nov. 17.
"I missed a few weeks in college, but nothing this long," Rodrigues said. "It's part of the game. Obviously it's frustrating. I thought I had a really good camp. All my work in the offseason was transferring to the ice. I had confidence with the puck. My speed increased. I was creating chances. And then the injury happened. I know how much work I put in during the summer and I was confident in my ability to make the team."
There was no time for sulking. Rodrigues did have the opportunity to lean on the other contingent of injured Sabres as he went through his rehabilitation process. With the injury to his hand, he was able to get back on the ice to skate quickly and keep up his conditioning.
That led to him getting into a groove with the Rochester Americans pretty quickly.
Rodrigues had a four-point night Nov. 24 with two goals and two assists in the Amerks' 10-3 win over the Binghamton Devils.
"At the end of the day, hockey is hockey. It's like riding a bike," Rodrigues said, who noted he is at 100 percent both in terms of the injury and in getting his game day groove back.
He found chemistry on a line with Sahir Gill (a former teammate at Boston University) and Steve Moses (a former Hockey East rival at the University of New Hampshire). And what he's found in Rochester is a team that is winning.
"Everyone is buying in. Everyone is working for mutual success and has a positive attitude coming to the rink," Rodrigues said. "Honestly, there's nothing like winning."
The Amerks entered the week fifth overall in the American Hockey league and just five points behind the Toronto Marlies for the top spot in the North Division.
Last week, Rochester claimed five out of a possible six points and has at least one point in 10 of its last 11 games.
Among the leaders is rookie C.J. Smith, who leads the team with 13 assists and 19 points. Smith, on a three-game point streak, ranks second among AHL rookies in assists and is tied for 11th in rookie points.
The Amerks are also getting something their parent club is not — offense from the blueline. Brendan Guhle has 12 points (five goals, seven assists) in his last 15 games. Three of those goals have come on the power play.
Meanwhile forward Justin Bailey has only played one game with the Amerks since being sent down on Nov. 13. He last played on Nov. 18 vs. Binghamton where he had no points, no shots and was a minus-1.
"He's still having problems with his lower-body injury," Sabres coach Phil Housley said on Monday.
Vojtech Budik (defense, Prince Albert Raiders): Last had a point on Nov. 3. For the season he has one goal and four assists in 24 games with a minus-five rating. He has 23 penalty minutes and 61 shots on goal.
Brandon Hagel (forward, Red Deer Rebels): Scored his seventh goal of the season in a 2-1 overtime loss to the Calgary Hitmen on Nov. 25. That goal broke a four-game scoring drought for Hagel. He ranks second on Red Deer in scoring with 22 points (seven goals, 15 assists) in 25 games.
Cliff Pu (forward, London Knights): On a 10-game point streak and a six-game goal scoring streak. In the last 10 games, Pu has nine goals and 14 assists. Seven of those games have been multi-point efforts. Through 24 games, he has 12 goals (including six on the power play and one shorthanded) with 21 assists.
Austin Osmanski (defense, Peterborough Petes): The East Aurora native has one goal and 10 assists through 26 games. He ranks a plus-two, has 32 penalty minutes and 45 shots on goal.
Vasily Glotov (forward, Shawinigan Cataractes): After posting 11 points (eight goals, three assists) in October, has been held to one goal in seven games in November. On the season he has nine goals and five assists.
William Borgen (defense, St. Cloud State): The junior has one goal and seven assists on the season as the Huskies are 9-2-0 overall.
Christopher Brown (forward, Boston College): Has four goals and four assists in 15 games this season. Has two multi-points games as the Eagles are on an eight-game unbeaten streak to move to 8-5-2 overall.
Jacob Bryson (defense, Providence): The sophomore picked up his ninth assist of the season in a 3-0 win against Maine on Nov. 24. He has one goal and nine assists through 14 games for the Friars.
Ivan Chukarov (defense, UMass): Missed the first month of the season with an upper body injury. Picked up his first assist of the season in a 6-3 win over Quinnipiac on Nov. 25, his fifth game of the season.
Casey Fitzgerald (defense, Boston College): Has three goals and six assists on the season, including a four-game point streak from Nov. 4 to Nov. 17.
Connor Hurley (forward, Minnesota): After three seasons at Notre Dame, Hurley transferred to the University of Minnesota. He will sit out this season per NCAA transfer rules and have one year of college eligibility left for the 2018-19 season. In 98 career games for the Fighting Irish, Hurley had 48 points (14 goals, 34 assists).
Casey Mittelstadt (forward, Minnesota): The Sabres first-round pick in 2017 has four goals and nine assists in his first 15 games at the collegiate level. He is tied for fourth nationally in freshman scoring.
Brett Murray (forward, Penn State): The sophomore scored his first collegiate goal Nov. 18, an empty netter, in a 4-2 win at Arizona State. In 15 games he has five points.
Philip Nyberg (defense, UConn): Registered his first two goals of the season in back-to-back games. Notched his first of the year Nov. 21 in a 4-1 win at Vermont then his second Nov. 25 in a 2-1 win against RIT.
Judd Peterson (forward, St. Cloud State): The senior has a two-game point streak after the Huskies swept Colorado College, Nov. 17-18. Peterson picked up an assist in a 6-1 win then had a goal (short-handed, empty-netter) and an assist in a 5-1 win.
Linus Weissbach (forward, Wisconsin): A native of Sweden, the 19-year-old freshman is on a four-game point streak as the Badgers are 9-6-2. In that span, Weissbach has two goals and four assists. In his first 15 collegiate games he has five goals and seven assists.
Maxwell Willman (forward, Brown): The senior has one goal and four assists in eight games as Brown has started the season, 4-5-0.
Rasmus Asplund (forward, Farjestad BK): In 23 games in the SHL, he has four goals and nine assists.
Marcus Davidsson (forward, Djurgardens): Has one goal and seven assists in 19 games in the Swedish Hockey League. He has three goals and an assist in three games played with the Djurgadens Under-20 team in the SuperElit League.
Oskari Laaksonen (defense, Ilves): Has two goals and seven assists in 28 games in the Under-20 league (Jr. A SM-Liiga).
Ukko-Pekka Luukkonen (goalie, LeKi): Has a 2.79 goals against average and a .914 save percentage for LeKi, a second-tier league in Finland.
Victor Olofsson (forward, Frolounda HC): Has 11 goals and six assists in the Swedish Hockey League.