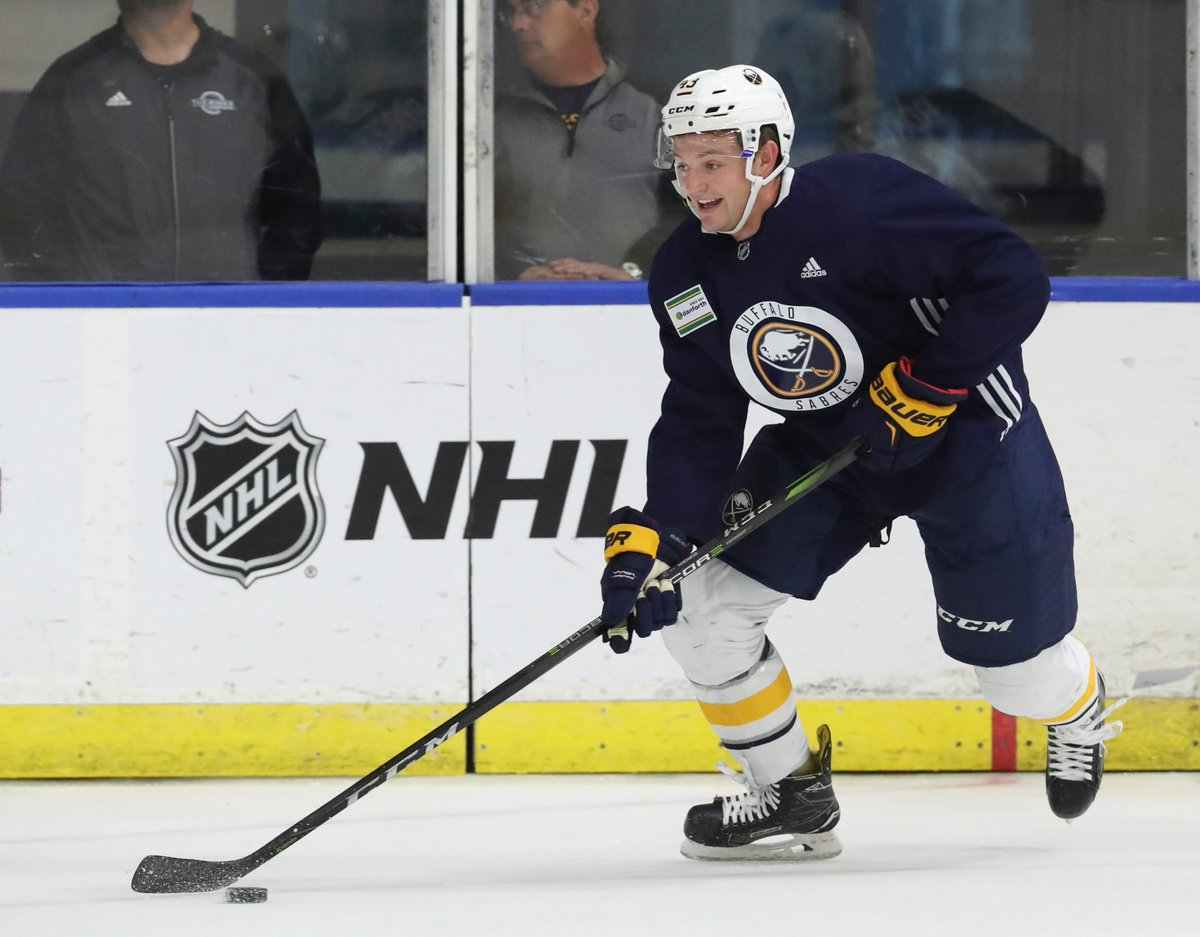 ROCHESTER – When an opportunity materializes to join the rush and showcase his offensive skills, Buffalo Sabres defense prospect Will Borgen tries to pounce on it.
"The majority of the time I just like to play safe, play my role," Borgen said. "But if I see an opportunity, I'm going, yeah."
On Wednesday, Borgen spotted a chance in the Americans' 3-2 overtime loss to the Belleville Senators, zoomed to the net and nearly scored his first goal this season.
Amerks coach Chris Taylor said Borgen, 23, possesses the talent to generate more offense.
"He's not here just to play defense," Taylor said after the Amerks blew a late two-goal lead in Blue Cross Arena. "If there's opportunities to jump in plays, we want everybody to be included in the offense. He's the type of player that he skates well, he's got a good shot. We need to see more of it."
Still, Borgen, who believes he can reach another level offensively, doesn't want to veer too far out of his comfort zone.
"My job is defense — that's my position — so that's what I take priority in first," said Borgen, who has compiled eight assists in 52 game this season.
The 6-foot-3, 198-pound Borgen takes pride in stymieing the opposition.
"Will embraces the physical ... hard guy to play against," Amerks General Manager Randy Sexton said. "He wants that role, he's embraced it, we've encouraged him to do it. I mean, that in his mind is his identity."
One scout who has watched Borgen regularly throughout his pro career called him a "big, strong, physical, stay-at-home defenseman."
He "is a good skater and is hard to play against but does not bring a lot of offense or creativity from the back end," the scout said. "He will keep other teams' players honest and on their toes."
Considering Borgen rarely displays much flash, other Sabres defense prospects and even an Amerks veteran often overshadow him.
Lawrence Pilut, who has been shuttling between Buffalo and Rochester, quickly developed into one of the American Hockey League's top offensive defensemen following his arrival from Sweden in 2018. The diminutive Jacob Bryson has quietly established himself as one of the Sabres' best prospects as an AHL rookie.
Zach Redmond, a 10-year pro, has followed up a dynamic career season in which he was named the league's top defenseman by recording 30 points in his first 50 games.
The Sabres recalled Borgen, who played his first four NHL games late last season, in October but did not dress him for any game.
Since then, the Sabres have summoned Pilut and defenseman John Gilmour ahead of Borgen.
"We have a lot good defensemen, we have a lot of depth in this organization, which is really good," Borgen said. "It just brings everyone's game up a level in practice and in games, so, yeah, you're always fighting for a spot. …
"If somebody else gets called up, you got to be just happy for them."
Former Sabres General Manager Tim Murray drafted Borgen in the fourth round in 2015, 92nd overall. Organizationally, defense is their deepest position.
The Sabres could use Borgen as an asset to help them find more forward depth before Monday's deadline.
Notes: Bryson scored his first AHL goal Wednesday in his 52nd appearance. "It took a long time to get there," he said. … Taylor said Amerks defenseman Casey Nelson is week-to-week with an upper-body injury. Nelson has missed the last five games. … Goaltender Michael Houser has been reassigned to the Cincinnati Cyclones (ECHL). ... The Amerks host the Lehigh Valley Phantoms on Friday and the Cleveland Monsters on Saturday.