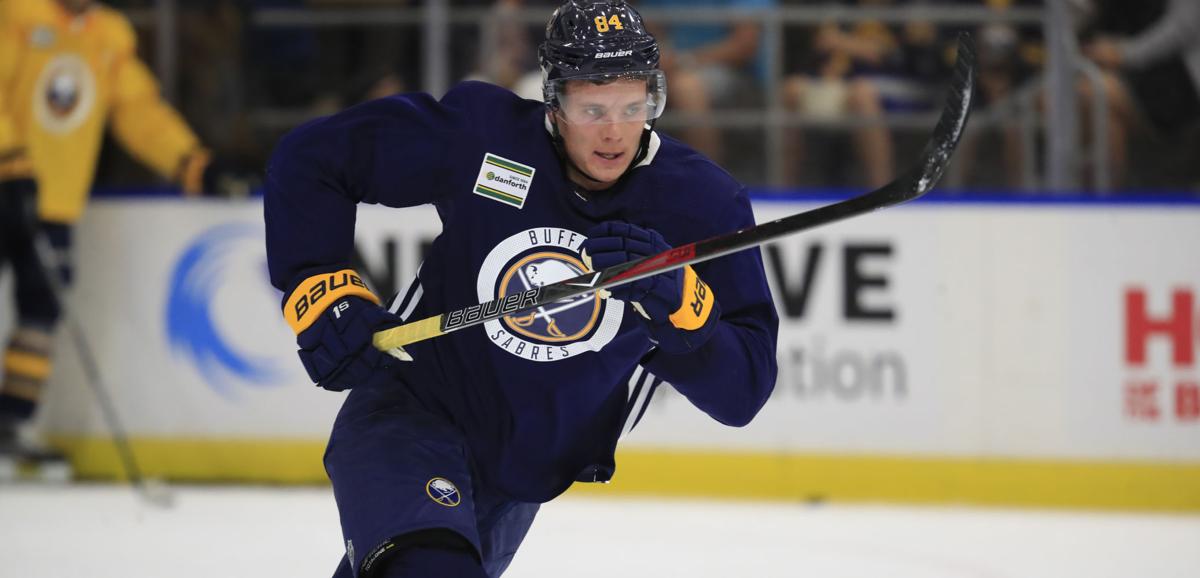 Longtime Sabres beat writer Bill Hoppe of BuffaloHockeyBeat.com, will be writing about Sabres prospects, the Rochester Americans and related topics this season.
ROCHESTER — Long before Buffalo Sabres prospect Victor Olofsson developed into Sweden's most lethal goal scorer, he had opportunities to sign his entry-level contract and begin his North American career.
Olofsson, 23, said he could've come over a year or two ago if he "really wanted to." Instead, he and the Sabres decided staying put in the Swedish Hockey League, where he was earning regular duty, would be the best option.
The Rochester Americans winger said he wanted to feel ready on and off the ice.
"It's not easy to just take all your stuff and move to the other side of the world," said Olofsson, who has compiled three goals and eight points in his first five AHL appearances. "It's a big a step, so I really felt like I was ready for it."
Olofsson ranks second in the AHL in points. He scored three goals and seven points last week, including two game-winning scores as the Amerks went 3-0. He was named the league's Player of the Week.
Olofsson, who possesses soft hands and a quick release, might be the AHL's hottest player.
"It's a bit of a different game over here than I'm used to, so I just had to adjust a little bit in the beginning," Olofsson said Tuesday following practice in Blue Cross Arena. "Right now, it's starting to feel really good."
If Olofsson keeps producing at a torrid clip, he could force the Sabres to recall him. He said the NHL has been on his radar since he was a kid.
"I kind of learned these last four or five years how hard it really is," he said. "I don't think you really know as a kid how hard it is to make it to the NHL."
The 5-foot-11, 181-pound Olofsson paid a lot of dues to simply get on the radar of NHL teams. He went undrafted in 2013, his first year of eligibility. In 2014, the Sabres grabbed him 181st overall.
Only one of the Sabres' seventh-round picks since 2005, defenseman Brady Austin, has played for them. Austin had a five-game stint in 2016-17.
Olofsson said his lack of size probably hurt him years ago. Then he enjoyed a huge junior campaign in 2013-14, compiling 32 goals and 53 points in 44 games. That earned him his first look in the SHL, an 11-game run for MODO Hockey, his hometown team.
He also packed on weight and stuck in the SHL, which allowed him to develop against men.
"I think I had my breakthrough year the year after my draft year (in 2013)," Olofsson said. "Maybe just because they thought I was too small (I was passed over). I think I showed it's possible to play over here if you're not the biggest guy."
By 2017-18, Olofsson was one of Europe's most dynamic goal scorers.
"I think I developed a lot those first two years as a pro, maybe even more these last two years," he said.
Having played more than four seasons in a top European league, Olofsson is older and has much more experience than most first-year AHL players.
"I won't consider myself a rookie even if other guys do," he said.
Amerks coach Chris Taylor said of Olofsson: "I just like his maturity level."
That maturity shows itself in Olofsson's clutch play.
He scored the winner with 59.4 seconds left in the third period of Saturday's 4-3 road victory against the Bridgeport Sound Tigers. On Sunday, he scored 1:46 into overtime, securing a 3-2 victory in Bridgeport. He also assisted on the third-period tying goals both days.
Olofsson has been playing beside center prospect Rasmus Asplund, a youngster he knows from the Swedish National Team, and Danny O'Regan.
Of course, Olofsson needed to adjust to the smaller North American ice surface and style of play.
"The game over here is a little bit more straightforward, not as much puck possession as I'm used to," he said. "(You need to) just be ready to jump into the offense right away and when you get the puck off the walls you usually have a D coming at you right away."
Still, even with less time and space, Olofsson can utilize his heavy shot.
"You notice that the first time you step on the ice," Amerks winger Wayne Simpson said of Olofsson's shot. "I slowly started to realize that the rest of his game is good, too. He's a good skater, powerful and a good passer, too."
Olofsson said his father, Tony, who played pro hockey in Sweden, always stressed he should take wrist shots because forwards don't have much time to get off slap shots.
So Olofsson and his older brother, Jesper, a winger with Färjestad BK in the SHL, would hone their wrist shots.
"We kind of worked on those wrist shots a lot every practice," Olofsson said. "It turned out to be pretty good."