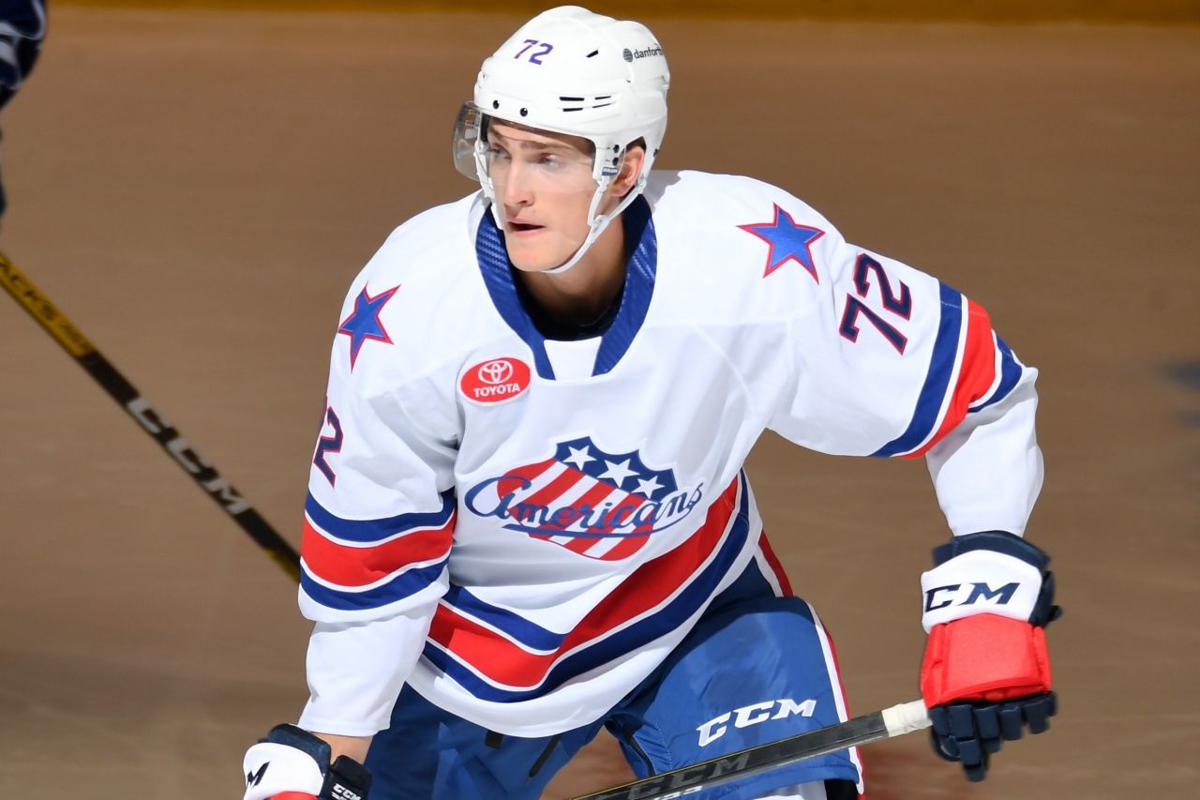 ROCHESTER – With Friday's game tied at 2 in the third period, Rochester Americans winger Tage Thompson grabbed a pass from Scott Wilson at center ice and zoomed past a helpless defender into the Binghamton Devils zone.
"I had a couple of good chances earlier in the game from shooting and felt one was bound to go in if I kept testing him," the Buffalo Sabres prospect said.
So Thompson skated two long strides inside the blue line and unleashed the puck, beating goalie Gilles Senn.
The goal, Thompson's sixth in 13 games this season, showcased arguably his two greatest assets.
"It was a highlight-reel goal as far as using his speed and his shot," interim coach Gord Dineen said following the Amerks' 4-3 shootout loss. "You don't see that kind of shot, maybe Victor Olofsson a little bit last year. That was impressive on his part."
After Binghamton tied the game, Thompson nearly won it overtime, getting the puck past Senn before he recovered and stopped it.
Thompson, 22, has quickly morphed into the Amerks' top offensive threat, recording 12 points while pumping 56 shots on goal, the American Hockey League's second-highest total.
Counting his stint with the Amerks late last season and in the playoffs, Thompson has compiled 14 goals and 23 points in only 24 outings, making him one of the AHL's elite scorers.
His stay in the AHL could be short.
In addition to his offensive dominance this season, Thompson has evolved, displaying a heavier, more complete style.
"There's maturity and growth in his game," Dineen said.
So Dineen has been awarding Thompson opportunities to kill penalties and play against the opposition's top lines.
The Sabres, meanwhile, have a five-game winless streak. Other than Sam Reinhart, their right wingers haven't contributed much offense.
At some point, they might recall Thompson for a spark or simply to reward his hot start. He has played 106 NHL games, including 65 with the Sabres last season.
Thompson often looked overwhelmed in the NHL a year ago, when he compiled only six goals, 11 points and a ghastly minus-22 rating.
Packing on about 10 pounds of muscle over the summer has helped Thompson develop a body that can complement his skills. The Amerks list him at 6-foot-7 and 215 pounds.
"(He's) hard enough to contain as it is with that reach and ability, and when you put muscle on top of it, you're definitely going to see results," Dineen said. "So he's a real hard guy to play against, hard to contain. When he's moving his feet, he's a special player."
Thompson said he feels faster and stronger.
"The body's the best it's felt up to this point in my career," he said. "I think that goes to show I put in a lot of work in the summer and it's paid off."
Dineen also said Thompson's experience – he jumped from UConn to the AHL as a teenager late in 2016-17 – is starting to show.
"He's learned from his mistakes," he said. "He's not repeating them as often."
Having a linemate in center Rasmus Asplund who is so committed to the defensive side probably helps.
Thompson and Asplund, 21, enjoy strong chemistry. Asplund's checking helps generate offense for the duo.
"We've gotten a lot of our offense off of creating turnovers in the neutral zone with our forecheck or whoever it may be," Thompson said. "I think he's more of a pass-first kind of guy. For me, I just try to get open. He's got great vision, so he usually finds me."
Asplund said Thompson "can change the pattern of a game or a shift."
"He does the unexpected all the time," he said.
Thompson has also been utilizing his lethal shot more often.
"Trying not too stickhandle too much, trying to get pucks off quicker is something I've been focusing on and not passing up any Grade A, strong opportunities," he said.
Thompson's shot is so heavy it creates extra space and opportunities.
"Teams start cheating to take away that shot, so it opens up things for other players," Dineen said. "But when he is shooting the puck, it creates a lot of chaos around opposing teams' nets. There's rebounds there. Those are indefensible sometimes, when you're creating rebounds and guys don't know where they're going."
Thompson will likely be going to Buffalo this season. In the meantime, he has embraced another trip to Rochester.
"I love it down here," he said. "You want to play in the NHL, you don't want to get too comfortable where you're at, be hungry to get to the next level. But at the same time, it's an unbelievable group of guys. The staff down here is unbelievable. You have fun when you come to the rink."
Burton injury
Amerks forward Jarrett Burton was helped off the ice Friday and did not return after suffering a lower-body injury.
Dineen did not have an update on Burton, although he sensed the injury could be long-term.
The Amerks recalled forward Pascal Aquin from the Cincinnati Cyclones on Monday.
The team plays three games in four days beginning with a home game Wednesday against Syracuse, followed by a home game Friday against Cleveland and a trip to Utica on Saturday.