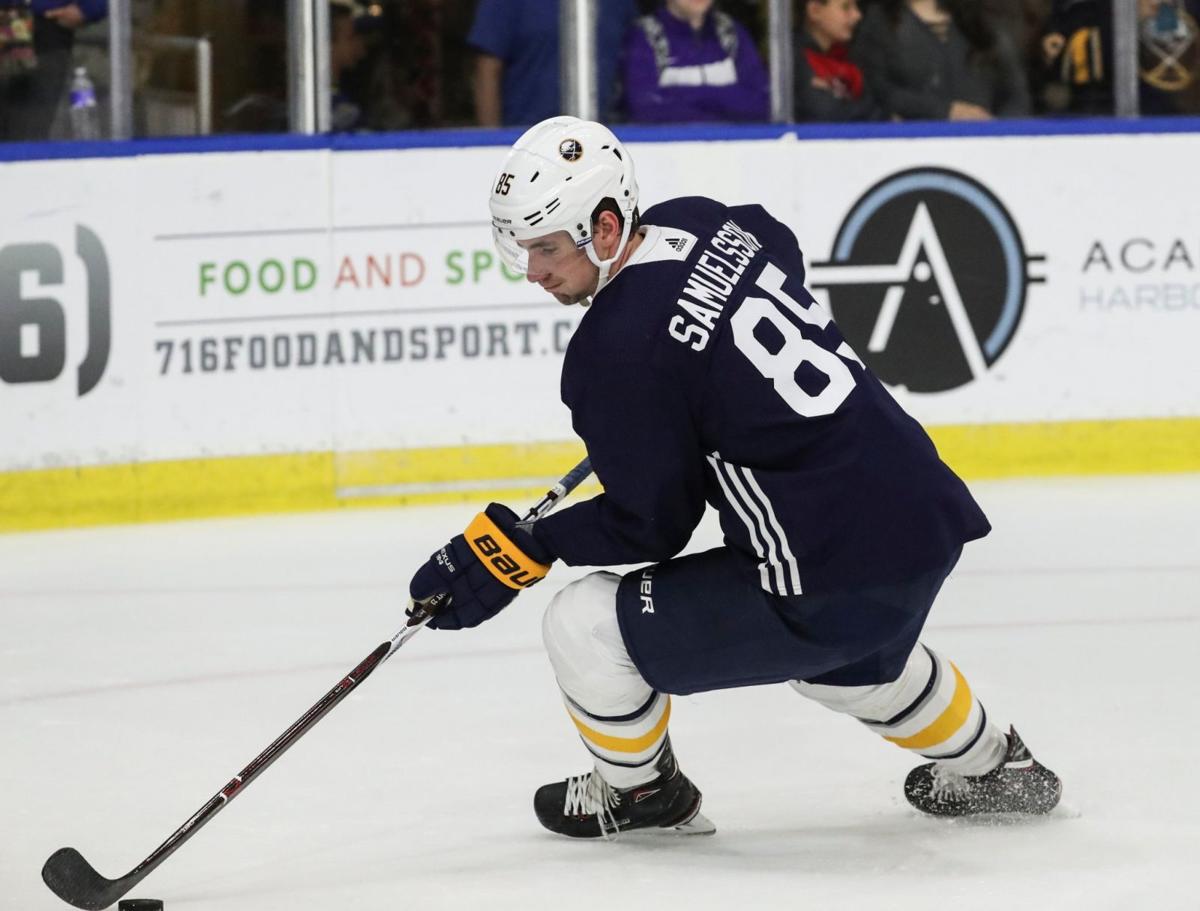 At 6-foot-4 and 221 pounds, Buffalo Sabres prospect Mattias Samuelsson has the size to play pro hockey.
Samuelsson has played big minutes throughout his career at Western Michigan, earning perhaps more ice time than any freshman in the country last season.
The former second-round pick just captained Team USA's entry at the World Junior Championship, his second consecutive appearance in the tournament.
When his college season ends, Samuelsson, 19, could be ready to sign his entry-level contract with the Sabres. He was selected 32nd overall, the first pick in the second round, in the 2018 draft.
"It's something you always have in the back of your mind, it's something you're constantly working toward," Samuelsson said of turning pro. "But at the end of the day, I'm a Bronco right now and you just want to focus on this season."
Following a slow start this season caused partly by a spate of injuries, Western Michigan has won four games in a row.
"We've got the people back that we expected to play together," coach Andy Murray said.
Samuelsson said he suffered a high ankle sprain doing off-ice training before the season – "Rolled it the wrong way," he said – and he missed four games to start the season.
"It was hard, I never had anything like that," he said. "I tried coming back maybe a couple weeks earlier. The pain was a little too bad ... So I took some time off at the beginning of the year. Once I came back on the ice, it felt fine."
Samuelsson's growth this season, according to Murray, can be traced to a less taxing summer. Fewer commitments allowed him to train regularly and improve his conditioning.
"He's stronger than he was last year," Murray said.
Samuelsson said he been showcasing a more physical style and has become tougher to play against in the corners and in front of the net.
"That's something I pride myself on is being a pain to play against for the opponent," said Samuelsson, who has compiled one goal and seven points in 18 games this season. "I feel like playing against older, bigger guys every day is helping me."
Samuelsson only faced teenagers during Team USA's short run as captain at the World Junior Championship.
"He's very mature," Murray said. "I think right away, they had a feeling he would be a leader, they had a young team, they needed somebody with his kind of stable attitude."
While the Americans lost in the quarterfinal, Samuelsson's play during the five games impressed Sabres assistant general manager Randy Sexton.
"I saw a guy who handled the captaincy extremely well," Sexton said. "I saw a guy who, I think, to a large degree played to his identity. He was big, strong, he moved pucks intelligently, defended with vigor, anchored the PK, blocked shots – did all the small things that it takes to win at any level."
Samuelsson said captaining his country "was pretty surreal."
"You dream about playing in the World Juniors, let along being the captain for Team USA," he said. "So it was … super humbling. I mean, really an honor."
Bryson responds to scratch
After rookie defenseman Jacob Bryson played the first 40 games this season, he was scratched for the Amerks' 3-2 overtime win Jan. 22 against the Cleveland Monsters.
"I just made a decision that I felt it's best for him as a young player he needed a night off," coach Chris Taylor said.
Taylor said the Bryson, 22, responded with "one of his best games he had all year" in the Amerks' 4-1 victory versus the Laval Rocket on Jan. 24.
The diminutive Bryson, a Providence product, tried to use sitting out as a learning experience.
"I hadn't done that all year," he said. "I played 40 straight there. It's different from going from college, where you play 40 games, and then playing 40 games and you still have 36 left. It's a long season, and just to watch it up top was kind of good. Confidence-wise, I knew I could come back and play well."
Bryson has already played 42 games, as many as he played last season in the NCAA. That includes the Frozen Four in Buffalo.
Oglevie tallies
After scoring seven goals in a six-game stretch in November, Amerks forward Andrew Oglevie battled a long slump and a lower-body injury, scoring just once over his next 14 outings.
When Oglevie scored an early power-play goal against the Rocket, he celebrated emphatically.
"I was fired up to score that one," he said.
Oglevie added an empty-net goal later in the game and scored the next night in the Amerks' 3-2 win in Syracuse.
Taylor hinted Oglevie isn't 100% yet.
"He's playing through some stuff right now," he said.
Malone gets bounce
Amerks forward Sean Malone's eight-game drought ended Jan. 24 when Rocket goalie Keith Kinkaid played the puck off his own defenseman into the net.
"I was about to (change)," Malone said. "I turned to our bench, I had no idea it went in. Guys came over to celebrate with me. It was a funny moment and something I'll remember."
After playing the Crunch, the Amerks face the Binghamton Devils on the road Saturday.