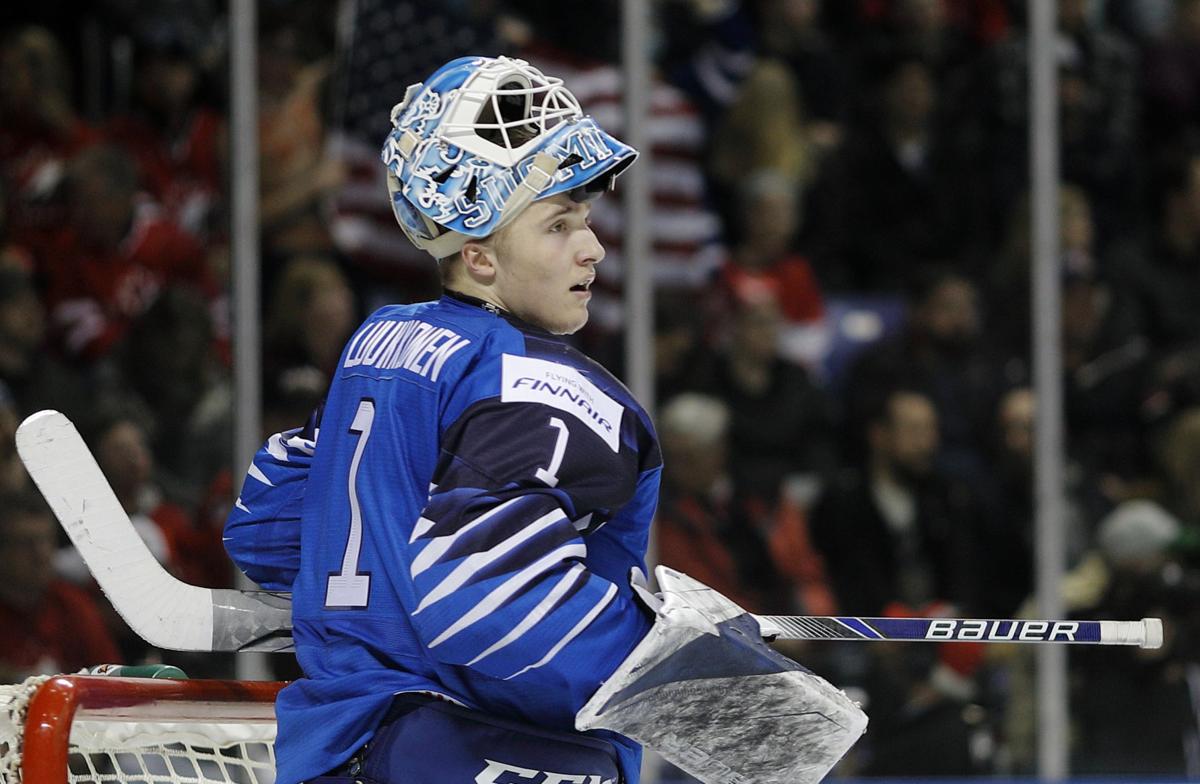 Since winning a gold medal with Finland at the World Junior Championship in Vancouver on Jan. 5, Ukko-Pekka Luukkonen has spent most of his time in Sudbury, Ont., far away from the international spotlight.
The Buffalo Sabres' goalie prospect is back to taking long bus rides across the province and playing in front of a few thousand people. Less than three weeks ago, the 19-year-old made 25 saves in a 3-2 gold medal win over the United States in front of 17,206 fans at Rogers Arena and was voted by the media to the tournament's all-star team.
It has been a whirlwind month for Luukkonen, who has had little time to reflect on what he and his countrymen accomplished on one of the sport's biggest stages. After all, he quickly turned his focus to helping the Sudbury Wolves qualify for the Ontario Hockey League playoffs and is preparing himself to begin a professional career next season with the Sabres.
"It's definitely been a busy couple of weeks for me," Luukkonen told The Buffalo News during a phone interview last week. "It's been something you can't even believe at first. It's hard to believe you've won the tournament. It was really exciting to get back to Sudbury."
Luukkonen, a second-round draft pick of the Sabres in 2017, posted a 1.80 goals against average and .932 save percentage in six tournament games. His penalty-shot overtime save on Canada captain Maxime Comtois helped Finland survive in the quarterfinals, and Luukkonen stopped USA's Jack Hughes, who many project as the No. 1 pick in the upcoming NHL draft, on a third-period breakaway in the gold medal game.
His tournament performance earned international attention. During the gold medal game, a woman in a Team Finland jersey at Rogers Arena held a sign that read, "Our wall is 6'5" and called Ukko-Pekka."
It was redemption for Luukkonen. He posted a 3.13 goals against average and .879 save percentage when Finland finished sixth at last year's tournament in Buffalo.
"That gave me a lot of motivation," he said. "I didn't have my best games last year in Buffalo. I felt like I could have done better. I had a good start to the season here and played a lot of games, so I had good confidence going into the tournament. ... This was my last chance to win it, so I gave it my all."
His transformation from raw prospect to hero did not happen overnight.
After playing 24 games with LeKi of Finland's tier-two professional league last season, Luukkonen signed an entry-level contract with the Sabres in June and was drafted third overall by Sudbury in the CHL import draft.
In preparation for his transition to North American hockey, Luukkonen began practicing on a smaller rink with national team coaches at the Sport Institute of Finland in Vierumaki, the country's Olympic training facility.
Competing at the World Junior Summer Showcase in Kamloops, B.C., illustrated to Luukkonen how difficult the adjustment would be and the importance of uprooting his life to go to Sudbury.
"It's a big difference for the goalies, the angles," Finland coach Jussi Ahokas said of Luukkonen during the tournament. "The angles, I think, is the biggest thing for how to play. The difference is how the play [develops] a little faster maybe. He's had a lot of games and he's seen a lot of pucks in Sudbury. He's been able to see all kinds of situations and I think right now he's more calm, he doesn't overplay. That's the biggest thing for me. You can see he has good confidence right now."
Luukkonen has appeared unfazed by the transition. He ranks third in the OHL in goals against average (2.51) and second in save percentage (.919). That also includes a 22-7-1 record and Luukkonen posted 11 straight wins from Nov. 23 through Jan. 16.
He has four shutouts with the Wolves this season and has helped them become a playoff contender. Luukkonen joked he is a "tall and clumsy guy," saying he is still learning how to control his movements in net. Playing this much hockey on a smaller rink has accelerated his development.
"Playing the right angles, playing more from the post and trusting the post," Luukkonen, who turns 20 in March, said. "Trusting to not overplay. One of the big things is I'm now a year older, and I'm stronger now, too. It really helps with your movement and being behind the puck every time. If you want to be under control, you need to be behind the puck."
Luukkonen is on the verge of realizing his dream. He estimates he began playing hockey at age 6 in Espoo, Finland, and idolized his older brother, Nuutti, who played goalie. Ukko-Pekka soon switched to the position and, like most children in Finland, was unable to watch NHL games.
He settled for watching highlights every morning before school, focusing on each goalie to see if their techniques that could help him improve on the ice. Recently, Craig Button of TSN listed Luukkonen as the third-best NHL-affiliated goalie prospect and 19th overall, trailing only Igor Shesterkin (New York Rangers) and Ilya Sorokin (Islanders), both of whom are 23 years old.
With Linus Ullmark and Carter Hutton under contract next season, Luukkonen is likely to begin his professional career in Rochester. A position that was once an overwhelming weakness for the Sabres is suddenly a strength.
"That's my plan," Luukkonen said when asked if he plans to go pro following this season. "That's one of my biggest goals right now, get myself ready to play in the pro league next year. I've been working really hard on that. It's been really fun playing a lot of games here on smaller ice. It's going to get me more ready to play in the pros."
Luukkonen is not looking too far ahead, though. His focus is helping Sudbury, which lost seven consecutive games during his absence. He also wants to improve his play in net.
Luukkonen tended to make mistakes in the tournament when play sped up against elite teams Sweden, Canada and the United States. Seamus Kotyk, the Sabres' goaltending development coach who worked with Luukkonen at development camp in June, watches film of every game and delivers coaching, often over the phone.
Luukkonen has reached the apex of junior hockey, but he is not done.
"I'm just trying to keep improving my game, and I hope to win another championship in Sudbury," Luukkonen said.