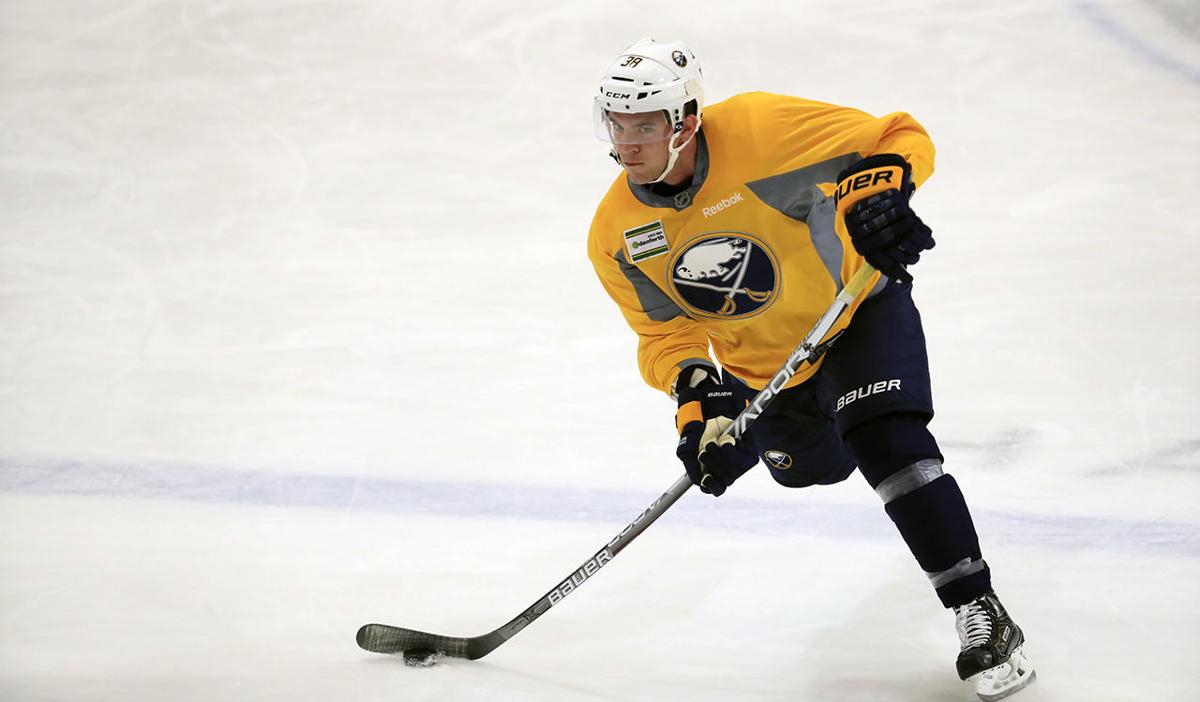 Longtime Sabres beat writer Bill Hoppe of BuffaloHockeyBeat.com, will be writing about Buffalo Sabres prospects, the Rochester Americans and related topics this season.
Sabres prospect Casey Fitzgerald said he never considered free agency.
After finishing his career at Boston College last month, Fitzgerald, 22, could have waited until August and hit the open market instead of signing with the Sabres.
But Fitzgerald, a third-round pick by Buffalo's old regime in 2016 said he feels comfortable in the organization.
The defenseman knows General Manager Jason Botterill and Assistant GM Randy Sexton well. His father, former NHL forward Tom Fitzgerald, worked closely with them for years in Pittsburgh's front office.
Sexton said he and Botterill would watch Casey Fitzgerald play at Malden Catholic High School when the Penguins visited Boston.
"There was familiarity there," Sexton said.
Right away, Fitzgerald said he felt their support.
"They liked my game and they trusted it," he said.
Fitzgerald said he always planned to spend four years in college and complete his degree. He said, however, he had an opportunity to leave after last season.
While in school, he established what he called a "great relationship" with the Sabres' staff, including the development coaches who visited him in Boston.
"I wouldn't have gotten that anywhere else," Fitzgerald said. "I'd have to start fresh. It was something that I never really put thought into (going somewhere else). I knew it was a very welcoming environment to me and they had a lot of high hopes for me."
So Fitzgerald signed a two-year, entry-level contract March 26. He reported to Rochester, where he will finish the season on an amateur tryout agreement.
Right now, he's living in a hotel and working remotely to finish the four classes he needs to complete his degree in applied physiology.
"It's been awesome," Fitzgerald said of pro hockey. "It's kind of a roller coaster of emotions."
Fitzgerald experienced an emotional American Hockey League debut in Saturday's 6-4, come-from-behind win in Binghamton.
With his father, the Binghamton Devils' GM, watching, the Americans roared back, scoring four third-period goals. Fitzgerald assisted on two, including Eric Cornel's winner.
"He had a big smile on his face even though they beat his team," Fitzgerald said of his father. "It was pretty cool."
Amerks coach Chris Taylor said: "He was very confident in what he was doing, his skating was very good."
Sexton said Fitzgerald will play at least one game this weekend. The Amerks have six games left before the playoffs.
After the Sabres' season ends this weekend, they will likely assign two defensemen – Lawrence Pilut and Matt Tennyson – to the Amerks, meaning Fitzgerald could be pushed down the depth chart.
"If a playoff game or more than one playoff game makes sense, we'll do it," Sexton said. "We're not going going to force feed him."
Of course, very few high picks – the Sabres grabbed Fitzgerald 86th overall – play four seasons in the NCAA. Still, Sexton said the Sabres wanted the 5-foot-11-inch, 185-pound Fitzgerald to return for his senior year.
"We felt he needed another year physically," Sexton said. "I think it was a good thing. He didn't have the year statistically that he wanted, but in terms of his overall play, we felt it was improved."
After a Frozen Four appearance in Fitzgerald's freshman season, the Eagles missed the NCAA Tournament his final three years. He compiled career lows – two goals, 14 points and a minus-6 rating – in 39 games this season.
"He'll bring leadership, hard effort," said Boston College coach Jerry York, who named Fitzgerald his captain as a junior and senior. "He'll work at his crafts religiously.
"He just has that quality that teammates look up to him."
Fitzgerald said he's "a 200-foot, two-way defenseman that is responsible in his own end."
"I can make a good first breakout pass and is just a solid, puck-moving defenseman," he said. "But then at the same time, I like to jump in the rush offensively and help out as much as I can."
York called Fitzgerald a "combination" defenseman.
"He'll defend, but he'll also add to the offense," he said. "He's not like a No. 1 defensive player or a No. 1 offensive player, but he's got a nice mix of those two traits."
Big weekend
The second-place Amerks, who trail the Syracuse Crunch by three points for first in the North Division, start a home-and-home series with their rival Friday in Rochester.
"It's great," Taylor said. "You always want to big games and leading up to the playoffs and (see) how we respond and (see) where we're at."