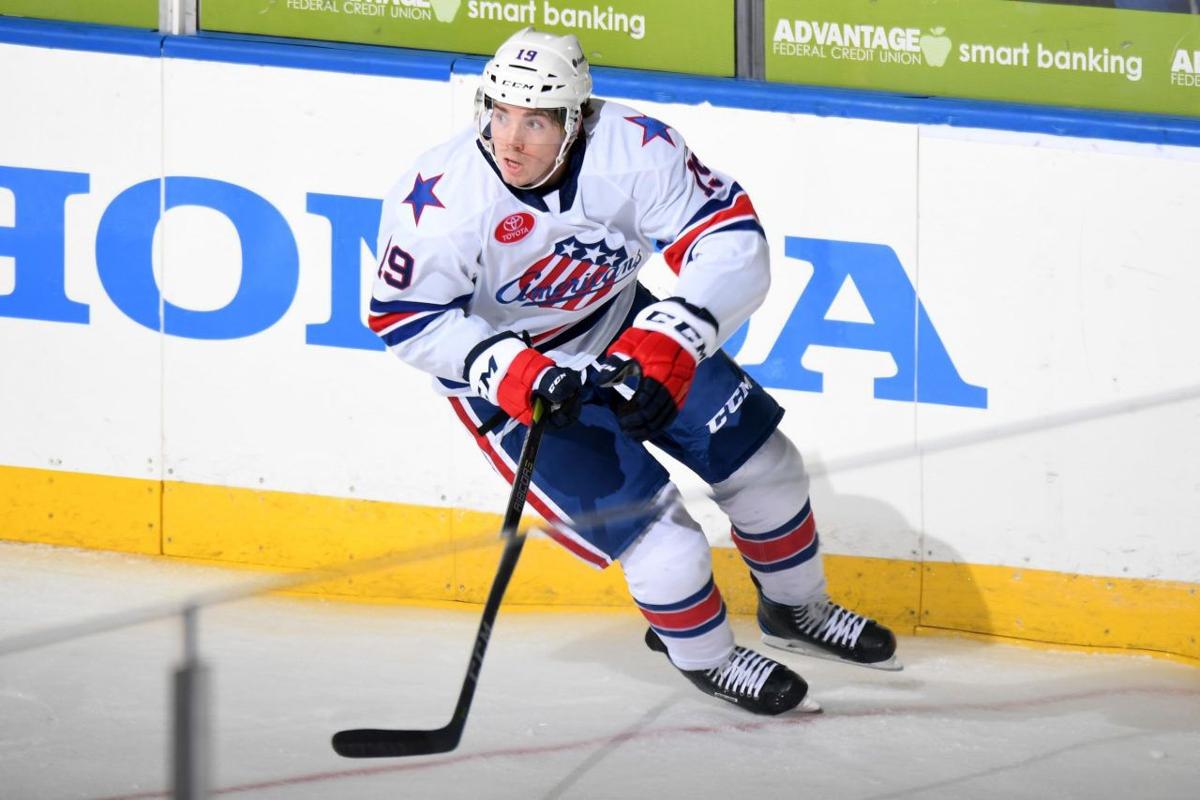 Longtime Sabres beat writer Bill Hoppe of BuffaloHockeyBeat.com will be writing about Sabres prospects, the Rochester Americans and related topics this season.
ROCHESTER – On Friday, Sabres prospect C.J. Smith heard center Yanni Gourde signed a six-year contract extension worth nearly $31 million and felt inspired.
Gourde, 26, played 396 minor league contests, including a 38-game stint in the ECHL, before finally sticking in the NHL a year ago. Following a breakout 25-goal, 64-point campaign and a strong start this season, the Tampa Bay Lightning awarded him a massive new deal.
"There's guys that have played quite a few years in the AHL and it seems to pay off," Smith said Friday after scoring a goal in the Americans' 4-1 loss to the Hershey Bears in Blue Cross Arena. "I said, 'Stick with it, be patient and you can get that opportunity.' You just can't let it affect you at the AHL level."
So far, Smith, 23, is only 69 games into his AHL career. The UMass Lowell product cracked the NHL directly out of college, playing his only two contests after signing his entry-level contract in March 2017.
Gourde played four years before receiving his first NHL action.
Still, Smith hasn't earned a recall from the first-place Amerks, who host the Cleveland Monsters on Wednesday at KeyBank Center, a tilt between the North Division's top two teams.
As a rookie in 2017-18, Smith was an AHL All-Star, compiling 17 goals and 44 points in 57 games. If a high ankle sprain hadn't stymied his season – he tried to play through it and re-injured it – the winger might've maintained his early point-per-game pace.
"He was hurting a lot, he didn't have full explosion for his inside, outside moves," Amerks coach Chris Taylor said.
The 5-foot-11, 181-pound Smith said the ankle did not feel 100 percent again until the summer.
This season, Smith has scored five goals and nine points in 12 games. He's one of six Amerks who have already reached the nine-point mark.
"Sometimes it can be frustrating, you want to get that opportunity," Smith said of getting recalled. "It is a process, it is slow."
But Smith said he respects that process and wants to be patient. Examining the career path of Gourde and others tell him he's on the right track.
"A guy like (Vegas Golden Knights winger) Jonathan Marchessault played five years in the AHL, so there's guys that have played quite a few years in the AHL and it seems to pay off," Smith said.
At times last year, the undrafted Smith was the Amerks' best player, compiling 10 goals and 30 points in his first 27 games. The confidence he generated carried into this season. He enjoyed a strong training camp before the Sabres sent him down.
"I think I took quite a bit (of confidence)," Smith said. "I think I got a little more comfortable here to start the season. I think I did well in training camp, kind of carried that early on in the season, got myself to shoot more pucks, and I think I've been rewarded more with it."
Taylor said he wants Smith to utilize his "great shot," which can fool goalies because he releases the puck in stride. Smith beat Bears goalie Ilya Samsonov as he zoomed down the right wing.
Smith has pumped 2.8 shots on goal per game this season, up from 2.3 last year.
"He shoots in stride and it's very hard on the goalie," Taylor said. "When guys plant their feet, the goalie kind of knows where it goes before it's going. C.J. keeps his feet moving and throws a goalie off. Those are hard to stop. It was a great goal and he had a great game tonight. I thought he was really, really good."
Taylor traces Smith's strong start to his practice habits. He said the youngster wants to dictate how fast he plays and live up to what he accomplished as a rookie.
"His practice habits are paying off in games right now," Taylor said. "A lot of guys go through their second year having problems or that second-year jinx, or whatever you want to call it. But he's working hard to not make that happen.
"He's not living off of last year. He's trying to be better than what he was last year and you can tell. It's showing up in the (defense), it's showing up in practice and he's getting rewarded for it."
Malone awaits debut
The Sabres officially assigned forward Sean Malone to the Amerks on Tuesday.
Malone, 23, has been practicing with the AHL club after suffering a knee injury in an NHL exhibition game Sept. 17 in Columbus.
The West Seneca native could make his season debut Wednesday at KeyBank Center.
Malone compiled 12 goals and 22 points in 73 AHL games as a rookie last season.
In other injury news, rookie forward Andrew Oglevie returned Friday after an injury sidelined him for six games.
Taylor eased the Notre Dame product back into the lineup before giving him more ice time in Saturday's 4-1 win in Hershey.
"The second game he played very well for us," Taylor said.
Streaking
The 8-3-1 Amerks have earned 17 out of a possible 20 points in their last 10 games, outscoring their opponents 41-25 over that stretch.
Be the first to know
Get local news delivered to your inbox!