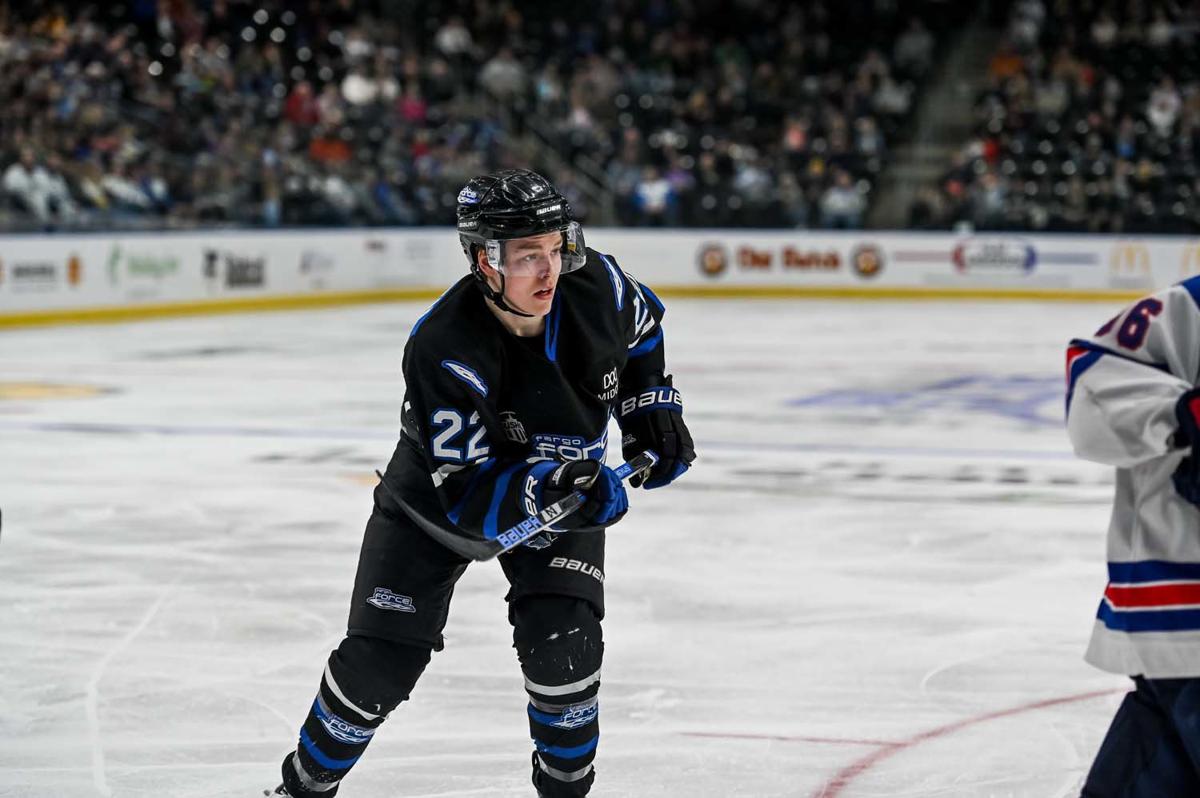 Aaron Huglen did not panic when he felt the twinge in his back during a routine weight-lifting workout last May. The pain wasn't severe enough for him to believe it was anything more than a muscle pull and the injury wasn't expected to limit him for more than a few weeks.
There were no signs that Huglen was about to experience a tumultuous 12 months in which he skated only a few times. The talented winger was selected in the fourth round, 102nd overall, by the Buffalo Sabres in June and he participated in off-ice activities during their development camp in LECOM Harborcenter.
Huglen discovered he was dealing with a bulging disc, which typically requires four to six weeks for recovery. The six-week mark passed with no progress, and Huglen could not play the 2019-20 season with the United States Hockey League's Fargo Force.
Several prescribed remedies failed. Finally, as Huglen quarantined with his family during the coronavirus pandemic, he was approved for surgery and this week will undergo a microdiscectomy, the surgical removal of abnormal disc material that places pressure on a nerve root or the spinal cord.
Huglen finally has a path to return to the ice.
"It's definitely been a frustrating process," Huglen, now 19 years old, told The Buffalo News. "It's such a mysterious injury. I've definitely exhausted all options. I've had little blips of hope that it would heal, but it hasn't."
Huglen's dream of playing in the National Hockey League became realistic when he scored 40 goals across his junior and senior seasons at Roseau High School in Minnesota. He earned an invitation to the 2018 Hlinka-Gretzky Cup, a tournament featuring the top Under-18 players from eight nations around the globe.
One of Huglen's two goals in the tournament garnered international attention. During the first period of a tie game against Canada, Huglen corralled the puck behind the opposing net and curled it onto the blade of his stick before scoring a lacrosse-style goal.
His skill with the puck earned high marks from scouts and he was ranked by NHL Central Scouting as the 90th-best North American skater in the 2019 draft. Huglen split the 2018-19 season between high school and the Force, who he helped with four goals in 28 games. Regardless of which team drafted Huglen, the plan was for him to return to the Force for one year before joining the storied hockey program at the University of Minnesota.
"I think the ceiling for Aaron is extremely high, which is what is difficult," Fargo coach Pierre-Paul Lamoureux, an assistant on the team's staff in 2018-19, said. "He's missed an entire year of development. His skill, hockey sense and natural ability is elite. It's NHL level. I've coached a handful of players who are playing in the NHL, and he's at the level of a (New York Islanders forward) Brock Nelson in terms of his hockey sense and skill. The unfortunate thing is (Huglen) hasn't been able to reach that (potential) because he hasn't been able to play."
Huglen planned on using a weight-lifting workout last May to gauge his progress before an important offseason. However, he slipped a disc when attempting to deadlift a weighted hex bar. The injury didn't raise any red flags for NHL teams, including the Sabres.
The injury is common and most athletes make a full recovery. For some, a bulging disc doesn't even hold them out of competition. Over the next several months, Huglen was prescribed several remedies by three chiropractors in an attempt to avoid a surgical procedure.
A high-caliber anti-inflammatory medicine alleviated the problem, only for Huglen's symptoms to return a few days later. He received four cortisone shots, but the pain and discomfort persisted. Huglen also underwent an unsuccessful rhizotomy, a surgical procedure in which an electric current is used to destroy problematic nerve roots in the spinal cord.
"The idea was to take the pain away and I could play through it, but that didn't work either," said Huglen. Although NCAA rules prevented the Sabres from assisting in the medical process, their staff maintained dialogue with Huglen.
Sabres assistant general manager Steve Greeley said it's "unusual" for a bulging disc to linger for one year and commended Huglen for taking a responsible approach to recovery. It would be natural for a young player to push to return to competition. Huglen held himself back when he experienced discomfort when made a few attempts to skate in November.
Sabres development coach Adam Mair provided a workout plan that included stationary exercises, basic stickhandling, tipping pucks and juggling. Huglen engages his core muscles with planks, wall sits and lunges. He can't jump or perform any strenuous movements, although the injury has not impacted his quality of life.
"It's obviously a little different," said Greeley. "What we've done a lot of is sharing articles and talking about the game with him. Talking about the position and he's watched a lot of hockey this year. Challenging him on what are you learning, what are you seeing. Trying to keep his mind present and thinking about the game and understanding what it takes to be a player. Really, what it's going to take to have success at Minnesota and later in his career as a professional."
Although Huglen could not participate on the ice, he attended all of Fargo's practices and home games. Lamoureux also invited Huglen to participate in pregame coaching meetings, providing the Sabres' prospect with a glimpse at the processes used to prepare for an opponent.
The scheduled surgery has given Huglen a more certain path to return to the ice. His doctors anticipate physical therapy can begin in eight weeks and it's estimated that he can then perform high-intensity workouts. According to Huglen, the tentative plan is for him to return to Fargo in the fall instead enrolling at Minnesota, although he added, "Nothing is ever really set in stone."
Through these 12 months, promising days and setbacks, Huglen found motivation in that the Sabres believed in his ability. Now he wants to resume his work to reach the NHL.
"That's definitely something to hold on to, remembering I was drafted," he said. "I'm super excited to get going again and start training towards that."
Be the first to know
Get local news delivered to your inbox!