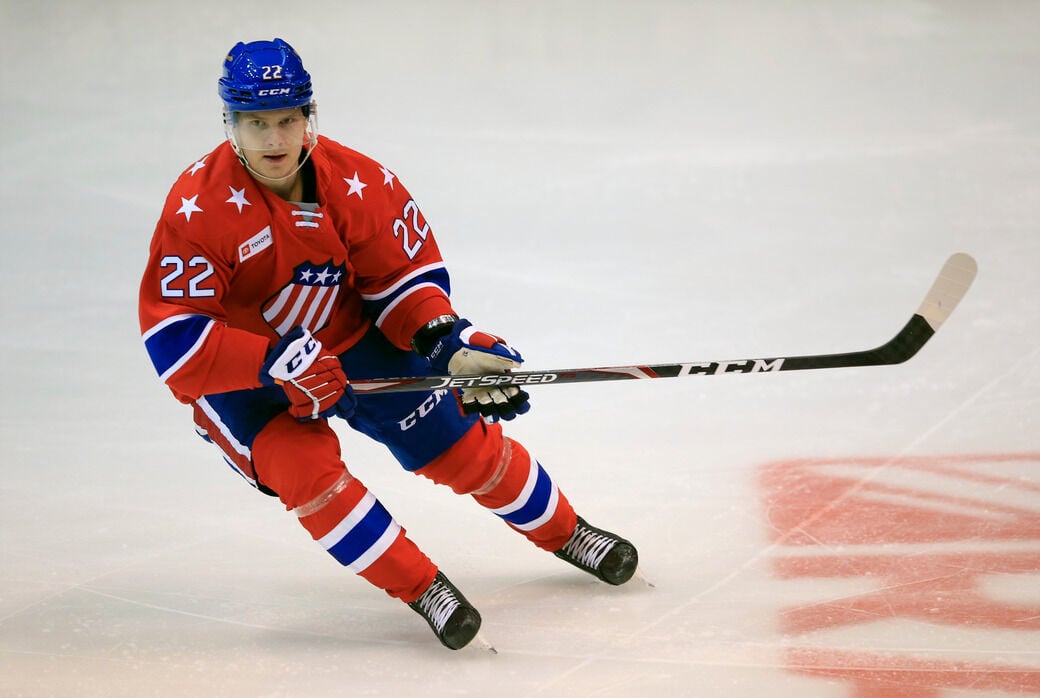 Amid all the phone calls ahead of the April 12 trade deadline, General Manager Kevyn Adams drove across Interstate 90 on Wednesday to take a closer look at possible reinforcements for the Buffalo Sabres.
During a livestream at the morning skate in KeyBank Center, Adams told Sabres television analysts Brian Duff and Martin Biron that he planned to step away from the NHL team in order to watch the Rochester Americans' game Wednesday night in Blue Cross Arena against the Cleveland Monsters.
In addition to evaluating top prospects, Adams wanted to have extensive conversations with players. A trip to Rochester was not possible during the first three months of the Sabres' season because there was little time with the truncated schedule.
This fact-finding mission will be used to determine which prospects can help the Sabres following the deadline. Interim coach Don Granato confirmed to the media following the morning skate that the organization plans to give Amerks players an NHL opportunity in the final weeks of the season.
"We know that we want to do that," said Granato. "And that's part of the plan moving forward. The timeline has not been set. But the motor is moving for me, certainly. And I'm excited for that. I think it's a valuable time for players to gain some experience, internalize that experience. It's what we're about right now."
Winger Taylor Hall and defenseman Brandon Montour are among the pending unrestricted free agents likely to be traded before the deadline. Each will be among the most highly coveted players at his respective position, providing Adams with an opportunity to acquire draft picks and/or prospects rather than receiving nothing in return when they likely sign elsewhere in July.
Those trades, though, will leave significant holes in the Sabres' lineup. Rather than plugging in players from the taxi squad, Adams can use this as an opportunity to evaluate and develop prospects who are currently in Rochester.
Center Arttu Ruotsalainen, winger Jack Quinn, defenseman Mattias Samuelsson, goalie Ukko-Pekka Luukkonen and defenseman Oskari Laaksonen could be candidates for an NHL audition. The Sabres might also want to see if winger Brett Murray, a power forward with skill, can add a physical element to their bottom six.
Evaluation and development will be primary focuses for the Sabres over the final five weeks. Casey Mittelstadt is receiving an opportunity to play center. Granato plans to give Tage Thompson a consistent spot in the lineup. Henri Jokiharju, a 21-year-old defenseman, is again a fixture after he was scratched 10 times by former coach Ralph Krueger this season.
The Amerks' game Wednesday night was only their second since three positive Covid-19 cases on the team resulted in a two-week pause. Rochester had additional games postponed because the Utica Comets endured a similar outbreak.
"Obviously, we're in a position where we need our young players to be learning and growing and getting better, but we just have to figure out a way to balance all that," said Adams. "The veterans know when you're in a situation like we are there may be guys on the move, and we'll see where it goes the next couple weeks."
The Sabres will face a difficult decision with Quinn, a 19-year-old selected eighth overall in the NHL draft in October. Entering Wednesday, Quinn had one goal and three assists for four points in eight games since joining the Amerks. He isn't physically ready for professional hockey, but a spot in Rochester made the most sense because his junior team, the Ottawa 67's, are awaiting word on when or if the Ontario Hockey League will launch its season. The Sabres can leave Quinn with the Amerks or see how he responds to facing bigger, stronger competition in the NHL.
Luukkonen, 22, isn't ready for a full-time job with the Sabres, but introducing the former second-round draft pick to the NHL would make more sense than giving starts to pending unrestricted free agent Carter Hutton or Dustin Tokarski, who is currently the backup behind Linus Ullmark.
Entering Wednesday, Luukkonen had appeared in 55 professional games between Finland and North America, including 19 with the Amerks. NHL teams typically want goaltending prospects to play 100 pro games before a permanent promotion.
The Sabres are hopeful rookie forward Dylan Cozens will only miss one week with an upper-body injury, Granato said.
Cozens, 20, missed a second consecutive game Wednesday after he exited in the first period Monday because of a hit from Philadelphia Flyers defenseman Philippe Myers. Cozens, one of the few bright spots in the Sabres' dismal season, has yet to resume skating with the Sabres.
"He was really angry," Granato said of Cozens. "He was upset at himself and the fact that he was injured. You guys sense the competitive nature of Dylan Cozens. It is there. He's an intense, intense hockey player. And he was mad that he has to sit out games.
"So, he's a player who's going to push it and be back as soon as he possibly can. We're hopeful that it's next week at some point. And he's just going to keep pushing ahead."
Cozens has totaled four goals with two assists for six points in 25 games during his rookie season. He began the year at right wing in a move to lessen the growing pains during his introduction in the NHL. However, Jack Eichel's upper-body injury caused Krueger to move Cozens to a top-line center role last month. This is the second time in less than three weeks that the former seventh overall draft pick suffered an injury.
Cozens missed four games after he crashed into the boards because of a blindside hit from Pittsburgh Penguins winger Zach Aston-Reese in KeyBank Center on March 11.