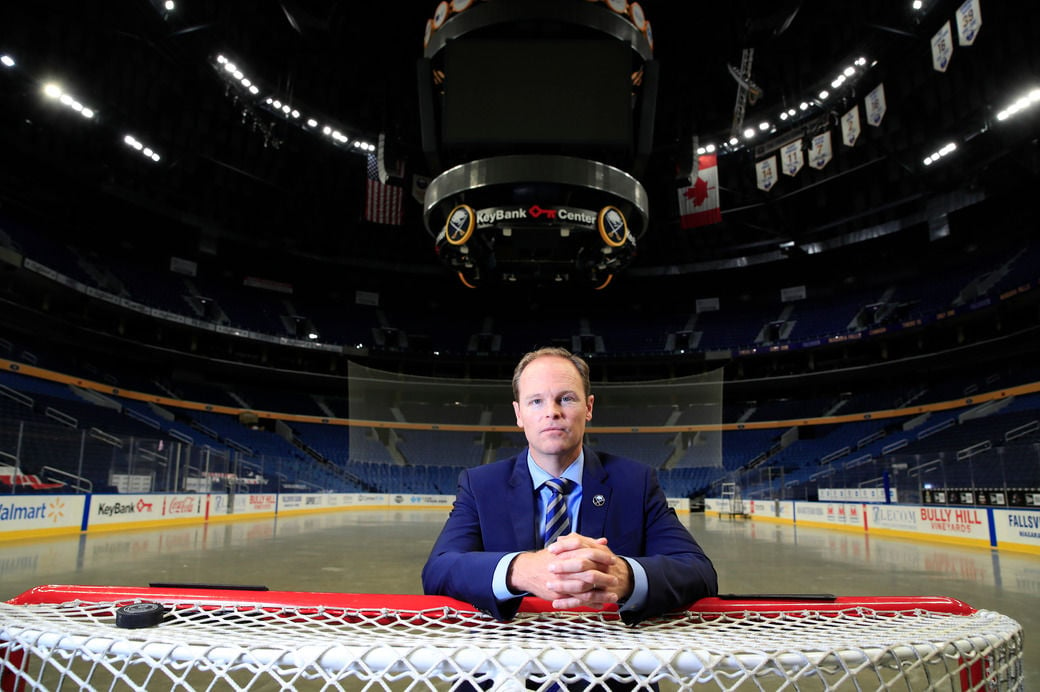 A calamitous 56-game season that included a Covid-19 outbreak, the midseason firing of former coach Ralph Krueger and a franchise-record 18-game winless streak led the Buffalo Sabres to another high-stakes NHL draft lottery on Wednesday night.
Their award for finishing last in the league for the fourth time in eight seasons: the top pick in the first round of the draft, which will be held virtually on July 23.
The Sabres landed the No. 1 pick in the NHL draft after winning the lottery for the second time in four years, but this is no slam-dunk choice.
General Manager Kevyn Adams and the rest of Sabres management learned during the virtual lottery Wednesday that they will be at the front of the line to pick another building block for a franchise that has not reached the Stanley Cup Playoffs since 2011.
Defenseman Owen Power, a 6-foot-6 18-year-old, is regarded as the top prize in a draft that will include 32 teams with the arrival of the expansion Seattle Kraken, who will pick second. The Anaheim Ducks will select third, followed by the New Jersey Devils at No. 4 and the Columbus Blue Jackets at No. 5.
This is the second time in four years that the Sabres have won the draft lottery. Buffalo has previously selected first overall on three occasions: defenseman Rasmus Dahlin (2018), center Pierre Turgeon (1987) and center Gilbert Perreault (1970).
"It was a challenging season," said Adams. "A lot of adversity. We were in the position we were in. And you certainly don't want to be there but that's the reality. ... So to have this fall our way, to be in this position, it's whoo, it makes some of the things we went through this year ... I feel little bit better about it. But no, it's a huge opportunity for our franchise to improve. I feel like this is a really, really big step, something we need and excited about it."
More change is on the horizon for the Sabres, but the extent of that change won't be determined until after GM Kevyn Adams completes his search for the team's next coach.
The Sabres will be able to improve a depleted prospect pipeline with their 10 selections in this draft, including a pair of picks in the second and third rounds. Adams can use the draft capital to move back into the first round or acquire someone who can help the NHL team next season. He can also use a pick or picks as a bargaining chip to convince the Kraken to not select a specific player in the expansion draft next month.
With notable prospects reaching the NHL this season, the Sabres' top draft picks yet to reach the NHL include winger Jack Quinn, defenseman Oskari Laaksonen, defenseman Ryan Johnson, goalie Erik Portillo, forward Aaron Huglen, winger Lukas Rousek, winger J.J. Peterka and center Matteo Costantini.
Most importantly, though, the Sabres will add a player in the first round that can supplement a young core that Adams has referred to last month as a "bright light." Stockpiling talent will be pivotal during an offseason in which this franchise may lose its top two players: Jack Eichel and Sam Reinhart.
Eichel, a 24-year-old captain selected second overall in the 2015 draft, may want to be traded with five years remaining on his $80 million contract after what he called a "disconnect" with the team related to his preference to have surgery on the herniated disk in his neck.
Reinhart, meanwhile, will also have his name mentioned in trade rumors after a career year in which he matched his previous career-best 25 goals in only 54 games. Drafted second overall in 2014, Reinhart is one year away from being an unrestricted free agent. It is unclear whether he would be open to signing with Buffalo long-term.
Here's a look at the players the Sabres might have the opportunity to draft next month.
Defenseman Rasmus Ristolainen, who has one year remaining on his contract, may also receive a change of scenery this summer after he told Adams during an exit interview last month that he was indifferent about remaining in Buffalo.
The Sabres also have two notable pending unrestricted free agents in goalie Linus Ullmark and defenseman Jake McCabe. Though CapFriendly.com projects the team to have $32.6 million in salary-cap space, it may be difficult to convince Ullmark and McCabe to be part of a possible rebuild in 2021-22. Adams will also have trouble luring free agents to Buffalo with the Sabres mired in a 10-year playoff drought, tied for the longest in NHL history.
If Adams plans to go young in Buffalo, he has some impressive building blocks in defensemen Rasmus Dahlin and Henri Jokiharju, centers Casey Mittelstadt and Dylan Cozens, and a few prospects on the cusp of earning full-time NHL jobs, including defenseman Mattias Samuelsson and goalie Ukko-Pekka Luukkonen. Tage Thompson, Anders Bjork, Rasmus Asplund and Arttu Ruotsalainen also performed well in the final weeks of the season under interim coach Don Granato.
If Eichel and/or Reinhart are traded, the Sabres' most notable immediate need is at center. Though Quinn may shift to the middle at some point during his development trek, Adams may have the option to choose Matthew Beniers or Kent Johnson from the University of Michigan. Beniers has shown during the IIHF World Championship that he's close to NHL-ready, as he already has a solid two-way game to help him reach Buffalo quickly. Johnson, meanwhile, is a gifted playmaker who can create time and space for himself or his teammates.
One of Jason Botterill's first draft choices as general manager of the Buffalo Sabres is free to sign with another NHL team.
Mason McTavish, William Eklund and Dylan Guenther are among the forward options the Sabres may consider in the first round.
Immediate need is rarely at the forefront of scouting directors' minds leading up to the draft. A best-player-available approach could lead the Sabres to select one of the top defensemen in this draft. Power is the consensus top pick, but Luke Hughes of the USA Hockey National Team Development Program and Brandt Clarke of the Barrie Colts are dynamic playmakers on the back end.
This would provide Sabres with ample defense options in Dahlin, Samuelsson, Johnson, Laaksonen, Jokiharju and one of the three top prospects in this draft. This approach would provide the organization with insurance in the event one of their top defense prospects regresses.
The reality, though, is the that Sabres will be scrutinized if they opt to not select a forward, regardless of whether they bid farewell to Eichel and/or Reinhart. There's a glaring need for more help up front in the interim and long-term, and Quinn is the only unsigned prospect in the system who has a track record of scoring goals against top competition.
Adams does not plan to reveal his selection until the Sabres are on the clock for draft day, but he said his staff will pick the player they believe will be the best in the future.
"There's only one team that gets the number 1 overall pick," said Adams. "It can change the course of your franchise. There's a lot of good players in this draft, so we're excited about that. We're excited to get to the point where we feel comfortable when that draft rolls around the name we're going to call.
"But for sure, it's energizing to the players in the room. I'm sure if you asked our players, they're excited right now. It's energizing to our fanbase. It's energizing just to the people that work in this organization that love this place so much. It's all the above. And it's a big, I'll say, step in the right direction of where we're headed."