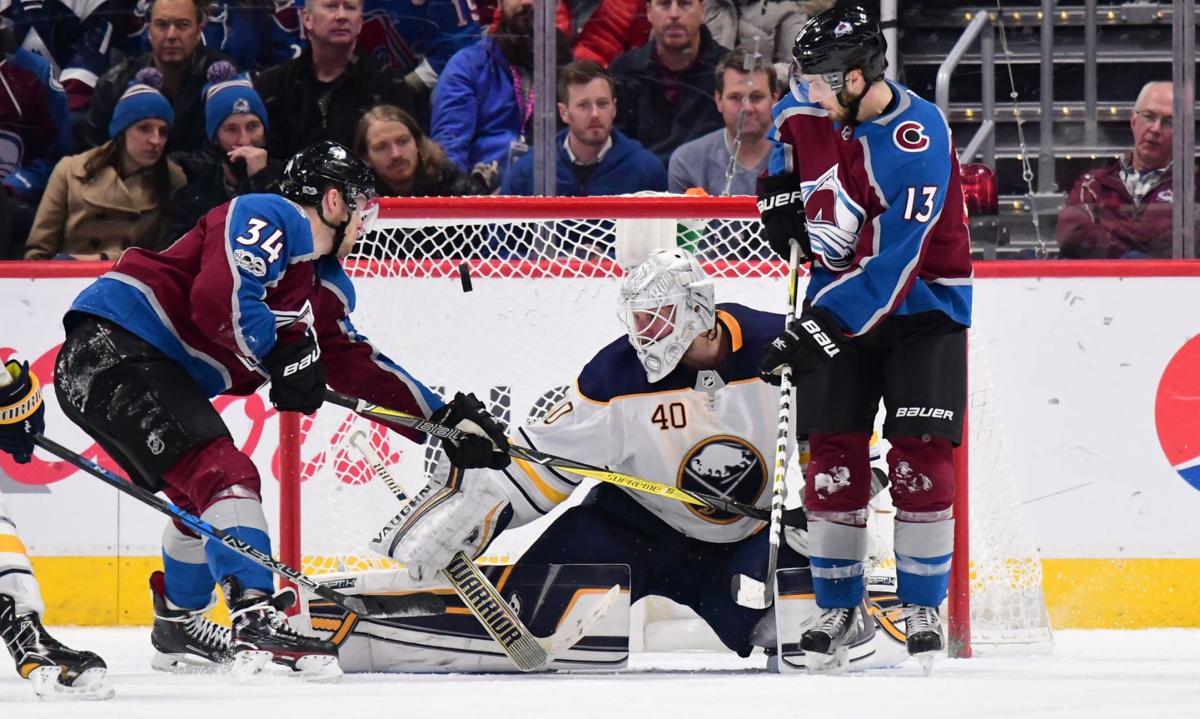 CHICAGO — Goaltenders are always a lightning rod for chatter and that's particularly true for fans of the Buffalo Sabres, who have spent decades watching the likes of Don Edwards, Bob Sauve, Tom Barrasso, Dominik Hasek, Martin Biron and Ryan Miller.
Robin Lehner and Chad Johnson don't engender much passion from the masses this year as the Sabres continue to drift at the bottom of the NHL standings. But there's no question they're being watched around the league. Several teams have injuries in net and could use goaltending depth, with Buffalo being a prime place to look.
TSN insider Darren Dreger is reporting what any reasonable observer would surmise: The Sabres are wide open for trade business with the exception of Jack Eichel (and Kyle Okposo, who would need to amend his no-trade clause). It will be interesting to see when General Manager Jason Botterill makes his first in-season trade of a current roster player.
Both Lehner and Johnson are on one-year deals and prospect Linus Ullmark is looming in Rochester, ostensibly to take over the No. 1 job. It's possible that could happen as soon as next season. There are goaltending injuries in places like Edmonton, Florida, Philadelphia and Pittsburgh that could lead those teams to look to Buffalo for help.
Johnson has put up mediocre numbers to date (1-5-2, 3.64/.883). But he had such a good run supplanting Brian Elliott over the first half of the season last year in Calgary that teams will likely still be interested.
You would think the same would apply to Lehner, although a $4 million cap hit would make his situation murkier. Former GM Tim Murray, of course, was Lehner's biggest booster, trading a first-round pick to Ottawa to get him on draft day in 2015. Fans thus rarely let the 6-foot-4 netminder forget that fact.
Lehner was strong Tuesday night, making 35 saves in Buffalo's 4-2 win over the Colorado Avalanche in Denver. The win improved the Sabres' starter to 6-12-2 on the season with a 2.93 goals-against average and .906 save percentage.
"He had a lot of Grade A chances and then secondary chances he's making saves on," said Jake McCabe, whose second-period goal was the first of the season by a Buffalo defenseman. "He's battling every night, giving us a chance to win every night. Our goal support hasn't been there for him at all. It was nice to see us score more than a goal or two for him. We know he's going to be back there battling his butt off for us."
Charting the Sabres' goalies
Lehner         GP   W-L-O   GAA/Sv Pct
Home:             11       3-6-1      2.02/.932
Road:              10       3-6-1      3.98/.878
Johnson GP    W-L-O   GAA/Sv Pct
Home:         4       0-3-0     4.73/.869
Road:           7        1-2-2     3.13/.891
Lehner is 3-6-1 both at home and on the road this year, but his numbers have been dramatically higher in KeyBank Center. He has glossy ones at home (2.02 goals-against average, .932 save percentage) and ugly ones on the road (3.98/.878).
And get this: Among goalies who have played at least 10 games, Lehner is third in the NHL in goals against average at home behind only Columbus' Sergei Bogrovsky and Dallas' Ben Bishop, and fourth in save percentage (behind Bobrovsky, Washington's Braden Holtby and Bishop).
"I can worry about numbers, or not worry about numbers. It is what it is," Lehner said after Tuesday's game. "To be a realist, there weren't odd-man rushes today in this game and that's what helps. There was one 2-on-1, Victor (Antipin) played it great and we had a backchecker broke it up.
"I'll have 35, 40, 50 shots a game if it's like this and be happy about it. We clean up certain areas, it's going to be a lot easier to win and win on the road. Obviously it feels good. It's really nice winning and the atmosphere gets a lot better."
Lehner dealt with a bevy of scoring chances on six Colorado power plays, giving up two man-advantage goals to Nathan MacKinnon. But he held strong in the crease through most of those situations as well as the final minute, when Colorado had a sixth attacker on the ice pushing for a tying goal.
"He's been really really good for us all year in my opinion. He's been the reason we've been in a lot of games," said Evander Kane, who scored the tiebreaking goal with 8:06 left. "Tonight he battled and that's something I really like about him as a goalie. He has that real competitive mind streak in him. When things get tough, he doesn't quit and he fights, and he definitely did that."
Lehner, remember, had gone three straight starts without having a single goal scored on his behalf.
"It's great for sure," Lehner said. "It was a helluva stretch there. Sometimes it just snowballs that way. It wasn't like we couldn't have any goals in those games. We had a bunch of posts, a bunch of open netters just bouncing off sticks. ... Sometimes it happens. Today it let go a little bit."
"I think he's been really consistent and we haven't been giving him any help offensively," said coach Phil Housley. "He still has kept us in games. ... He's a big goalie and a lot of pucks were hitting him. We're going to need to get good goaltending but it's good to see some run support for him."
The Sabres were off Wednesday and will return to practice Thursday in United Center. They play the Blackhawks here Friday night at 8:30 Eastern time and then wrap up the road trip Sunday in St. Louis.