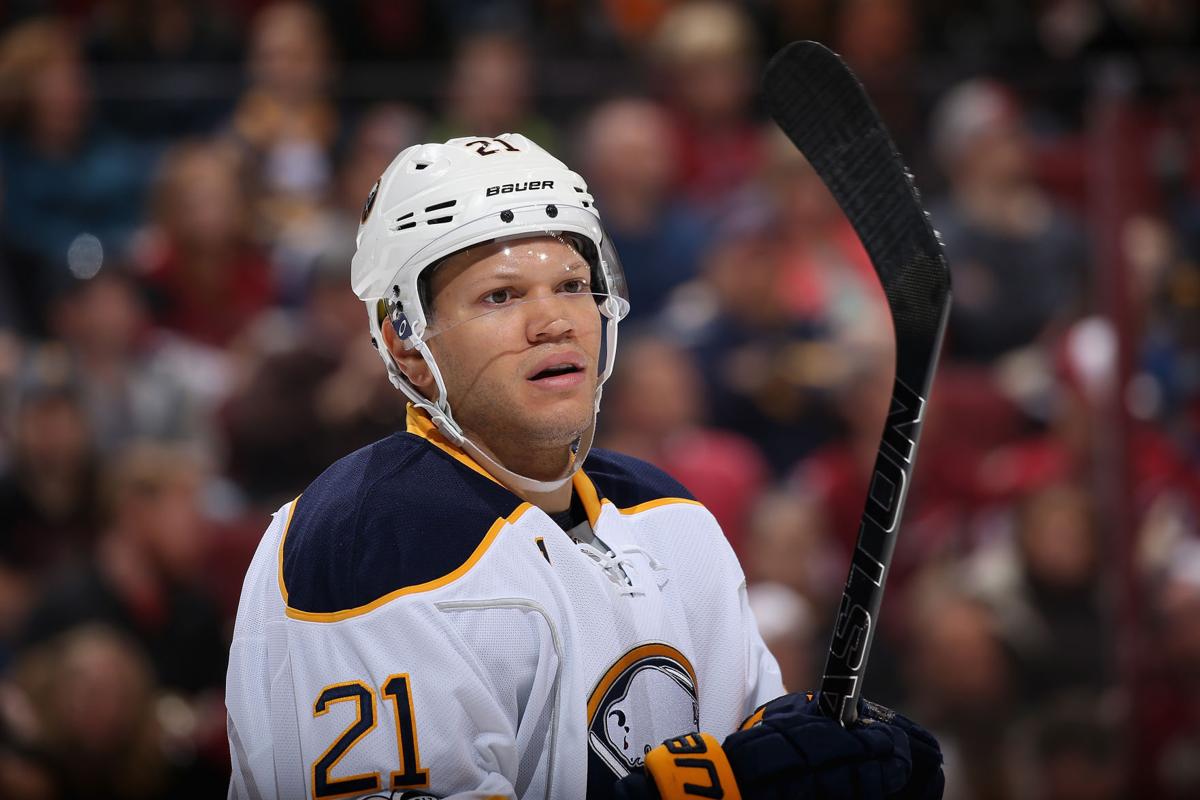 Kyle Okposo is a news junkie. He knows the political and sports worlds have collided.
As the Sabres forward has watched the angry drama play out, he's wished people would listen to each other rather than yell.
"As a country we need to become more tolerant of people and of views," Okposo said Tuesday. "If you want to speak out on equality, I think that's a good thing and that's definitely your right. I also think it doesn't have to be as loud all the time, you know?"
The current debate is NFL players kneeling or avoiding the national anthem before games. Okposo is a Minnesota native who has represented the United States six times and spent a year in the U.S. National Team Development Program.
He wouldn't kneel for the anthem, but he says those who do have the right.
"Protecting the First Amendment is a huge thing," Okposo said in HarborCenter. "I'm a proud American, and I'm proud to be from the United States. Myself personally, I wouldn't kneel for an anthem, but I respect those that do.
"That's obviously been an issue for a while, and it's really got brought up through the election cycle and everything that happened last year. It really got magnified. Those guys have a right to do that. Those guys have a right to say what they feel.
"To be honest with you, I think every little thing is getting so magnified now and people are starting to talk about every little bit and piece that we're kind of forgetting what brings us together as Americans: That's togetherness and being together and working to help out one another.
"You see the response from the natural disasters that have happened, people helping out each other. It doesn't matter if you're black, white or anything. You're in there to help people. We need to come together."
The anthem issue reignited after President Trump used a derogatory term regarding NFL players who kneel. He's commented on it extensively since the demonstrations increased Sunday morning.
"Some of the words coming out of the White House can be a little bit not as understanding as they should be," the 29-year-old Okposo said. "I think with that office comes the weight of the world, and the world is watching. Everybody is watching what you're doing and what you're saying, and that needs to be taken into account at all times.
"When you're the president of the United States, not everybody is going to agree with the decisions you make and the things that you say, but you have to be accountable for what you say. You have to know that the weight of those words that you say and the actions you do hold so much. People really take them to heart, and I think there's a little bit more divide right now than there should be.
"He can kind of work on bringing us back together. I think that'd be a good thing."
Owners Terry and Kim Pegula met with the Bills on Saturday night to discuss the anthem debate and the president's words. The owners have not met with the Sabres.
"It really hasn't been brought up, to tell you the truth," coach Phil Housley said. "We'll deal with that if it arises, but right now guys have been really good about what we're trying to accomplish here in training camp and get better every day."
There are seven Americans on the Sabres' 32-man roster. Housley, who was a U.S. Olympian, isn't sure how he'd react if someone kneeled or demonstrated.
"I don't know how to answer that because it hasn't happened, so I don't have an opinion right now," Housley said.
"I just like to follow and see what's going on," Okposo said. "It's kind of sad what's going on, to be honest with you, in Washington, just the way that this whole system is ran, in my opinion. It just needs to be better."