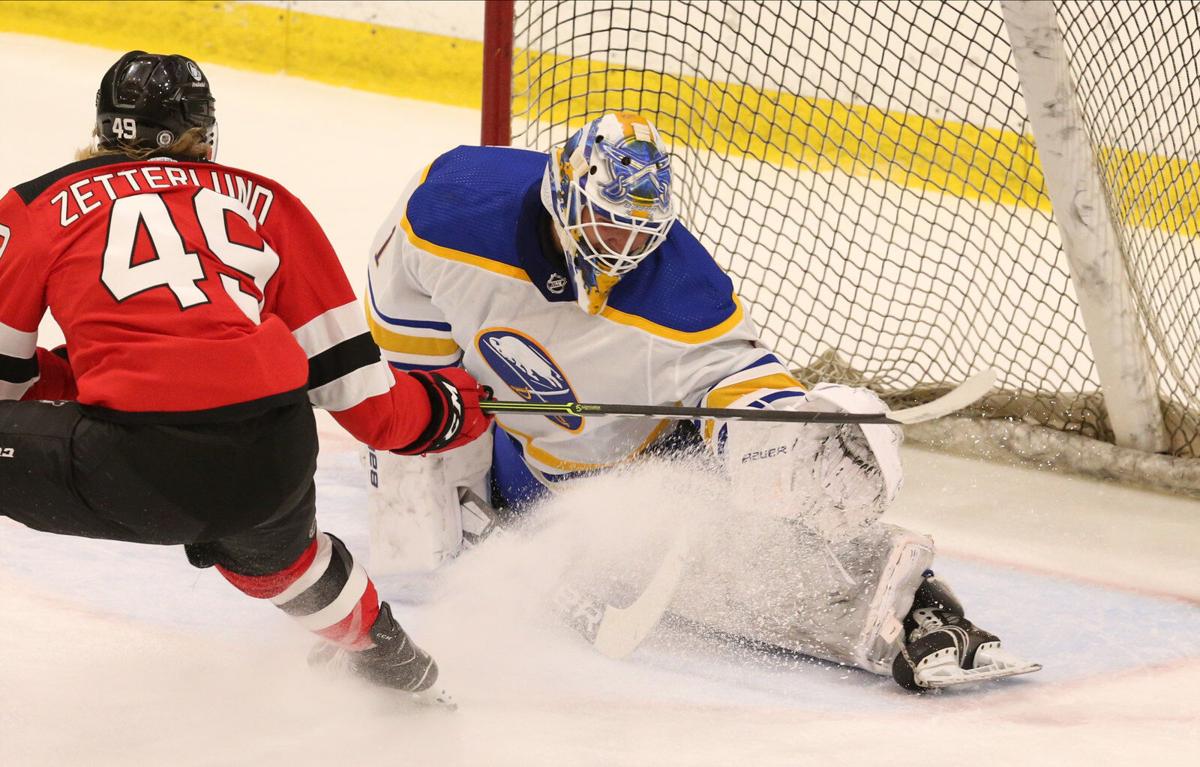 The Buffalo Sabres' big prospect names lived up to their billing Friday in LECOM Harborcenter. Ukko-Pekka Luukkonen made 22 saves in goal while Brett Murray scored one goal and set up J-J Peterka for another as the Sabres beat the New Jersey Devils prospects, 3-0, before about 1,000 fans in the opener of their Prospects Challenge.
"I think it's a really interesting camp that is coming on and I'm really excited for it," Luukkonen said.
All eyes were on the Sabres' net as Luukkonen, their top goaltending prospect, looked crisp in his first action since his 2021 season ended prematurely with a high ankle sprain May 1 in Boston.
Luukkonen's best save in the first period came on a 2-on-1 break when he stoned Fabian Zetterlund after a bad turnover by Peterka at the offensive blue line sent the Devils away.
"There was a couple of those. Situations happen pretty fast from the neutral zone," Luukkonen said. "That's why I'm there to make the saves. There were a couple real good plays by D-men. ... It goes both ways. I look after them and they take blocks and make good plays for me."
Just 10 seconds into the third period, Luukkonen made another strong stop in the slot on Dawson Mercer, New Jersey's No. 1 pick in 2020 and a Team Canada teammate of Jack Quinn, Buffalo's 2020 top choice.
"The players made it easier for me. They played really well," Luukkonen said. "You never know how that first game is going to be like."
Rochester coach Seth Appert, directing the Sabres prospects in this tournament, talked before the game how he's always liked Luukkonen's swagger in net. He saw some of that right away in this one.
"His presence was huge and I thought he got us through some moments that we were a little less than stellar with our puck decisions," Appert said. "When you make a big mistake and it's a turnover and they come the other way on a 2-on-1 or whatever it is, and he makes it look so easy, it barely feels on the bench that there's been a big chance given up."
Here are some other observations from the game:
1. Murray has his moments. At 6-foot-5 and 228 pounds, Murray has developed an NHL body and it landed him his first callup to Buffalo last season. Knowing how to maneuver down low got Murray in position for the game's first goal at 13:58 of the first period. After a low point shot from Oskari Laaksonen, Murray banged home a rebound from the edge of the blue paint.
"It felt good. Positioning pays off," Murray said. "I worked hard for that goal. I was lucky enough to bounce that one in and I thought I could have had a few more."
"We're really proud of the work that Brett did last year to turn himself from an American League player to an NHL prospect and that was a big step," Appert said. "It's a transformation in his career. He was a skill player that was big and we were trying to help him become a power forward who has skill. There's a difference and what he did last year was he became a power forward."
2. Top line. It was Jack Quinn between Murray and Peterka and they put together the highlight reel goal of the night when Peterka potted a Murray feed on a 3-on-1 break with 1:53 left in the second period.
"J-J made a great play forcing him up my side there," Murray said. "Good system work. Brought him right in to me. I was lucky enough to take it off the skate, take it in transition and he made an unbelievable finish."
Appert said after the morning skate he was curious to see how Murray would keep up with elite skaters in Peterka and Quinn. No issues.
Said Appert of Murray: "I thought it was a real statement he made tonight, that this kid is going to keep coming."
The top line got most of the special teams time as well, with Quinn-Peterka-Laaksonen-Mattias Samuelsson serving as the top penalty killing unit with the Quinn line taking power-play duties with Laaksonen and Arttu Ruotsalainen on the points.
3. Lineup notes. While the Murray-Quinn-Peterka line garnered most of the interest around the Sabres' roster, Buffalo's second line also had an interesting combination as Ruotsalainen centered fifth-round pick Viljami Marjala and 2017 seventh-rounder Linus Weissbach, who signed his entry-level deal after completing his college career at Wisconsin.
Wingers Josh Bloom and Olivier Nadeau, drafted in July in the third and fourth rounds, respectively, were centered by free agent Riley Fiddler-Schultz. The other line had Tyson Kozak (2021, 7th round) between Matej Pekar (2018, 4th round) and free agent Thomas Casey, a 34-goal scorer last season in the Quebec League.
4. In the clear. Weissbach was stoned on a pair of first-period breakaways by New Jersey goalie Nico Daws, the first on a nifty feed from Ruotsalainen and the second after a steal at the Buffalo blueline.
5. The wrap up: The Sabres got a scare with 1:29 left as Samuelsson hobbled to the dressing room after blocking a shot with his right foot/ankle but Appert said the team thinks he'll be fine. Samuelsson and Laaksonen were a dominant tandem in the game, befitting their experience levels; Samuelsson made his NHL debut last season while Laaksonen was an AHL all-star.
The game's final goal was an empty-netter with 52 seconds left by free agent defenseman Peter Tischke, who played the last two years for Colorado of the AHL.
6. Next: The Sabres play the Boston prospects at 3 p.m. Saturday. Tickets for $10.