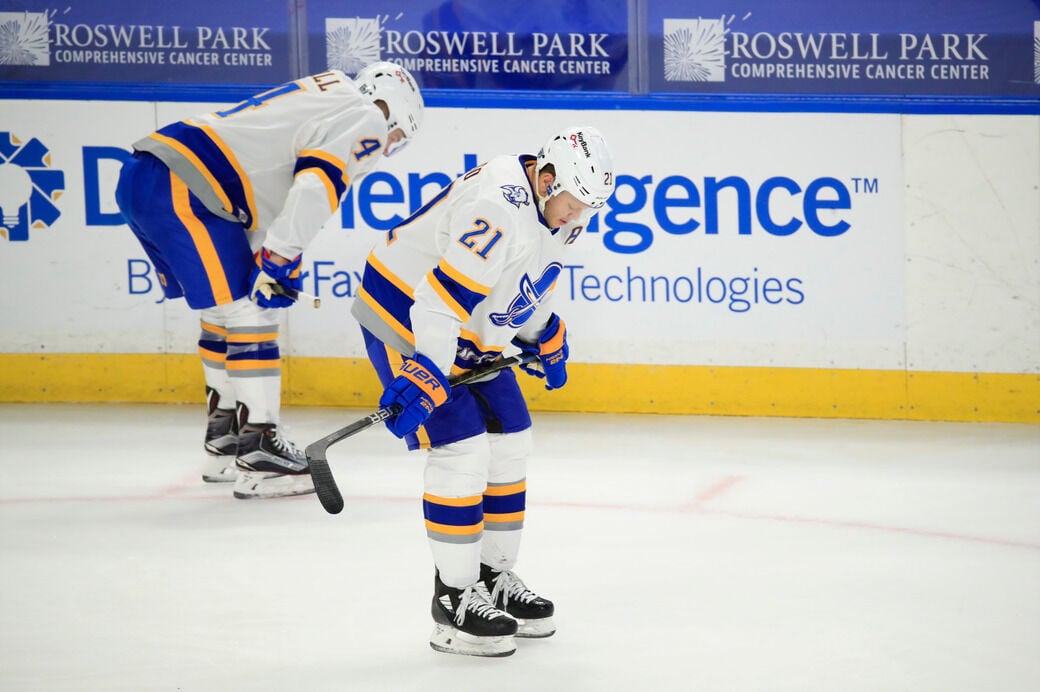 There were no fans inside KeyBank Center, the Sabres' bench included a former Hart Trophy winner and a different general manager is running the franchise's hockey operations.
Yet, for all the change that has occurred during the nine-year playoff drought in Buffalo, the 3-0 loss to the Philadelphia Flyers on Sunday resembled so many games in recent years.
The lack of goal scoring continued, as the Sabres were shut out for a second consecutive game and have not scored a goal since Sam Reinhart's redirect with 4:30 remaining in the third period of the overtime loss Thursday, a span of 125 minutes, 47 seconds.
"The guys have stuck together, no one's turned on each other, it's a positive mindset," Sabres captain Jack Eichel said. "It's just, currently it's not working for us. No one feels sorry for us in this league. We don't feel sorry for ourselves."
There were numerous breakdowns on defense Sunday, with breakout passes misfired and assignments missed around the Sabres' net, as Philadelphia had 34 shots through two periods. There was a collapse following a promising start, as the Flyers scored three goals in the second period against Jonas Johansson, a goalie forced into action with Linus Ullmark out at least one month because of a lower-body injury.
The Sabres had zero shots on net for the final 11:46 of the first period and allowed three goals in the second of a 3-0 loss to the Flyers inside KeyBank Center.
And there was a head coach, unable to solve the problem, whose future appears murky at the end of a week in which he benched Jeff Skinner, the team's second-highest paid player, for three straight games.
"The principles at play, or the core structure that we're searching for, we embrace," Ralph Krueger said. "There's no negotiation that it works in the National Hockey League – we've seen it. But if we drift from it and we're not able to execute it, then we have to question the processes. We have to question the teaching, the methodology, the way we're going to attack anything and yeah, we're that kind of coaching staff (to reevaluate our approach). … We take responsibility for that."
Eichel, back in the lineup after sitting out two games with a lower-body injury, told the media afterward that players are responsible for the Sabres' struggles.
Asked if he is concerned about his job security, Krueger said: "Absolutely not."
But the words spoken by Eichel and defenseman Rasmus Dahlin postgame are like the expressions of frustration heard by so many other players since the drought began. The Sabres have a league-worst 21 goals at 5-on-5 and 42 goals total in 19 games. The Flyers (11-4-3), on the other hand, have 43 goals at 5-on-5 alone in two fewer games.
Did you know that the Knoxes' polo pinnies were the inspiration for the Sabres' blue, gold and white color scheme?
Eichel has zero goals in his last nine games. Taylor Hall, the Sabres' top free-agent acquisition, hasn't scored since the season opener. Skinner, a former 40-goal scorer whose contract counts $9 million against the salary cap, has zero goals in 16 games. "Confidence" is the buzz word players are mentioning when questioned about the issue. The Sabres had zero shots on goal for the final 11:46 of the first period and came out flat in the second.
"It's been tough, obviously, not scoring goals," said Eichel, who saw four of his eight shot attempts miss the net Sunday. "It seems like we're working. Like, everybody's in the right mindset, it just doesn't seem like we're very connected as a group. We just got to dig deep. I don't have a cliché answer for you. I don't know. I'm trying to process this all myself, you know? It's tough. I mean, if we had answers, I think we would be spitting them out."
Dahlin, 20, a former first overall pick, expressed confidence that the Sabres' current roster of players is capable of "something very special." He called the lack of success "very embarrassing" and questioned if a big hit or fight could provide the spark they need. Competitiveness, though, was also a point raised by one of the franchise cornerstones.
"It all comes down to competing," Dahlin said. "Work for each other, be a good teammate. Right now we have nothing to lose so we have to work our [tails] off every game. … Someone has to step up and make a hit, make a play, I don't know. We have to find something. But it all comes down to work for each other and we have to start competing."
Here are other observations from the game Sunday:
At Sabres games these days, "we need some calliope music like you hear in the old big tops. Because right now, this team is just one giant circus," writes Mike Harrington.
1. Dahlin steps up: One of the few encouraging developments was Dahlin showing that he is ready for a prominent role on and off the ice. With Jake McCabe out and Colin Miller scratched, Dahlin skated a team-high 22:54. He quarterbacked the power play and was on the top defense pair with Rasmus Ristolainen.
There were mistakes, particularly away from the puck. Dahlin pinched moments before the Flyers scored their first goal, a play where Eichel was unable to tie up Sean Couturier in front of the Buffalo net. But Dahlin is showing he can play big minutes against top opponents, while also becoming a prominent voice in the dressing room.
2. Notable change: Krueger adjusted his forward lines before and during the game, eventually elevating Skinner to the top line with Eichel and Sam Reinhart. In only 4:01 of ice time at 5-on-5, the trio had three high-danger scoring chances and had seven shot attempts while only allowing one.
3. Mystery injury: When Eichel sat out the game Thursday, Krueger called the ailment a "new development" and not related to the captain missing the skate that morning. Eichel, though, told the media Sunday that he suffered the injury Tuesday in 4-1 win at New Jersey. 
"When I mentioned it, the specific region that actually took him out of the game the first time I'd heard about it was warmup," Krueger said. "But that he was injured and he came out of the Jersey game injured was clear to me. But it turns out there were multiple lower-body injuries and whatever. The point is that he came out of Jersey hurt. The warmup call and the region that ended up being aggravated, it was his first time back in his skates that game and it changed the game."
4. Cozens gets a break: Don't fret over the Sabres' decision to scratch Dylan Cozens. The 20-year-old rookie had a minus-3 rating across his previous two games and there's no question he was one of the players who showed some fatigue in the loss Saturday.
The Sabres always planned to monitor Cozens' workload. A break could serve Cozens well, given he missed three games while on the Covid-19 protocol list. It's likely he'll be back in the lineup Tuesday against the New York Rangers.