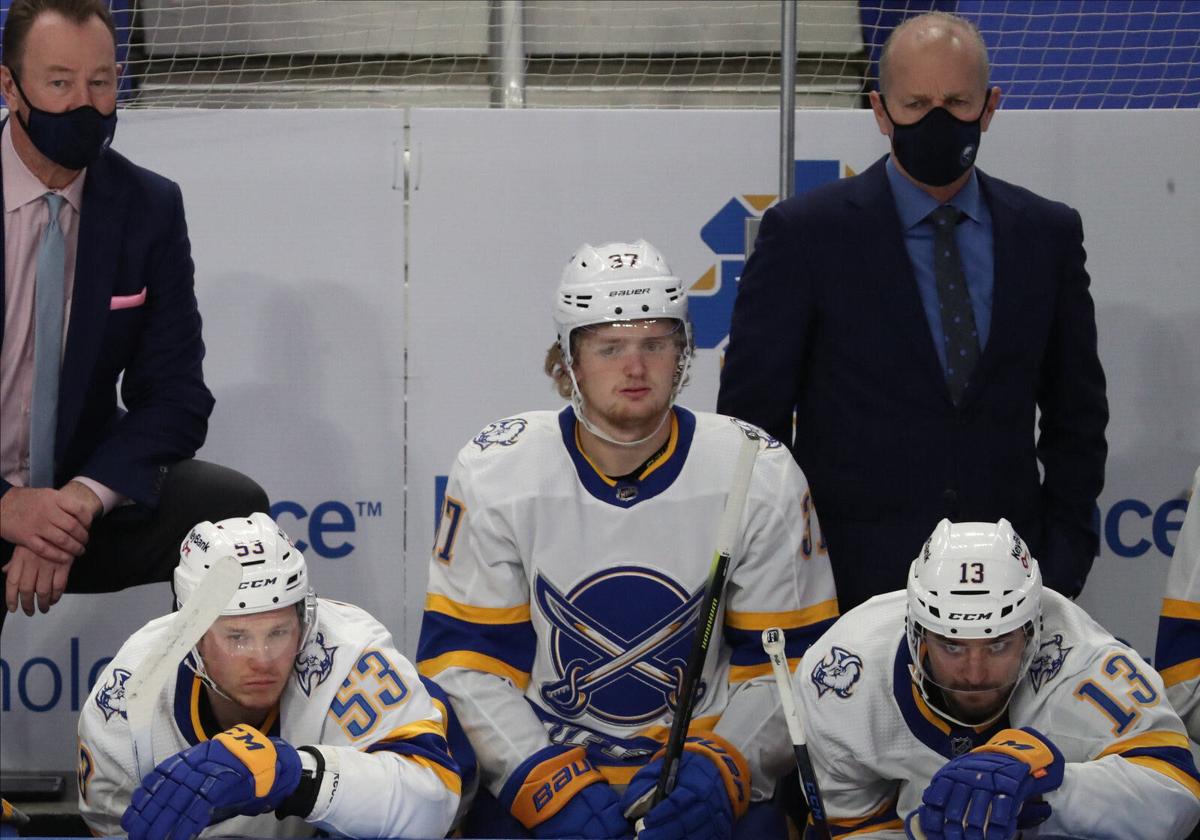 Ralph Krueger's quest to fix what's ailing the Buffalo Sabres continued this week with the decision to scratch Jeff Skinner, a $9 million-a-year left winger.
Skinner's benching for three consecutive games caused a stir among the fan base and raised questions about the plan to coax more offense out of a team that's generated the fewest even-strength goals in the NHL. The struggles were exacerbated after Jack Eichel suffered a lower-body injury during warmups Thursday.
With the star center out of the lineup, Krueger changed the forward lines, experimented with different personnel and, finally, reinserted Skinner into the lineup Saturday against the Philadlephia Flyers.
The search for answers will continue following a 3-0 loss to the Flyers in KeyBank Center. The Sabres, now 6-9-3 and last in the East Division, have gone 2-5-1 since returning from a two-week Covid-19 pause Feb. 15.
Krueger is optimistic Eichel can return to the lineup Sunday, but there's little time to dissect why the Sabres were outplayed in almost every facet Saturday.
"We need to stay optimistic and positive about us being able to recover (Sunday), and it's the only way we can get ourselves back into this quickly," said Krueger. "But it is certainly one of the bigger challenges I've seen as a coach, because the heart seems to be in the right place, but the energy just isn't there to match that. We got to make sure that frustration doesn't come into our game and that fight comes out early in the game."
Eichel missed his second consecutive game and his replacement on the top line, Curtis Lazar, did not fare well in a prominent role. The only notable performances came from goalie Carter Hutton and defenseman Rasmus Ristolainen, who played a team-high 22:18 in his first game back after recovering from Covid-19.
The Sabres were outshot 39-23 and four prominent players did not register a shot on net: Skinner, Victor Olofsson, Eric Staal and Dylan Cozens. The problem began in their own end, as defensemen misfired passes because Sabres forwards exited the defensive zone too quickly on the breakout.
Turnovers led to sustained pressure by the Flyers (10-4-3), who took a 1-0 lead with Sean Couturier's shot from the slot at 14:22 into the game. Buffalo never threatened to tie the score and Philadelphia added two goals in the second period.
Krueger changed his forward lines in the second period, swapping Lazar with Staal and Olofsson with Hall. The Sabres looked tired, potentially the product of playing eight games in 13 days. In search of "new energy," Krueger plans to make lineup changes Sunday – the latest attempt to fix what's gone wrong.
"For whatever reason, it seems like we're just pedaling really hard uphill," said Staal. "When you're struggling with confidence and you're struggling offensively, I feel like a lot of times with a lot of guys you're guilty of maybe doing too much and just not executing on the smaller details. Swimming hard, but just not all in the right direction. It kind of feels that way right now. It's frustrating, it's frustrating for everybody."
Here are other observations from the Sabres' game Saturday:
1. Olofsson demoted: It's time for the Sabres to reconsider how Olofsson is deployed in 5-on-5 situations. Olofsson is an elite forward on the power play. Since making his debut in March 2019, Olofsson's 19 power-play goals rank third in the NHL during that span. He has six on the man advantage in 18 games this season.
But Olofsson hasn't contributed much at even-strength. He misfired passes in the first two periods against the Flyers, leading to a change of possession and, eventually, a demotion from the top line. According to Evolving-Hockey.com, among Sabres forwards Olofsson has the fifth-worst expected goals against per 60 minutes, which measures a player's ability to limit an opponent's shot quality.
Olofsson has also posted the fourth worst on-ice shot quality among forwards despite spending most of his even-strength ice time with Eichel.
"Almost all their grade-A scoring chances came off the rush," noted Krueger. "We started forcing it a little bit in the second period, we gave up opportunities on that to try and pressure for that goal that we so desperately needed and then it ended up going back in our end and we just couldn't recover energy-wise. But I would say management of the puck in our end is going to be critical."
2. Problem down the middle: The Sabres still lack the necessary depth at center. Cozens is too green to be moved into the middle and disrupting the 20-year-old's confidence makes little sense at this point in the season.
Casey Mittelstadt was asked to play center Saturday, a move that backfired in some ways because he won only 33% of his faceoffs. The team won only 38% of its draws.
The Sabres should have recalled Arttu Ruotsalainen from Rochester. The 23-year-old prospect has gone consecutive Amerks games without a point, but he's the best option to fill-in during Eichel's absence and this team needs someone with a blend of offensive upside and recent experience at center.
3. Skinner silent in return: Skinner registered only one shot attempt in 14:03 of ice time for the Sabres, spending much of the game on a forward line with Mittelstadt and Riley Sheahan. Skinner was also on the second power-play unit with Mittelstadt, Ristolainen, Cozens and Colin Miller.
Skinner blocked a shot and forced a turnover, but it's unclear if he showed Krueger enough to remain in the lineup. Skinner's line had little zone time because of faceoff losses and misfired breakout passes.
4. Bright spot: Krueger called Ristolainen the Sabres' "best" defensemen Saturday, noting how it was impressive that the 26-year-old played so well after experiencing a wide-range of Covid-19 symptoms, including fatigue.
Ristolainen thought his play dipped in the third period when he wasn't receiving as much ice time.
"The third period was probably the toughest one getting into a rhythm," said Ristolainen. "I feel like the ice time was lower, so it was just surviving the third."
5. Special teams: The Sabres' penalty kill had a much better showing after allowing at least one goal in five of its previous seven games. Buoyed by the returns of Ristolainen and Tobias Rieder, Buffalo killed three penalties. Hutton had to make seven shorthanded saves, most of which were shots from the perimeter.
The Sabres' power play, which ranked first in the NHL and had scored in 11 of its previous 12 games, struggled without Eichel. Buffalo had only two shots on goal in three failed power-play opportunities.