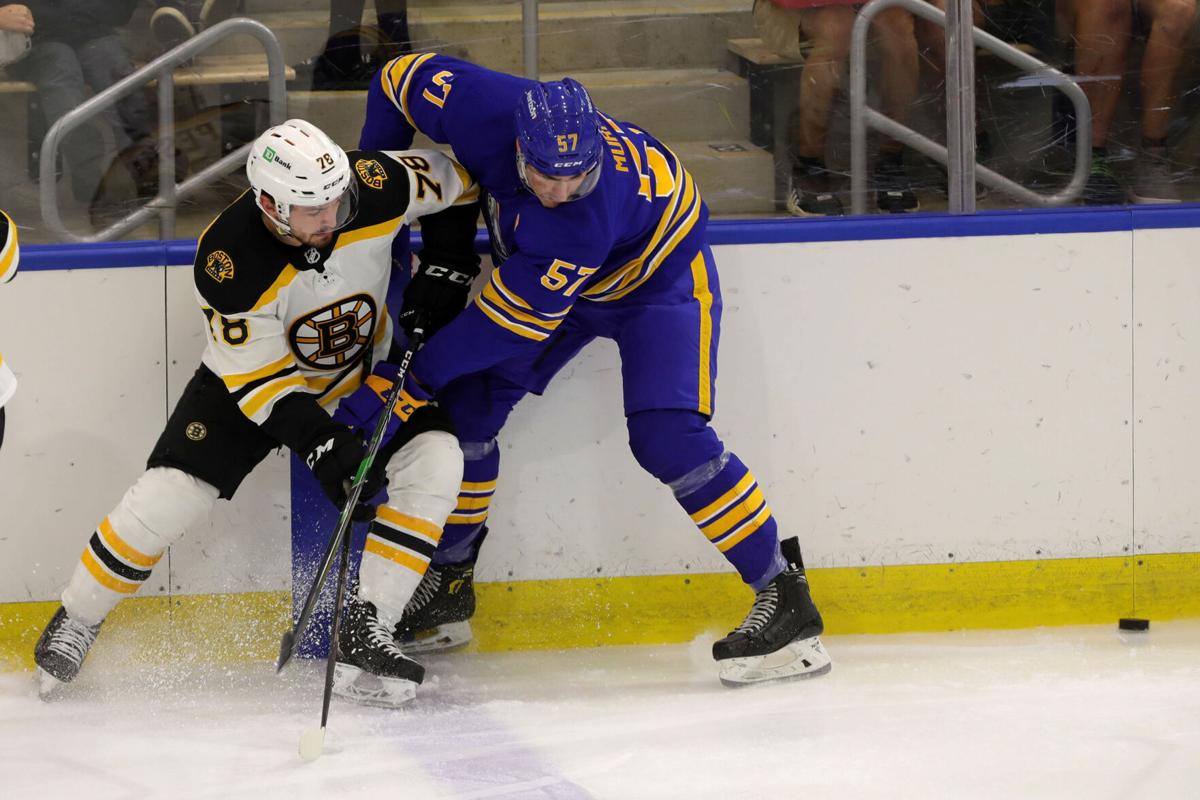 Before 21 prospects stepped onto the LECOM Harborcenter ice Wednesday, their coach, Seth Appert, wondered if Brett Murray would be able to keep up with his two talented linemates, Jack Quinn and J-J Peterka.
It was a valid question. Murray was listed at 6-foot-5, 228 pounds, and the 23-year-old power forward's strengths are different than those of the highly touted goal-scorers. He had no such concerns, though.
"I think they might have to keep up with me a little here," Murray joked.  
With fans and media gawking at Peterka's elite skating stride and Quinn's switch to center, it was Murray who was the standout of the Buffalo Sabres' two Prospects Challenge games. He scored a goal in both exhibitions, capped by his power-play redirect in the first period of a 5-2 loss to the Boston Bruins on Saturday.
Perhaps no prospect in the organization has made a greater ascent across the past two years. Back in 2019, Murray was challenged by former General Manager Jason Botterill's staff to improve his conditioning. He followed through on his promise and earned his first professional contract, but with the caveat that he had to play on an American Hockey League deal for 2019-20.
Murray learned how to use his blend of size and skill to adjust to a power forward role, leading the Sabres to sign him to an entry-level contract in July 2020, and his improvement in Rochester earned him a promotion to Buffalo for the club's final two games of last season.
Now, Murray is a legitimate candidate to compete for a spot on the Sabres' roster, and his showing at the Prospects Challenge was what he predicted for himself.
"I trained really hard this offseason and I came in with the mindset that I wanted to be the best player out there," said Murray. "I'm one of the older guys. I have the experience and I have the confidence. Yeah, I expected it."
In both games, Murray punished opponents who took liberties against teammates, cleared the front of his own net to make life easier on his goalie and could not be moved when he parked himself outside his opponent's crease.
The Bruins' four penalty-killers likely knew where Murray would be positioned on a first-period power play Saturday, yet they weren't equipped to stop him. With his teammates zipping the puck around the perimeter of the offensive zone, Murray established proper positioning in front of Boston goalie Kyle Keyser and redirected a pass from Arttu Ruotsalainen in for a 1-0 lead at 3:19 into the first period.
Murray made a similar play in the game Friday, scoring on a rebound created by Oskari Laaksonen's shot. The competition will be bigger, stronger, and more skilled when Murray arrives in NHL camp, but he's produced promising results across two seasons in Rochester, including nine goals and 20 points in 27 games for 2020-21.
His improvement as a power forward led to an NHL call-up for the Sabres' final two games of last season. Murray played only 11:10 and 10:05 in those appearances, but the audition was a source of motivation this summer.
"I don't want it just to be capped at two," said Murray. "I want to play all 82. So, I just use it as fuel."
There will be ample competition in NHL training camp, as the Sabres' options on the wing include Jeff Skinner, Victor Olofsson, Anders Bjork, Tage Thompson, Vinnie Hinostroza, Rasmus Asplund, Arttu Ruotsalainen, Zemgus Girgensons, Kyle Okposo, Drake Caggiula, Quinn and Peterka.
None has the skill set of Murray, though, and continued improvement as a power forward could separate him from fringe roster players.
"It's very easy for me to tell him that he needs to be more physical and win more puck battles," said Appert. "It's a hard way to play, and we all understand that. But it's his path to the National Hockey League. And I think what was beneficial for him in that development last year is that he saw some early success in the American League from playing that way. He gained confidence because he was having success physically, and on the goal-scoring sheet. … So, all of that we're hoping gets him to double down toward on that work toward being the power forward that we want him to be."
Here are some other observations from the Prospects Challenge:
1. Another option for Don Granato: Ruotsalainen appears ready for a full-time job in the NHL. The only question is where he will be used in training camp. The Sabres need help down the middle. Their only other realistic options at center are Dylan Cozens, Casey Mittelstadt, Cody Eakin, Asplund and Girgensons.
Ruotsalainen should be added to that mix after he returned to his natural position for this prospects tournament. Don't overanalyze his performance in either game. These teams had little practice time, and Ruotsalainen played with different linemates. But Ruotsalainen showed his playmaking ability, most notably with a nifty neutral zone pass Friday to set up Linus Weissbach for a breakaway.
Ruotsalainen's biggest challenges at center will be size and defense. He's only 5-foot-9 – a limited reach may prove difficult when trying to win faceoffs – and the margin for error is thinner at center. But he has the skill the Sabres need behind Cozens and Mittelstadt.
2. Laaksonen's evolution: Oskari Laaksonen was an unknown, undersized defenseman when he was drafted by the Sabres in the third round, 89th overall, in 2017. He wasn't listed on most prospect rankings and little information was available on Laaksonen. However, he's gained 20 pounds in four years – now listed at 6-foot-2, 185 pounds – and he runs the power play with Dahlin-like precision. The next step is improving his 5-on-5 play, particularly in the defensive zone, but Laaksonen knows how to relieve pressure on the breakout and seemed to take on a leadership role at this event.
The depth chart on defense doesn't provide an easy avenue for Laaksonen to reach the NHL early this season. He should receive heavy minutes in Rochester and will be among the top prospects to watch with the Amerks.
3. Quick release: Peterka has the traits the Sabres need in their top six. His skating is world class and he has an incredible shot, as we saw with his goal early in the third period Saturday. The 19-year-old winger needs to clean up the details in his game, though. He had a few bad turnovers and tried to do too much at times. Those are the sort of mistakes that could prevent him making the NHL roster.
4. Quinn sidelined: Jack Quinn's audition at center had to wait. The 20-year-old was scratched from the lineup Saturday for what Appert called "load management." The game Friday was Quinn's first since he underwent surgery in April to repair a hernia, and the club chose to rest him ahead of a long training camp.
5. Promising sign: Defenseman Mattias Samuelsson did not play against the Bruins because of a lower-body injury that occurred when he blocked a shot late in the win Friday. It's unclear if Samuelsson will miss the start of camp, but Appert called this a short-term injury.
Goalie Ukko-Pekka Luukkonen was also a healthy scratch. Luukkonen's shutout Friday was his first game since his high ankle sprain in Boston on May 1. Goalie Oliver Satny and defenseman Charlie Desroches drew into the lineup, and the Sabres played with only 10 forwards.