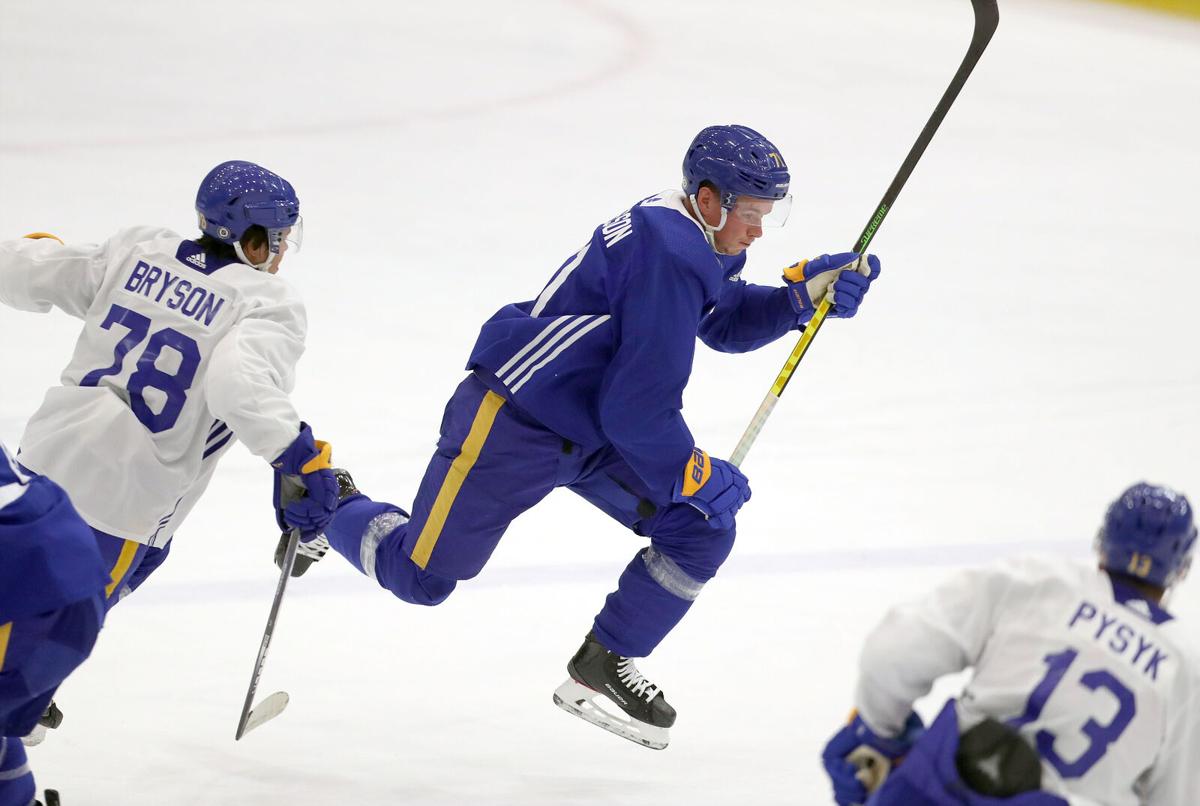 The Buffalo Sabres opened training camp on Thursday and they will be off Saturday, an unusual choice for just the third day of camp. So what gives?
KeyBank Center is not available Saturday due to an Eric Church concert and LECOM Harborcenter is a busy place on a weekend, making ice time difficult to get. Coach Don Granato said Friday the Sabres took the schedule in stride and thought hard about their camp plan when it was devised.
"If you grind guys two hard days in training camp, (on) the third day, they're probably already preserving energy and looking for ways that preserve it because their groins might be sore, their back, whatever," Granato said. "We looked at the landscape and said, 'Hey, let's do this, this is actually a good opportunity.'
"We might not have done it if there wasn't something in the venue here but it kind of forced us to think about it. And logic says it's not a bad idea. We push them hard for two days, we know they're sore on the third day. And it is harder. You have to run a different practice on the third day or you're going to get injured."
The Sabres will host a Blue-Gold scrimmage at 6 p.m. Sunday in KeyBank Center but it's not open to the public. The team will practice Monday and the preseason opener is Tuesday night in Columbus.
Drills are just drills but you can still get a glimpse into Granato's thinking by scanning his forward trios and defense pairs that worked some of the reps the last two days.
Dylan Cozens spent much of his time centering Jeff Skinner and Victor Olofsson while Casey Mittelstadt was between Anders Bjork and Tage Thompson. Other lines included Zemgus Girgensons between Drake Caggiula and Kyle Okposo or J-J Peterka, and Jack Quinn between John Hayden and Matej Pekar.
On defense, Rasmus Dahlin was with Henri Jokiharju, his partner for the latter half of last season, Jacob Bryson was with Mark Pysyk, Robert Hagg with Colin Miller and Will Butcher with Casey Fitzgerald.
The camp roster of 58 players seems unusually large but Granato said coaches learned from last season's taxi squad and large practice teams that they could get drills done adequately with larger groups.
"Where we are at as an organization, there were players that we wanted to see," Granato said. "We wanted to get as many guys that could maybe only play in the American League involved, because they're going to be supporting our young guys that are in the American League. So we felt it was important to have a camp and include everybody that's going to help us and be part of our player pool and development."
Quinn, the Sabres' No. 1 pick in 2020, made his camp debut in the afternoon session after sitting out Thursday. The club is being cautious with Quinn, who sat out one of last week's Prospect Challenge games in the wake of his season-ending hernia surgery. Okposo was absent Friday due to what the team termed "non-Covid sickness."