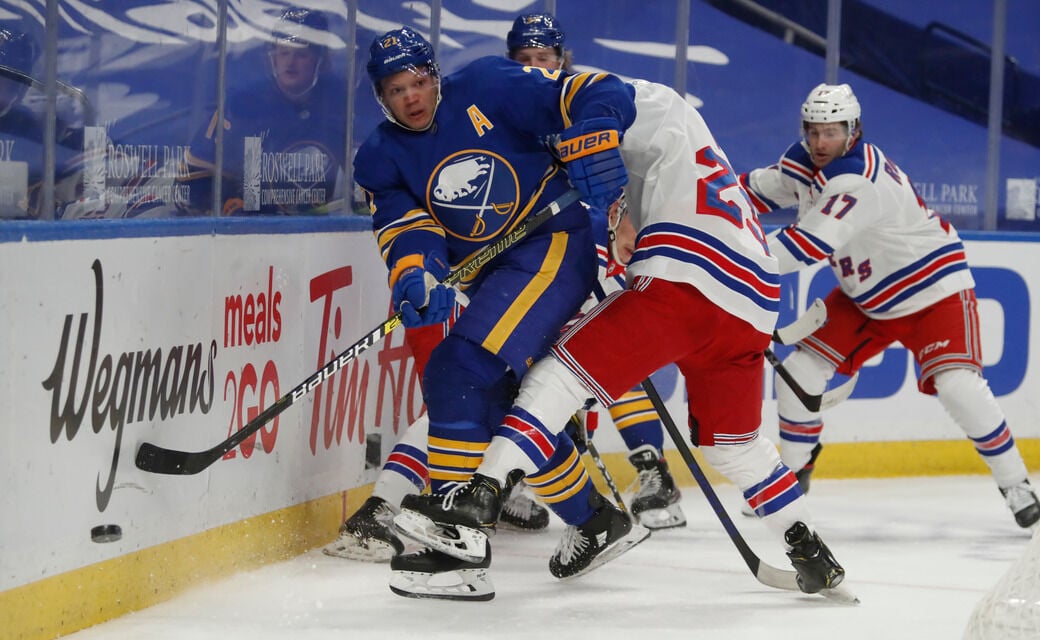 Forwards Kyle Okposo and Zemgus Girgensons are the senior members of the Buffalo Sabres and have combined to play 795 games in blue and gold. To coach Don Granato, that matters when you put a young roster on the ice.
So Granato had huge praise for the pair Tuesday when he announced they would serve as his club's alternate captains for the 2021-22 season. 
"We feel they're great leaders, two of our veteran guys that have a passion and love for not only the Sabres but Buffalo," Granato said. "They have homes here, they enjoy their time here, they spend a lot of their offseason here. They do a great job in the locker room as well as on the ice, so we're excited to have those guys. I'm excited to have those guys in the locker room, on the bench and on the ice with us. They're great leaders and they'll fill that role very well."
Okposo, 33, joined the Sabres in free agency in 2016 and previously served as an alternate captain for both the Sabres and the New York Islanders. Girgensons, 27, joined the organization as a first-round draft pick in 2012. He has captained Dubuque of the USHL and has worn an "A" for the Latvian Olympic team, most recently at the August qualification tournament in Riga.
Here are NHL season predictions by Buffalo News reporters Mike Harrington and Lance Lysowski.
The Sabres previously announced at the start of training camp they were stripping the "C" from Jack Eichel while his health and trade status remains in limbo, and would not have a captain this year while their younger players continue to mature. They are one of five NHL teams without one.
Okposo, a three-time 20-goal scorer with the Islanders, has combined for just 11 goals the last two seasons but is highly regarded by the young players in the dressing room.
"I'm going to be nothing but myself, and I know that Zemgus is going to be the same," Okposo said. "And I know that we have a lot of young guys that are in the core of this team that are going to take a lot of steps in that direction, too. And we're gonna see kind of what comes out of that group and the different voices and how they are able to take steps this year."
Girgensons missed all of last season with a serious hamstring injury that required surgery. He has returned to regular duty this year, playing both center and wing during camp.
"It's an honor to be selected as one of the leaders and especially to be next to 'Okie' who's been a leader throughout the years," Girgensons said. "I've taken many notes from him so it's a honor. It means a lot to me to be next to him but we have a lot of leaders in that room."
Okposo said veteran players can help build a culture around an entire organization and not just on the ice.
"I'm just myself and I try to treat everybody with respect, whether it's the security guard walking in or you guys (in the media) or the GM, coach, any player, whoever," Okposo said. "I just want to make everybody feel welcome here. And when I'm in the locker room talking to the team, we know when to laugh, when to joke around, when it's time to work. That's just kind of the way that I want to try and help build this thing here."
Girgensons said he and Okposo can help the club's younger players get through the inevitable down moments of a long season.
"There's a lot of ups and downs in hockey and it's mentally hard sometimes to keep it steady," Girgensons said. "So I remember my younger days that if an older guy came up to me and had a just a little chat it kind of took your mind off what was going through your head."
Caggiula leaves practice early
Granato had no update on winger Drake Caggiula, who limped off the ice and didn't return after toppling over from a collision with Jeff Skinner.
Practice got physical for a spell, with Cody Eakin accidentally popping Caggiula in the chin a few minutes earlier and Skinner taking a hard bump at mid-ice from Tage Thompson.
"We're preparing for a game obviously but we hope that the game feels easier because of the intensity of practice," Granato said. "So we're trying to deal with these guys in situations with very limited time and space to make plays and challenge them in that regard."
General Manager Kevyn Adams said rookie JJ Peterka took his bid to make the roster to the last day before the team opted to send him to Rochester.
"What we saw as a staff as coaches and management was everything that were looking for and what we're building here in Buffalo," Adams said during an appearance on WGR Radio. "Competitive, good speed, good puck battles, can make plays. Really good teammate. Can shoot the puck. He really is an exciting player for us moving forward."
Granato categorically doused chatter from Toronto radio host Jeff Marek and said there's no truth that the Sabres may use defenseman Rasmus Dahlin at forward, much like the club did in the early 1980s with Hall of Famer Phil Housley.
"I can tell you absolutely none," Granato said. "It's funny actually. And crazy. No, there's no truth to that. So we'll stick with shifting guys to center and the wing but not 'D' to forward."