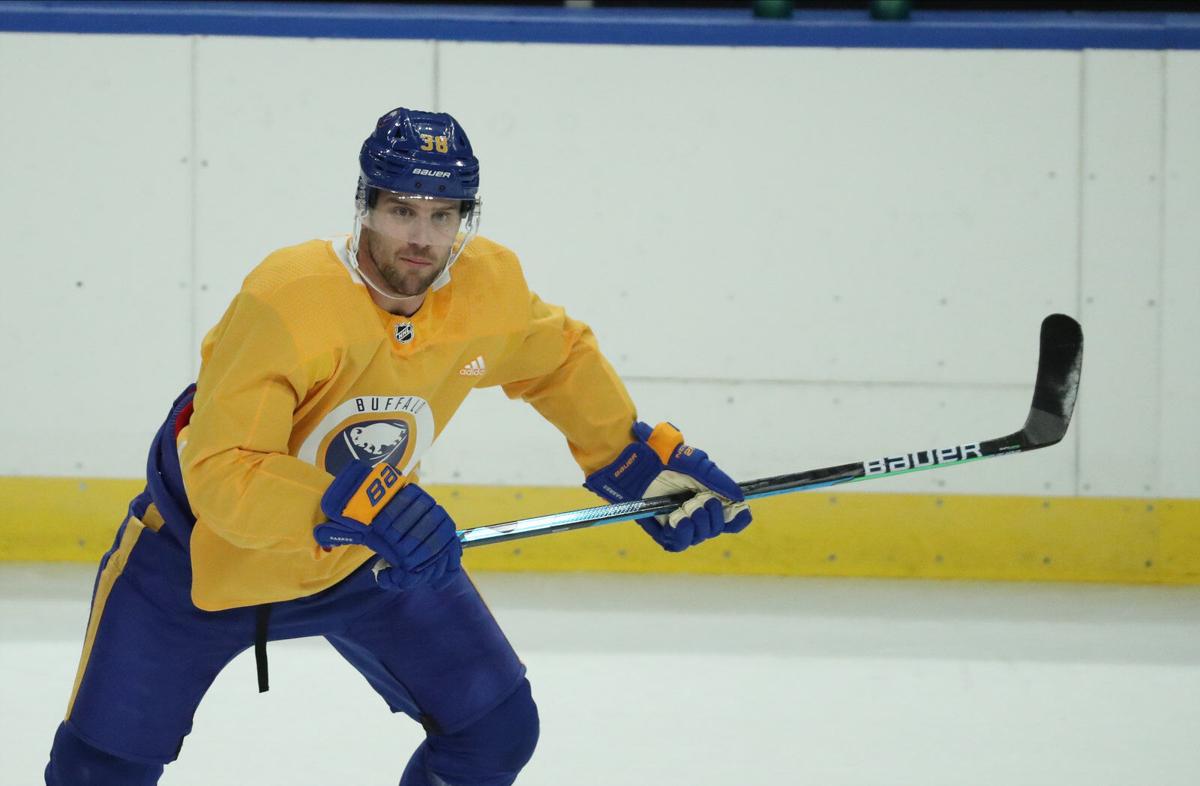 After seven full seasons with four NHL teams, forward Riley Sheahan couldn't get a contract during the short 2020 offseason. He took a player tryout offer with the Buffalo Sabres and it looks like a good match.
The season-ending injury to Zemgus Girgensons is one reason there's an opening for Sheahan, 29. But his versatility and play in camp is another and the Sabres rewarded him Friday morning with a one-year, $700,000 deal.
Sheahan can play center and is currently on left wing with Curtis Lazar and Tage Thompson. Bottom-6 forward roles are important and competition for them is generally fierce. Veterans are often a good fit. Especially guys like Sheahan, who can kill penalties.
"It's a tough role in that sometimes you don't get the glamour and the offensive opportunity that generates confidence and things like that," Sheahan said. "But you've got to have thick skin. You've got to do little things right for your team. And I think a lot of the time the teams that are willing to do that have a lot of success."
It's a significant loss for the Sabres, as Girgensons is their top defensive forward and a stalwart on the penalty kill.
Sheahan, who is from St. Catharines, Ont., had eight goals and seven assists in 66 games for Edmonton last year. His career highs in goals (14) and points (36) were both set in Detroit and he's also played for Pittsburgh and Florida. He said he enjoyed a fall conversation with Krueger about role players and agreed to come to Buffalo.
"The conversation was clearly about the specialists that we have, and the respect we have for specialists here in Buffalo," Krueger said. "Players that play roles for us that maybe aren't as sexy for the outside world or aren't measurable by statistics are extremely important for us to build a winning culture here. We need players to just do things right. We need pros that can lead by example. ... We see him as a role player, as a specialist. And as the kind of personality you need in your group to to win hockey games."
Sheahan grew up a Toronto Maple Leafs fan but often came to KeyBank Center to see the Sabres because it was closer to his home and tickets were cheaper. He said Michael Peca, Dominik Hasek, Chris Drury and Curtis Brown were his favorite players.
"Stability is nice and sometimes it's hard to find in this career but you learn new things everywhere you go," he said. "I think I've sort of found the mindset that's going to work for me. I think everything Ralph said on the phone has added up to how training camp has been. It's just been a great atmosphere here. You feel free playing on the ice, you feel loose but at the same time there's a strategy set in place that holds everyone accountable. It's been a lot of fun."
Cozens, Quinn may skate Friday
While adventure sports are beloved in the isolated region, hockey is often the talk of the town, as citizens of the Yukon Territory's only city monitor from afar their beloved son, Dylan Cozens.
Krueger said the Sabres expect to get 2019 first-rounder Dylan Cozens and 2020 top choice Jack Quinn on the ice Friday. They've been in quarantine since they hit town after Canada's 2-0 loss to Team USA in Tuesday night's gold medal game of the World Junior Championship in Edmonton. The pair took a private charter here following that contest. 
"I hope they're enjoying their hotel room. I haven't seen them live because of the respect we have for the quarantine isolation," Krueger said. "But I'm pretty confident you're going to see them [Friday]. You can put them on your list."
Assuming they clear medical testing, Cozens and Quinn would be skating from 2:30-4 p.m. with the team's prospect group. The main group will skate as usual at 10 a.m. All players skate Saturday morning before the team has its second scrimmage Saturday night at 7. Sessions are closed to the public.
The Sabres started mixing specialty work into their practice schedule Thursday, doing extended runs of 3-on-3 to simulate overtime and also taking a couple of quick looks at early power-play alignments.
No real surprises on the units as the top line (Taylor Hall-Jack Eichel-Victor Olofsson) had Rasmus Dahlin and Sam Reinhart at the points. Other units were mixing Eric Staal, Kyle Okposo, Tage Thompson, Jeff Skinner, Colin Miller and Rasmus Ristolainen.
"We are beginning to focus on specialty teams, on overtime, on other elements that will be important to get us wins," Krueger said. "And it's good to get to that. Even just looking at the power play throwing pucks around as a coach, you start thinking about how we are going to do this in the games, what's going to be the follow-up line?"
Girgensons, who had surgery for a torn hamstring on Wednesday, saluted Sabres fans on Twitter during Thursday's practice.
Said the seven-year veteran: "Thank you for all the well wishes! I was really looking forward to this season, so I'm very disappointed to miss it. We have a great group of guys in Buffalo and I can't wait to see my teammates do well this year! I look forward to be being back on the ice as soon as possible."
Thank you for all the well wishes! I was really looking forward to this season, so I'm very disappointed to miss it. We have a great group of guys in Buffalo and I can't wait to see my teammates do well this year! I look forward to be being back on the ice as soon as possible.

— Zemgus Girgensons (@zemgus94) January 7, 2021