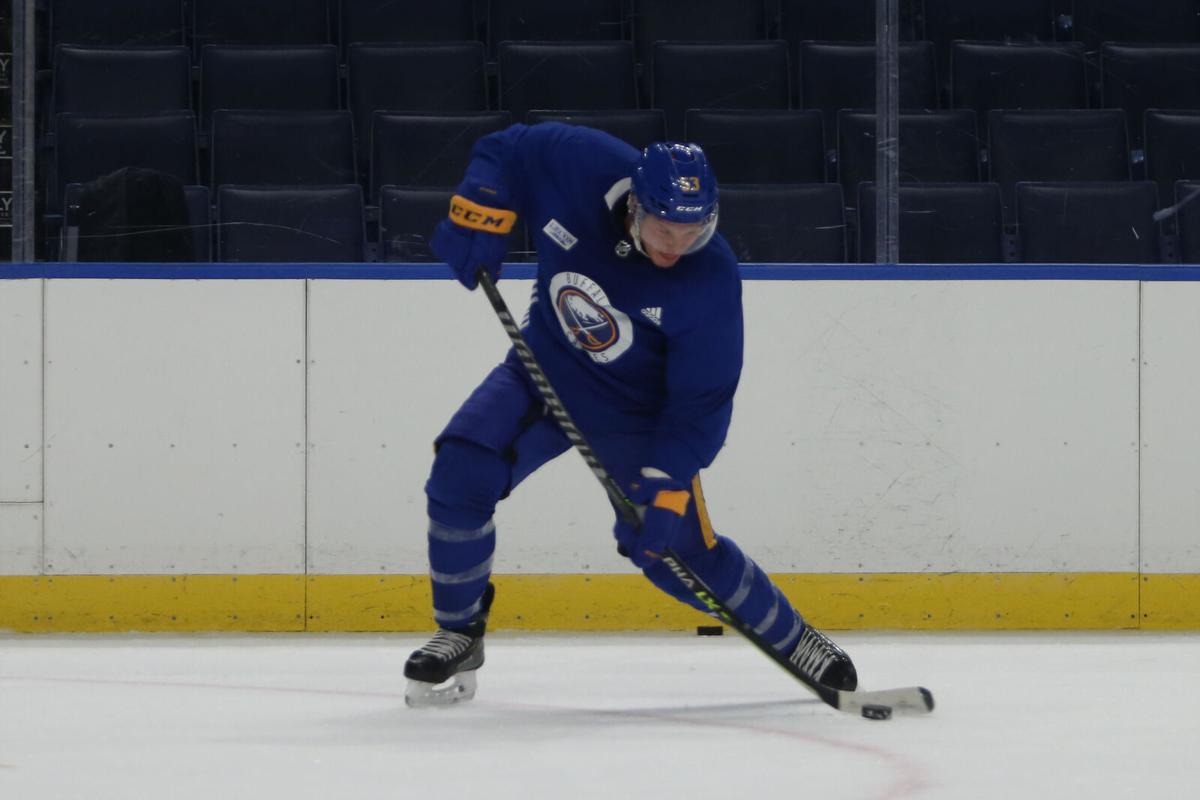 It's only preseason, but the Buffalo Sabres have an actual NHL game Tuesday night for the first time in nearly five months as they open their exhibition schedule in Columbus against the Blue Jackets. It's a 7 p.m. game in Nationwide Arena and will be on WGR Radio. There is no local television.
"It's a great feeling to play games again against a team, with fans and all that," Sabres forward Rasmus Asplund said Monday in KeyBank Center. "It's going to be great to just be back on the ice. You're just trying to get back in your game shape and the timing and all that. It's a little bit off in the beginning of the season. So you're just trying to get in the rhythm and get into the games right away, so it's going to be fun."
If the Sabres are to surpass expectations, they will need Olofsson to develop into more of a threat at even strength.
The Sabres will have a morning skate in Buffalo and then head to the airport. They did not officially announce the game roster for the trip, but their afternoon practice session didn't end until about 2:45 p.m. Monday, so it seems likely that the morning session would contain the bulk of the players heading to the game.
The goalies in that group included Ukko-Pekka Luukkonen and Craig Anderson, while headliners on defense were Rasmus Dahlin, Henri Jokiharju and Colin Miller. The top forward line was Casey Mittelstadt between Jeff Skinner and Victor Olofsson. It's unlikely even all of them will go, as the first exhibition is often a look at AHL players who will soon be in Rochester's camp and only a small handful of veterans play.
The Sabres make another road trip Thursday to Detroit, and their preseason home opener is Friday at 7 p.m. against Pittsburgh.
"I put a lot of pressure on myself," said Cozens. "I want to be the best version of myself and best player I can be."
Goalie Aaron Dell had spoken for more than four minutes in his first meeting with the Buffalo media Monday when the big question was asked: How did he end up with No. 30 – which has not been worn by a Sabre since Ryan Miller left it behind when he was traded to St. Louis in 2014.
"I knew that was coming up," said a smiling Dell. "I wore 30 when I was in San Jose. It wasn't really a big deal to me when I found out the significance of it and then I just wanted to switch to something that could be my own."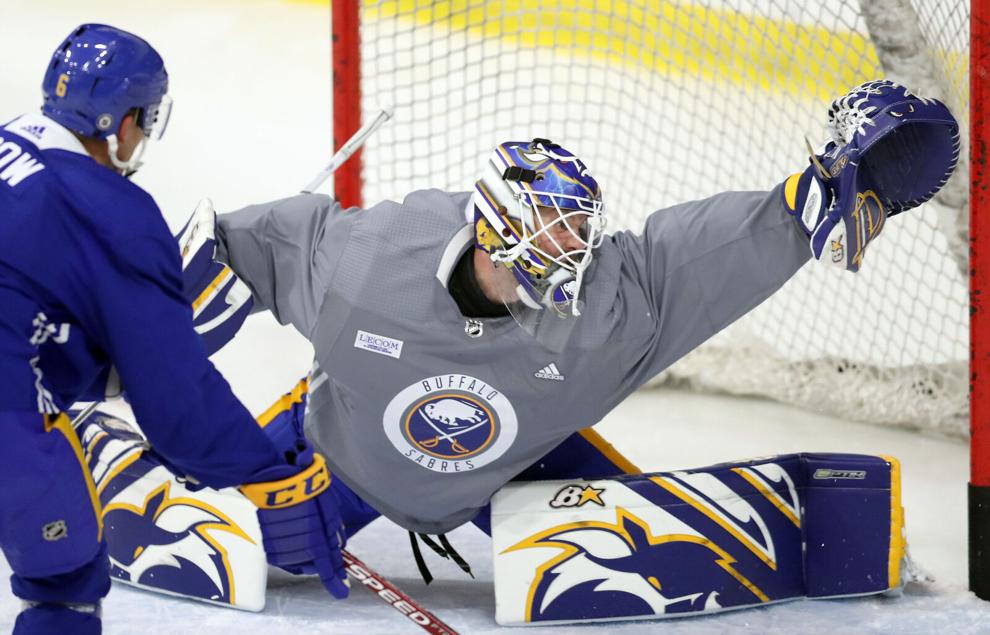 How did Dell find out there was an issue? As you would imagine.
"A lot of DMs on social media and just stuff like that," he said. "I didn't really realize the significance of it here with everybody, but I was more than happy to change it."
And what's the significance of 80?
"I think it was just nice and available," Dell said. "I don't think I could think of anybody besides (former NHL goalie and current ESPN analyst) Kevin Weekes really that wore it, so I figured I'd go with something that was going to be available no matter what."
Players, coaches and media around the NHL are again getting used to in-person interactions, after the 2020 playoffs and the entire 2021 season were spent solely on video calls.
With Mittelstadt in the spot occupied by Dylan Cozens during the first couple days of camp, Cozens worked in the afternoon group with J-J Peterka and Jack Quinn. There are lots of centers in camp, with Asplund getting a good run in the middle Monday, so Quinn was back on the wing.
Will Butcher, who is expected to bolster the second Buffalo power play, got work quarterbacking a unit during the afternoon session that featured the Cozens line up front. It was the first special teams work of camp. Dahlin and Jokiharju worked the points on one power play, while Colin Miller and newcomer Robert Hagg also got a chance. 
The second session had passing issues during one drill, with several passes going into the feet of skaters. Coach Don Granato briefly called the players at center ice to reinforce details and then continued the drill.
• The Sabres announced their first cuts of camp, sending 2021 draft picks Josh Bloom (Round 3), Olivier Nadeau (4) and Viljami Marjala (5) back to their junior clubs. Bloom plays with Saginaw of the OHL, which did not have a 2020-21 season due to the pandemic. Nadeau and Majala both play in the Quebec League, for Shawinigan and Quebec, respectively. The camp roster is now at 55 players. 
• In collaboration with adidas, NHL teams announced Monday they will be wearing ADIZERO Primegreen sweaters this season, containing a minimum of 50% recycled content. It will be the first time that all 32 NHL teams will take the ice wearing jerseys made from recycled materials. All teams tweeted a uniform message Monday that read "Made in part with recycled materials, designed for the players and fans, formed for the future of our planet. Plastic waste is a problem. Innovation is our solution because together we can help #EndPlasticWaste."
Introducing the all-new authentic ADIZERO Primegreen NHL Jersey. Made in part with recycled materials, designed for the players and fans, formed for the future of our planet. Plastic waste is a problem. Innovation is our solution because together we can help #EndPlasticWaste pic.twitter.com/EnZCjgy4kO

— Buffalo Sabres (@BuffaloSabres) September 27, 2021