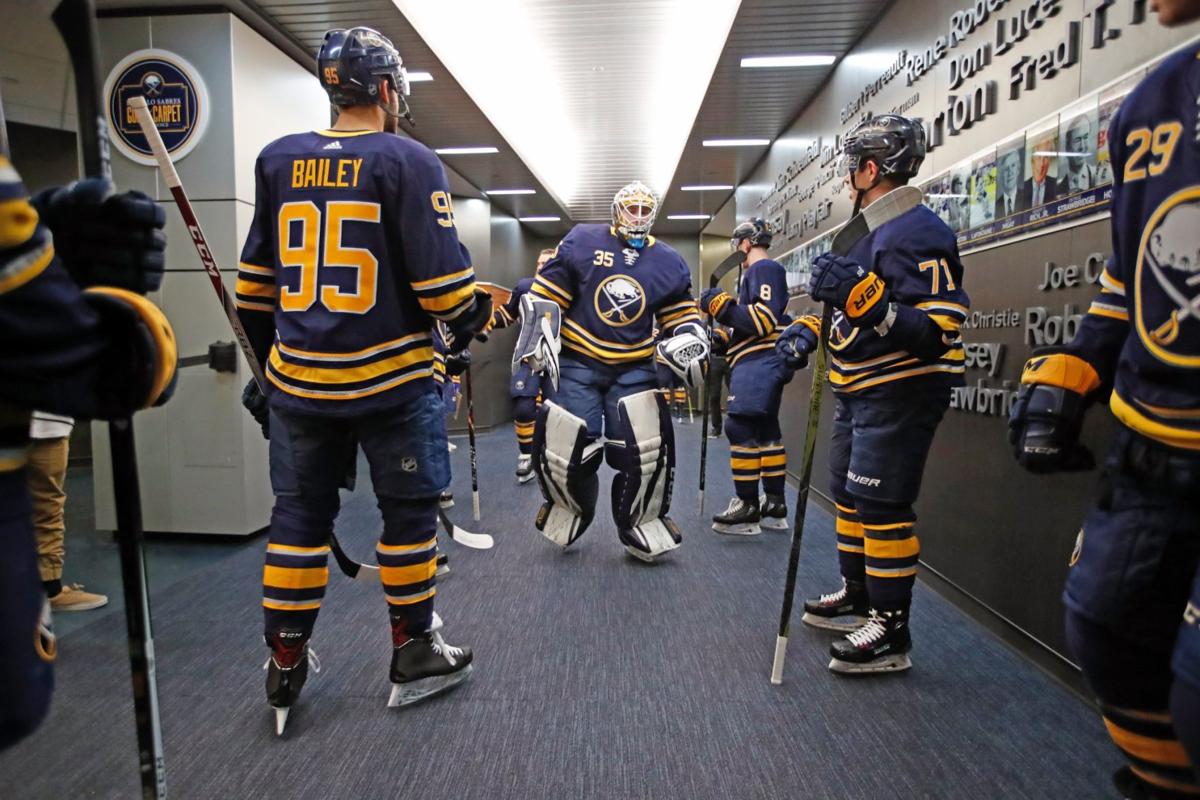 With news that Casey Mittelstadt's college season is over, questions have poured in regarding his availability for Rochester.
There is a way he could play for the Amerks, including the playoffs, but it wouldn't be his best business decision. It could help his hockey career, though.
The Sabres' top prospect could sign an American Hockey League contract or an amateur tryout contract with Rochester. It would allow him to participate in the remainder of the regular season and playoffs, an AHL source said Monday.
Mittelstadt's leverage, however, could lead him to seek an NHL entry-level deal – if he even wants to leave school now. The University of Minnesota freshman would burn the opening season of his three-year contract by appearing in just one game for the Sabres. The team has 10 remaining.
If the Sabres signed Mittelstadt to an NHL entry-level contract that begins this season, he could not be sent to the Amerks.
The ideal situation from Buffalo's standpoint would be to sign the center to an amateur tryout contract for this season and an entry-level deal that begins in 2018-19. It wouldn't be the best business move for Mittelstadt if he preferred to burn a year, but it would allow him to get professional, minor-league games under his belt before next season.
The 19-year-old's future will be of interest to Sabres fans until last year's first-round pick decides to stay in school or go pro. He would forfeit his remaining NCAA availability with a contract.
Chad Johnson has been around long enough to know the deal. When teams are looking to next season, they start using prospects.
Johnson watched as goaltender Linus Ullmark played Monday night against Nashville. Johnson and Robin Lehner are expected to share the crease with Ullmark for the rest of the season.
"It's just that time of year," Johnson said in KeyBank Center. "We're not in playoffs, and it's a good opportunity for the organization to evaluate some of the young guys. Linus is obviously one of those guys.
"You see some of the players here, we've had a lot of call-ups. There has to be some sort of moving forward in preparation for next year."
Ullmark is the only Sabres goalie under contract for next season. Johnson will be an unrestricted free agent, and Lehner will be a restricted free agent.
"I'm not going to go in there and just own the net," Ullmark said. "It's not my position to do that. These guys have played here for a long time. They're good goalies, even better persons.
"I'm just going to be lurking in the back, be a supportive guy whenever I don't play and make the most of it when I do play."
The goaltenders have built a friendship. Ullmark and Lehner spent time together during the past three years. Johnson and Ullmark got to know each other well two seasons ago when Lehner missed time with an ankle injury.
"You can see in there that he trusts his abilities now that he's had more experience at this level and down in Rochester, too," said Johnson, who knows Ullmark will get more experience. "There's only three weeks left, so at the end of the day you just deal with it, be professional and try to help the organizations. That's by helping those young guys get ready for these games."
Lehner skipped the morning skate after sitting out the bulk of Sunday's practice. He was scratched for the second straight game.
"Just maintenance," Sabres coach Phil Housley said. "A little banged up, so he's just been trying it every day and seeing where he is. It's just a day-to-day thing with him."
Housley spent the previous four seasons as an assistant in Nashville. He's praised head coaches Barry Trotz and Peter Laviolette on numerous occasions.
As Laviolette faced Housley for the first time, it was his turn with the praise.
"Phil is going to do a great job here," Laviolette said. "He's a smart guy, a good coach. He's passionate. He cares. He knows what he's talking about.
"It's not always built overnight. Sometimes it takes time. You can tell by the way they're playing now, the record in the last 20 games (9-9-2) and the fact they're beating some quality teams that they're turning things in the right direction."