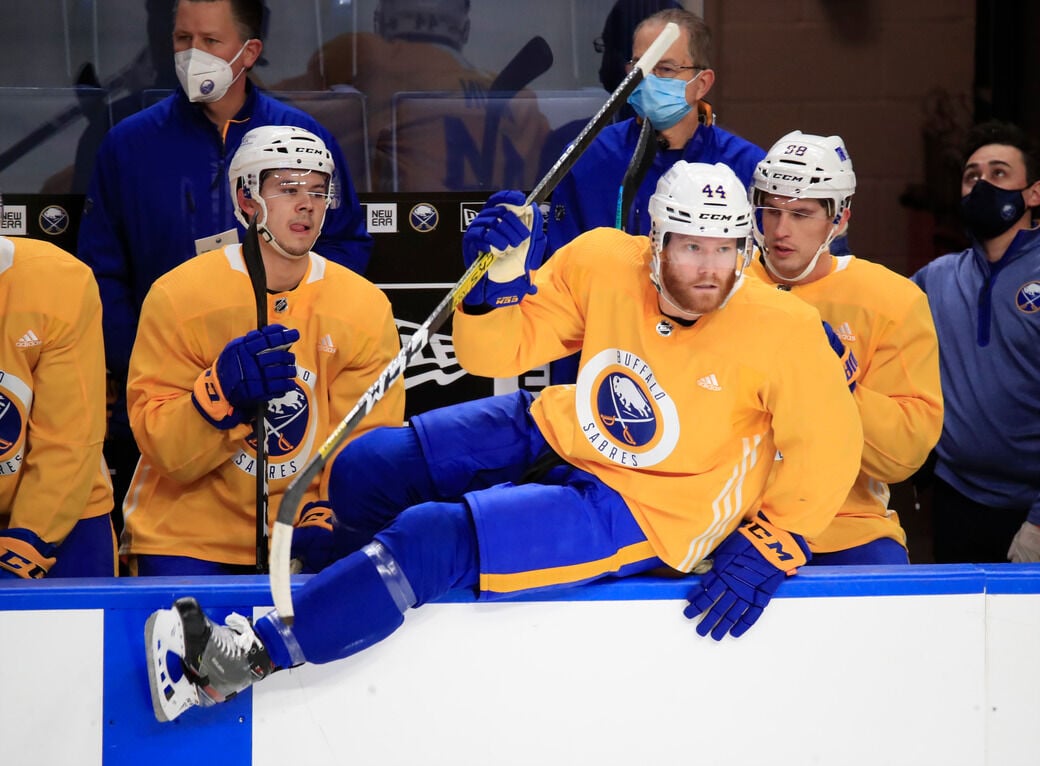 Matt Irwin knows a lot about winning hockey. He played on Nashville's 2017 Stanley Cup finalists and 2018 Presidents' Trophy teams. He also spent the 2013 lockout season in San Jose, where the Sharks zipped to a 7-0 start and got to the second round of the playoffs.
So if you ask about building culture, the new Buffalo Sabres defenseman has plenty of experience to draw from.
"There's pieces that have been here in the past and there's pieces that they brought in that are going to help build on that," Irwin, 33, said prior to Saturday's camp scrimmage in KeyBank Center. "Every hockey player wants to win. And in this league it certainly isn't easy to win.
"The experience in Nashville is hard to put into words. It's something that I look back on fondly although it wasn't the result we wanted (the Predators lost in six games to Pittsburgh). It's just remarkable to see a city come and rally around a sports team, and you don't really know what that feels like until you're experiencing it."
"Just want to be sound defensively," he said. "Make the simple play, make the first play, contribute and jump in when you can."
He did a lot of that in the Predators' chaotic Cup push.
"I learned so much from that experience in terms of the ebbs and flows of every day, managing your body," Irwin said. "Just the mental grind, all that stuff that comes in a playoff run."
Irwin, a left-shot defender who signed a one-year, $700,000 deal with the Sabres in October, has appeared in 47 career playoff games. This is his fifth NHL team. 
"Go in and be yourself, be all ears, kind of just take everything in and be a sponge when it comes to new systems," he said. "It's been a good transition. Everyone in the locker room, coaching staff has been awesome. Everything that I expected coming in."
Gold beat Blue, 6-2, in Saturday's scrimmage as Tobias Rieder had two goals and Kyle Okposo chipped in a goal and two assists. No. 1 draft pick Jack Quinn made a nifty assist to Casey Mittelstadt for the tie-breaking goal with 2:42 left in the second period.
Taylor Hall assisted on a Tage Thompson goal to open the scoring and had the goal of the night on a sensational pass from Jack Eichel, who reversed the puck behind the net.
"When players like Jack have the puck you just want to try to get open any way possible," Hall said. "I've never scored a goal like that before. I've seen it happen many times but it's a credit to him he can make a play like that. It's just up to me to put it in the open net. It's fun to play with him. We've had four skates together now and hopefully we can continue that jelling process."
The Dallas Stars announced eight positive cases of Covid-19 Friday, including six players, and their first three games are likely to be postponed. Earlier in the day, as many as 16 Columbus players were held off the ice. Things started piling up Saturday as the Pittsburgh Penguins canceled practice "out of an abundance of caution due to potential exposure" and the Los Angeles Kings deemed five players "unfit to play" for a scrimmage.
As coach Ralph Krueger noted, "It wasn't a question of if. It was when and a question of who."
"There's no guarantees with this virus but we're going to continue to stay on the very disciplined path we're on right now," the coach said. "This helps to confirm it for the players. You can just never let your guard down against the Covid or it will smack you. ... The mask-wearing, the separation, the spacing, the short and quick meetings, the big meeting space we have. Everything is just being confirmed." 
• The day was a complete simulation of an actual game day for the Sabres, including morning skates and media availabilities, and pregame meetings. In 2021 times, it also included Covid testing and playing a game with no fans in a building full of fake crowd noise.
• KeyBank and Roswell Park Comprehensive Cancer Center will be the sponsor for the Sabres' helmet logos this season. As a way to reclaim some revenue lost to the pandemic, teams have been given permission to substitute their logos on the helmet for sponsor insignias.
• The team drops to one group for practice Sunday morning and assignments for Rochester are likely to begin. The season opener is here Thursday against Washington.