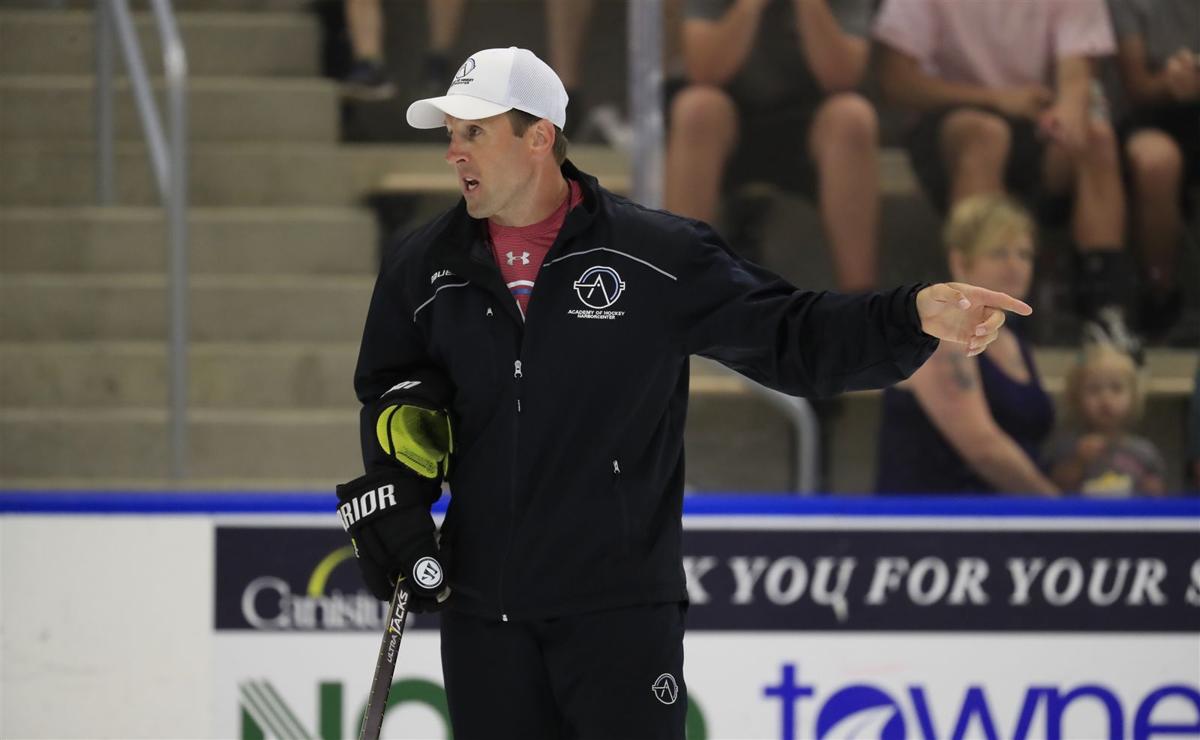 PHILADELPHIA – Matt Ellis' role with the Buffalo Sabres isn't limited to monitoring and improving the progress of prospects across the globe.
Ellis, 39, who played parts of nine seasons as a forward in the National Hockey League, also is in charge of developing and preparing the Sabres' taxi squad. Named the team's director of player development in September, Ellis runs small-group skates with the six players who are currently serving as reinforcements during the 56-game season.
The job will take Ellis on every road trip with the Sabres, beginning with the two games in Philadelphia. He was on the ice for the team's morning skate Monday and ran the taxi squad through an intense skill workout. 
At any moment, those players could be called on to play an NHL game. They will travel on all road trips and occasionally practice with the Sabres' roster.
The job is a natural fit for Ellis, who previously worked as the Academy of Hockey's director. His passion since retirement has been individual skill development, the process of improving specific aspects of a player's game.
Sam Reinhart and Curtis Lazar each scored two goals to help the Sabres secure their first win of the season, a 6-1 victory over the previously undefeated Philadelphia Flyers.
"Matt is absolute elite in what he does in his small-group training practices," Sabres coach Ralph Krueger said. "We saw it in the whole 10-month stretch, the kind of work he does. He'll be with us all the time this season and will be taking the lead on the taxi-squad work and/or supporting us in technical skill development. … It's excellent to have him part of the coaching staff and a very, very knowledgeable hockey person and extra mind for us. Another set of eyes for us also in the game."
Upon joining the Academy of Hockey in October 2016, only a few months after officially retiring from playing, Ellis joined the program as a development coach and learned under Sabres General Manager Kevyn Adams at LECOM Harborcenter. Ellis became director of the Academy in January 2019, when Adams was named the Sabres' Vice President of Business Administration.
Ellis established on- and off-ice training plans for players at the Academy of Hockey, and he typically runs summer skill sessions with junior, college and professional players, including Los Angeles Kings winger Alex Iafallo, an Eden native. He also played a pivotal role in the continued development of the Buffalo Jr. Sabres program.
When the pandemic shut down hockey leagues across the globe last spring, Ellis provided his players with basic home workouts to continue their development.
Ellis' new role won't be limited to the taxi squad this season, either. Krueger plans to have Ellis work with younger players such as Dylan Cozens on the nuances of playing in the NHL, such as wall play and winning battles against defensemen. Continued development will be important during a season in which Krueger will use the taxi squad to rest players, particularly forwards who are still developing.
The Sabres' primary coaches – Krueger, Don Granato, Steve Smith and Mike Bales – don't always have additional time to run players through individual position-specific drills.
"It's fun because he was a player, too," said defenseman Will Borgen, a member of the taxi squad. "He keeps it pretty light, and he'll ask us what we need or want. He has really good drills because he's done this for a while now. He helps us out a lot on ice with that."
The Sabres will play the Flyers at 7 p.m. in Wells Fargo Center in Philadelphia.
The hit that sent Rasmus Dahlin to the dressing room in the third period Monday night won't result in a suspension.
The NHL Department of Player Safety announced Tuesday morning that Philadelphia Flyers winger Nicolas Aube-Kubel received a $4,633.62 fine, the maximum allowed under the collective bargaining agreement, for what coach Ralph Krueger called a "deliberate hit to the head."
"That's something that's a little bit frustrating," Krueger said.
The ugly play occurred with 1:59 remaining in the Sabres' 6-1 win, as Aube-Kubel barreled into the offensive zone and essentially punched Dahlin in the face while holding his stick. Aube-Kubel was assessed a four-minute double minor.
Dahlin, a 20-year-old defenseman, was bleeding from his nose and did not return to the game. He suffered a concussion on a high elbow from the Tampa Bay Lightning's Erik Cernak during a game in November 2019, though that play resulted in a two-game suspension.
Taylor Hall had not played in the middle of a power play until he arrived in Buffalo. The former Hart Trophy winner appears comfortable in that role, though, as he continues to create plays for his linemates in a position that's typically reserved for a power forward, as opposed to an elite playmaker.
Hall previously played on the half wall – spots that are occupied by Jack Eichel and Victor Olofsson – but he has enjoyed learning how to create time and space for his linemates, while being in position to score goals.
"It's honestly a spot I've never really lined up in once in my career, but I've kind of tried to emulate what I would want from the middle guy if I was on the half wall and I've been in that position a lot the last few years," Hall said. "You want to have the puck there because when you do have the puck, you're either about to score or get a good shot off or you're about to set someone up for a good chance. It's about always being ready for the puck. Having a sense of what's behind you and where the net is and what your other opportunities are."